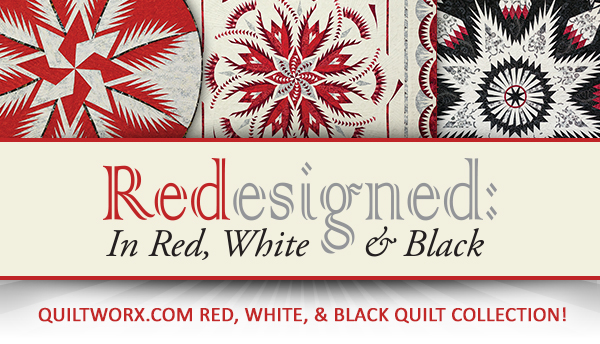 Stay tuned in the coming weeks as we bring you special exhibits and trunk shows by our Certified Shops in your area, running from June to the month of September! Visit these shops to see select quilts from the Forever and Rosè collections many of which are featured below by Quiltworx and our Certified Instructors!
This striking collection would not have been possible without the skilled help of the many Certified Instructors who enthusiastic volunteered to make samples in addition to the ones we were able to make ourselves. Their efforts resulted in some of the most jaw-droppingly gorgeous quilts we've ever seen, and we're so proud to share them with you now!

Click the quilt images below to make them larger. Click on the pattern name for more information on the pattern, and lastly click on the instructor to see their teaching schedule.
---
CERTIFIED INSTRUCTOR QUILTS
---
---
Made by Barb Linares

"I wanted to make a quilt out of the Rosé collection and this opportunity came up at the exact right time."

"Being one of the "mixer" series, this quilt is super simple to piece and goes together like a dream. I quilted it myself using a soft overall design that doesn't take away from the piecing." – Barb
---
---
Clamshell
(Treasured Pearl)

Pieced by Josephine Keasler
Quilted by Dawn Derlighter

"When the request came for volunteers to make a red and white and black quilt, I just couldn't say, 'No!' I'll work on that!"

"I made this quilt in the multi color version and love the look and wanted to see it in red and white. Of my resource of 5 quilters, Dawn Derlighter of St. George, does all my digitized Judy Niemeyer quilting."
---
Pieced by Kristen Bender
Quilted by Sue Messina

"I am always excited to make Quiltworx patterns and since I haven't been able to make it to Paducah yet, it seems like one of my quilts should!"

"The Congo Star is a fabulous quilt that is stunning in Judy & Judel's Forever collection. The fantastic quilting was done by my friend, Sue Messina, owner of Happy Hours Quilting." – Kristen
---
Made by Julie Faulkner

"I love making Quiltworx quilts – they are my favourite patterns to make so when I saw the opportunity to help the fabulous folks at Quiltworx, I jumped on the opportunity. Dragon Star has been on my wish list for a while and I love the Passion Fruit line of fabrics so this was the perfect combination for me to make."

"I quilted the quilt using elements of digitised designs from Nancy Haache of Wasatch Quilting – it was a challenge quilting hundreds of small triangles of different shapes but totally worth it and I love the final result!" – Julie
---
Made by Sandra Kollath
Quilted by Cathie Sollman with digitized design by Quiltworx.com

"I volunteered to make the Feathered Star because I wanted to help showcase this beautiful fabric, and be a part of this amazing quilt show, even though I can't be there in person."

"Judy asked me to make this after I was certified last summer. I had fallen in love with the fabric while watching the Quiltworx team make various quilts with it and jumped at the chance to stitch with it. I am a CI teaching in MN and am having the time of my life, introducing new students and stores to Quiltworx." – Sandra
---
---
Hancock's of Paducah Snowfall Mixer

Made by Tammy Doane

"Snowfall Mixer is part of the Snowfall Tree Skirt Collection and the red, white and black colorway is always one of my favorites. What a fun pattern to piece and quilt!"

"The quilting is a collection of free motion and patterns I designed for the Snowfall Mixer." – Tammy
---
Into the Northwoods
(Peppered Mint)

Made by Jennifer Eubank

"When I saw the Peppered Mint quilt on the cover of the REDesigned I immediately wanted to make it. I love the dramatic red against the shy cream!"

"While I didn't design this in Quiltser I sure love the way I can get in, manipulate the layout, the fabrics, the colors to create!" – Jennifer
---
Pieced by Kelly Grant
Quilted by Janet Spinks

"I loved the Lakeshore Snowfall pattern as soon as it was released. The monochrome colors are outside my normal choices and that made this so much fun to make."

"This quilt was my 63rd completed Judy Niemeyer project since 2013. I am so addicted! Lakeshore Snowfall was quilted by my friend and fellow CI Janet Spinks." – Kelly
---
Pepperdish
(Salt and Peppered Dish)

Made by Rosie Lysinger
Quilted by Quiltworx.com

"I enjoy appliqué and the opportunity to make this quilt in collaboration with Judy doing the appliqué portion and the piecing done by myself was a once in a lifetime event. The Redesign format made me jump when asked last summer, especially living in Kentucky and having Pepperdish in my school's colors." – Rosie
---
---
Raindrops
(Showered in Raindrops)

Pieced by Jeanette Walton
Quilted by Janece Risty

"The Raindrops pattern had been on my bucket list for a few years. I was attracted to the 3-D effect of the layout, and I fell in love with the Rosé collection the first time I saw the fabrics. Even though I was moving across country at the same, I couldn't pass up the opportunity to work on a quilt that combined two things that made my heart go pitter pat.

I enjoy teaching beginning quilters and introducing them to the organized process and techniques uniquely reflected in Judy's approach to paper piecing. As I was sewing Raindrops, it occurred to me that this pattern would appeal to quilters who wanted to structure the quilt "just like the picture," as well as those who want to take a more random approach. There's no wrong way to put this pattern together!" – Jeanette
---
Made by Vickie Wall

"I decided to make this quilt for the exhibit because I have always loved red and white quilts and was very excited to use the new fabric line. Oops, my surprise!!! The quilt was black and white. And now, I really love black and white quilts. I quilted this black and white Summer Solstice using Vicki Ibison's digitized designs available through Quiltworx." – Vickie
---
Wedding Star Table Topper
(Roses are Red Table Topper)

Made by Karen Caduff

"I thought this pattern would be fun to make, and a great opportunity to use the new fabrics before public release."

"This table topper is a good way to 'get your feet wet' before tackling a bigger JN project like the Bali Wedding Star." – Karen
---
Made by Tammy Doane

"The Wedding Star pattern has always been one of my favorites but always such a time commitment. As a part of the Wedding Ring Collection, the table topper in the black, grey and white was such a fun and quick project that can go with anything."

"The quilting is a collection of patterns I designed for the Wedding Star." – Tammy
---
Wrapped in Ribbon
Table Runner

Made by Jackie Kelso
Quilted by Claudia Chapman

"I chose to make the Wrapped in Ribbon Table Runner because it is an instant gratification project for all skill levels of quilters. When planning in Quiltster you have the opportunity to change this pattern so each one looks different. Can't get enough of the Forever fabric line!" – Jackie
---
QUILTS MADE BY QUILTWORX STAFF
---
| | |
| --- | --- |
| | Made by Quiltworx.com |
---
| | |
| --- | --- |
| | Made by Quiltworx.com |
---
Pieced by Quiltworx.com
Quilted by Salena Beckwith
---
Pieced by Quiltworx.com
Quilted by Salena Beckwith
---
Dragon Star (Embered Flames)

Pieced by Quiltworx.com

Quilted by Tammy Doane
---
| | |
| --- | --- |
| | Made by Quiltworx.com |
---
Lakeshore Hosta
(Discovered by the Seashore)

Pieced by Quiltworx.com
Quilted by Cathie Sollman
---
---
---
---
---
| | |
| --- | --- |
| | Made by Quiltworx.com |
---
| | |
| --- | --- |
| | Made by Quiltworx.com |
---
---
| | |
| --- | --- |
| | Made by Quiltworx.com |