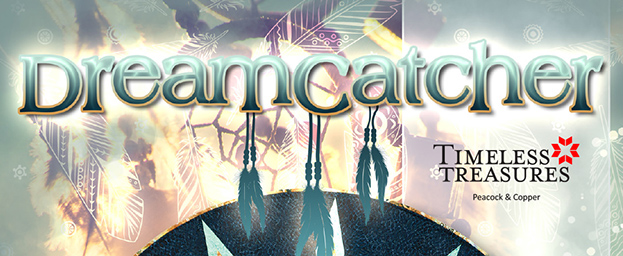 Dreamcatcher was created in 2016 as a Tree Skirt or Table Topper incorporating foundation paper piecing with four simple Group Elements. The color concept was derived using three fabrics from two different Batik collection designed by Judy and Judel Niemeyer, with Timeless Treasures, called Peacock & Copper. The pattern incorporates all of the latest techniques from Quiltworx and is assembled in a straightforward approach, breaking a kaleidoscope into a (4) block layout.
There are many ways to expand your Quiltworx designs into larger sizes with compatible border packages by clicking the Buy Now button.  If listed, you should purchase the Introduction Booklet for the size quilt you want.  Then, you should select expansion borders of your choice.  The following information explains ways to expand your quilt.
To expand this Round Tree Skirt from 62″ to 70″, add a 196B Round Expansion Border of your choice listed under the Buy Now button.
To square up this Round Tree Skirt, add a 196B Round Expansion Border, then a 196C Square up Border of your choice listed under the Buy Now button.
To square up this Round Tree Skirt and expand to a 118″ King, add a 196B Round Expansion Border, a 196C Square up Border, then a 118″ King Border of your choice listed under the Buy Now button.
This pattern is the first pattern to be published in a series of quilts called the Willow Tree Skirt Mixers. You can find this design in the Willow Tree Skirt Collection on Quiltster, which is a fabric and unit auditioning application that includes Quiltworx patterns. With Quiltster, you can open the Dreamcatcher template and audition other fabrics and new color layouts. You can also open the mixer template and interchange the blocks in this layout with other used in additional Quiltworx patterns to create a new custom quilt design that is unique to you. Stay tuned for other pattern to publish that will allow you to mix and match units! We can't wait to see what you all come up with!
Click below for a downloadable .PDF of various kitting handouts!
Pattern Size: 62″ Diameter
Price: $43.50
Pattern Includes: Instructions, Cover Sheet, Yardage Information, Foundation Papers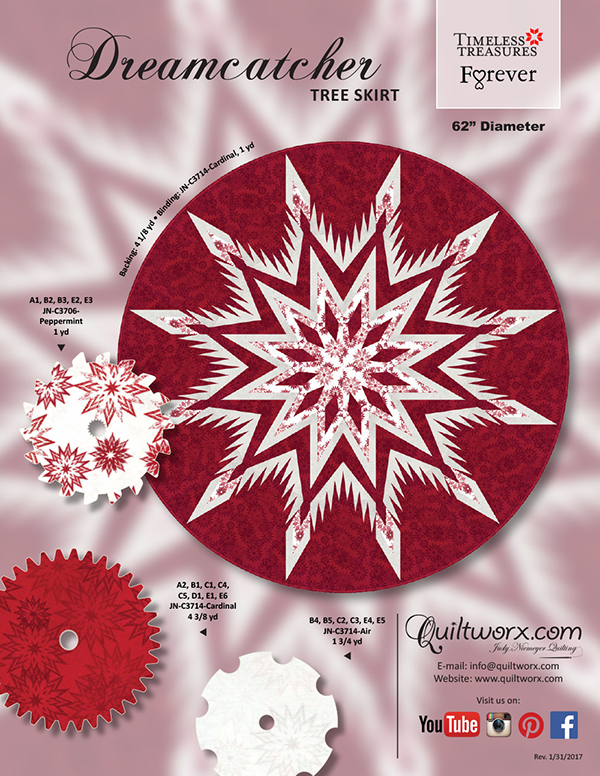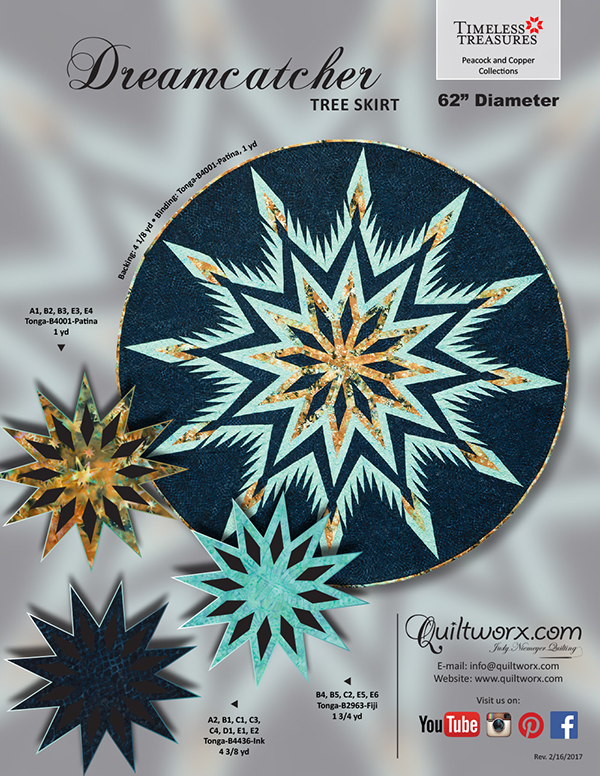 Related Products
Gallery
[fts_facebook id=10154859075812160 album_id=10154859075812160 posts=12 title=no description=no words=0 type=album_photos image_width=150px image_height=150px space_between_photos=1px hide_date_likes_comments=no image_position_lr=-0% image_position_top=-0% loadmore=button popup=yes hide_like_option=no ]
Sorry, there are no classes scheduled for Dreamcatcher at this time.