The Clamshell block is a traditional quilt block that has been designed and republished by several designers as far back as I can remember. Brad Niemeyer, the architect behind our quilting designs at Quiltworx.com has added the Clamshell to our collection of foundation paper pieced patterns so this design can be made  using several of our piecing techniques that are popular with those who love our patterns.  The Clamshell  block was split into a left and right units, allowing us to join the blocks into vertical rows. Floating points were designed into the New York Beauty arcs. Long spikes with floating points were added to the shell to add color and dimension. A small accent strip, cut on the bias, was designed into the paper piecing on the shell unit using a technique called curved paper piecing as well. Sashing was sewn between each row to avoid matching  and stacked seams between all the blocks. A collection of fabrics called Wildflowers, designed by Judel and Judy Niemeyer with Timeless Treasures, was used to create the rainbow layout for our Clamshell Quilt on the cover.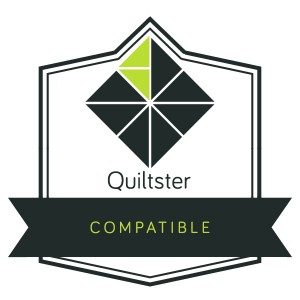 This pattern is Quiltster Compatible! This means you can color the quilt with your favorite Fabric Collection in Quiltster before you make it and obtain yardage! Click on the logo to the left to be taken directly to the Template page for this design in Quiltster. You may need to log into your account for the link to work. If you do not have a Quiltster account already, you will need to subscribe and log in before this link will work. Subscriptions can be obtained by going to http://www.quiltster.com, click on Subscribe!
Click below for a downloadable .PDF of various kitting handouts!
Pattern Size: 62″ x 76″
Price: $58.50
Pattern Includes: Instructions, Cover Sheet, Yardage Information, Foundation Papers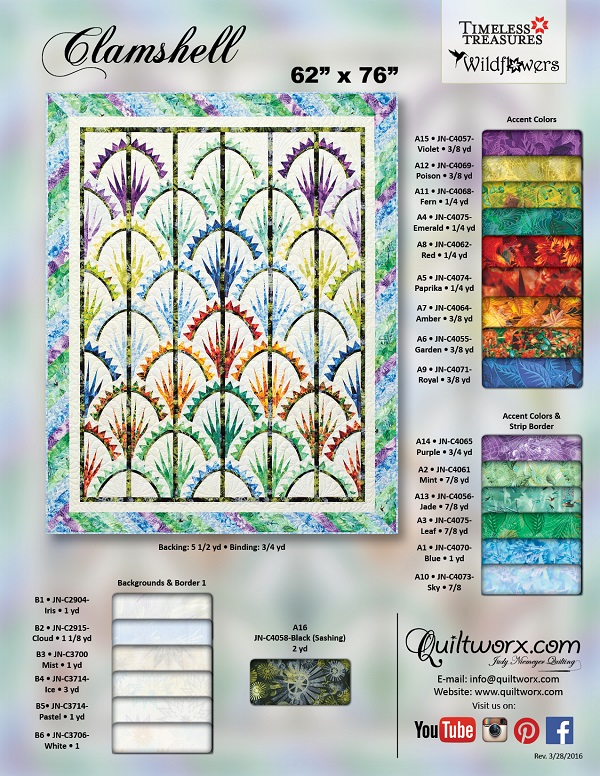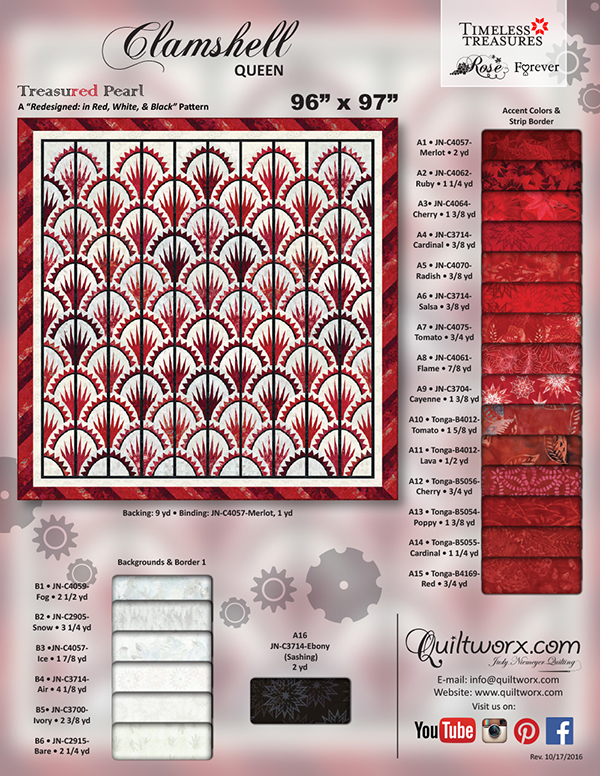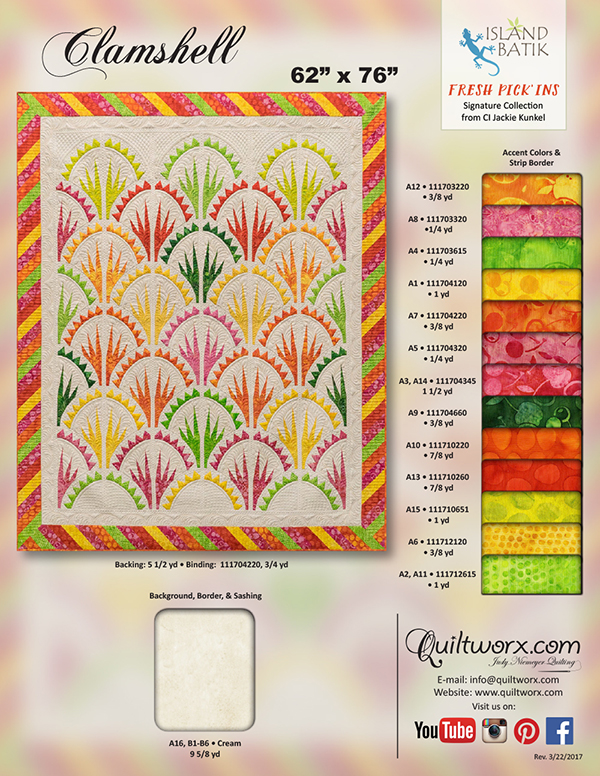 Related Products
Gallery
[fts_facebook id=10154229996692160 album_id=10154229996692160 posts=12 title=no description=no words=0 type=album_photos image_width=150px image_height=150px space_between_photos=1px hide_date_likes_comments=no image_position_lr=-0% image_position_top=-0% loadmore=button popup=yes hide_like_option=no ]