Bradley and Judy Niemeyer designed the first layout and foundation pieces for Raindrops in 2005. The pattern sold out about a year ago and has been off the market for a while pending updates to bring it up to current Quiltworx design standards. We are thrilled to release Raindrops once again with a new layout for our cover quilt using a mix of several fabric collections designed by Judel and Judy Niemeyer with Timeless Treasures. A sewing technique called foundation paper piecing is used when sewing the pieces onto the foundation units. Curved piecing and traditional piecing skills are required to join the units after the foundation piecing is completed.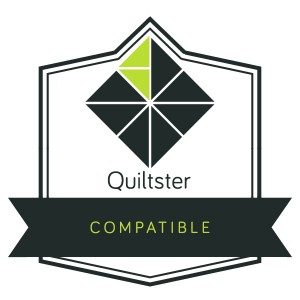 This pattern is Quiltster Compatible! This means you can color the quilt with your favorite Fabric Collection in Quiltster before you make it and obtain yardage! Click on the logo to the left to be taken directly to the Template page for this design in Quiltster. You may need to log into your account for the link to work. If you do not have a Quiltster account already, you will need to subscribe and log in before this link will work. Subscriptions can be obtained by going to http://www.quiltster.com, click on Subscribe!
Click below for a downloadable .PDF of various kitting handouts!
Pattern Size: 70″ x 80″
Price: $39.50
Pattern Includes: Instructions, Cover Sheet, Yardage Information
Related Products
Gallery
Quiltworx.com
6 months ago
Mary Conrad
How long did it take you to make it? Just stunning.....
Teresa Moffitt
They have to be in love with it!!
Marilyn Briscoe
.....the layout is absolutely awesome.....very creative!!!!!.....love, love it!!!!.....
Marilyn Parsons
Very lucky young couple.Absolutely gorgeous!
Mary Reed
Love it😀 you did a wonderful job.
Tammy Moran
Love the color arrangement...beautiful
Beth Schlabach Riehm
Wow, that's beautiful!
Rita N. Johnson
Very pretty
Monica Sherman
Stunning...my favorite colors
Mary Conrad
BEAUTIFUL!!!!!
Diane Laverriere Crowe
Beautiful!
Ellen Warren Kauffman
Beautiful job!!
Roberta Legacy Gaynor
This is beautiful. Love the colors.
Kathleen Bahrke
It is gorgeous.
Laurie Cannon
Wow. That is awesome!!
Lee Stocks Brinkley
Beautiful
Suzette Stone
That is beautiful work
Bonnie Forsee
Beautiful and amazing work
Carolyn LaDue
Beautiful. Great job
Frank N Rita Chisholm
Great color choices
Carolyn Ballard
Faboulous
Yvonne George
This is beautiful
Sorry, there are no classes scheduled for Raindrops 2016 at this time.