The Christmas Celebration Tree Skirt is a Quiltworx.com best seller that has been made around the world and in many cases, by our fans more than once!  To freshen up the pattern and update it for more current fabric lines, Quiltworx.com worked with Robert Kaufman and the Holiday Flourish fabric line to create new color layouts!  Directions have been updated to provide yardage information that is generic in nature (can be used with any pattern), and graphics have been updated to reflect current pattern publications, including more detailed cutting and stacking information.  The newsprint papers have not changed.  Kitting information is available for the two Tree Skirts on the cover, which have been named Five Golden Rings and Mistletoe.  We want to thank Robert Kaufman for donating the fabrics for these projects and showing them off in a recent national advertising campaign!  We also want to thank Certified Instructor, Jodie Madison and her sister Angela for sewing up the quilt samples!  A digitized quilting design for this pattern will also be available soon, from Quiltworx.com!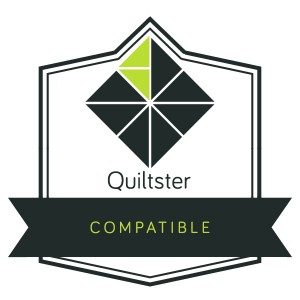 This pattern is Quiltster Compatible! This means you can color the quilt with your favorite Fabric Collection in Quiltster before you make it and obtain yardage! Click on the logo to the left to be taken directly to the Template page for this design in Quiltster. You may need to log into your account for the link to work. If you do not have a Quiltster account already, you will need to subscribe and log in before this link will work. Subscriptions can be obtained by going to http://www.quiltster.com, click on Subscribe!
Click below for a downloadable .PDF of various kitting handouts!
Pattern Size: 60″ Diameter
Price: $36.50
Pattern Includes: Instructions, Cover Sheet, Yardage Information,

Related Products
Gallery
Quiltworx.com
2 months ago
Jean Painter
Beautiful love the fabric
Carol Delahoussaye
This is beautiful. Love your fabrics
Patti Thackray
Love it fabrics are beautiful
Shelley Rowland
Absolutely stunning
Eileen Somerset Nitsche
Gorgeous
Elizabeth Garling
beautiful
Deborah George
Beautiful!! 🥰