The foundation papers for the Captain's Wheel were designed by Brad and Judy Niemeyer of Quiltworx.com.  The layout and color selection was designed by Judel Niemeyer Buls.  The coversheet quilt was quilted by Vicki Ibison.
The Captain's Wheel is part of a series of patterns designed using elements of our Mariner's Compass pattern.  Special thanks to Hoffman California Fabrics for providing the Ombre and Natural Instincts Fabrics designed by McKenna Ryan, along with the 1895 companion fabric used for the background in the cover sample.  McKenna Ryan Ombre fabrics were used to complete the compass rose blocks.  Natural Instincts fabrics were used in the Captain's Wheel and border.  And one, 1895 background fabric was selected for the rest.
Click below for a downloadable .PDF of various kitting handouts!
Pattern Size: 79″ x 79″
Price: $61.50
Pattern Includes: Instructions, Cover Sheet, Yardage Information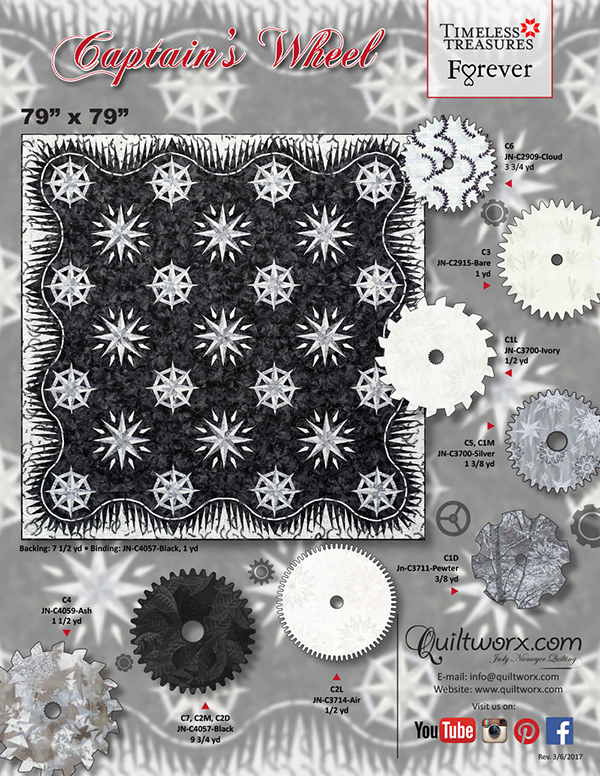 Related Products
Gallery
Quiltworx.com
9 months ago
Teresa Moffitt
This is such a rich looking quilt!
Jill Vizsla
Jill, what about this pattern?
Anna M Bowen
Fantastic job on this quilt.
Donna Tufano
I love mine!
Kim Scott
Wow, that is amazing.
Franca Fornaciari
Favoloso bellissimo lavoro fantastico
Kathleen Wittman
I need to make this!!!! But need help.
Jill Keenan Ethelbah
Love it!
Sorry, there are no classes scheduled for Captain's Wheel at this time.