Judy Turns 60…AGAIN…Sale!
So, 60% off for you!
In honor of Judy's birthday on October 17th, we are offering 60% OFF of
Summer Solstice and the Redesigned in Red White & Black book!
BONUS: 25% off of patterns in the book!
The sale will run 9:00 a.m. (MDT) Tuesday, October 17th,
through 9:00 a.m. (MDT) Wednesday, October 18th!

SUMMER SOLSTICE
The Summer Solstice is one of our best selling patterns and has been since publication over five years ago! With the advent of Quiltster and some updates in our techniques, however, we are redesigning some of the elements and the pattern will no longer be compatible with the original publication.
The new pattern, expected sometime next spring, will include our new strip piecing technique for the diamonds, we've eliminated Y-seams, and we'll be floating the start points!
Additionally, you'll be able to mix and match the star with others we've designed to the same size and add a variety of borders to create a Queen size quilt that is unique to you! As a result, we are closing out the remaining stock on the Summer Solstice pattern at a great price.
The sale is limited to what we have on hand, so don't delay!

REDESIGNED: IN RED, WHITE, & BLACK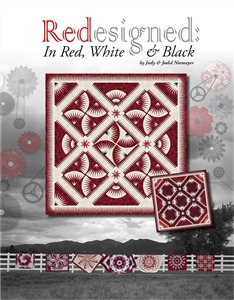 Last fall, Judy and Judel Niemeyer released a wonderful collection of Red, White, and Black fabrics, in conjunction with their second book! The purpose of the book is to inspire creating quilts in a simplified color palette through both photography and enhanced instructions.
Use the book in combination with specific patterns to achieve a beautiful red and white effect! Forever and Rosè fabrics are still available, so if you are interested in a red and white kit for any of these patterns, check with your local shop or with a Quiltworx Certified Shop! Many of them have the collections!
---
25% OFF REDESIGNED: IN RED, WHITE, & BLACK PATTERNS
NOTE: To order patterns click on the names above the quilts.
For kitting sheets, click the quilt image.
---
Orders will ship by the end of the week.
---

Want to celebrate with her in person?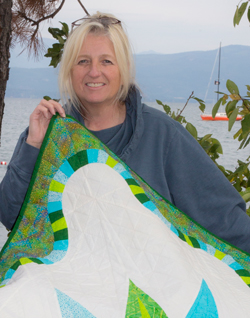 OK. So we can't make this happen ON her birthday, but in March of 2018, Judy is hosting a retreat at her training center in Montana where she is the only instructor! This will be the only retreat of its kind all year! There is only room for 10 people (+ 1 off-site person), and we've filled 3 spaces already. Don't delay!
Tour her studio with her, see a trunk show of the latest designs, visit local quilt shops with Judy where she'll help you pick fabrics for upcoming projects, shop in the warehouse, learn Quiltster, and get her one on one attention on the Quiltworx project of your choice! She hopes you will join her for a week of Quiltworx, Quiltworx, Quiltworx! To celebrate, we might even have a belated birthday cake. Yummmmm!


Click here for information and to sign up!

As always, thank you for your passion and support of our business. We really appreciate you!