Bradley and Judy Niemeyer designed the layout and foundation pieces for Sea Urchins in 2006. The pattern has been off the market for a couple of years pending updates to bring it up to current Quiltworx design standards. We are thrilled to release this fun design once again to the Quilting Industry and are excited to have worked with RJR Fabrics using the Malam Batiks collection designed by Jenny Beyer to create the quilt you see on the cover. We would like to extend a special thank you to Certified Instructor, Kristen Bender, Kristen works with RJR Fabrics to bring you many wonderful samples of Quiltworx patterns using RJR Collections. She not only pieced and quilted the cover sheet quilt, but picked the fabrics to use in this bright and fun quilt top. A sewing technique called foundation paper piecing is used when sewing the pieces onto the foundation units. Curved piecing and traditional piecing skills are required to join the units after the foundation piecing is completed.
Click below for a downloadable .PDF of various kitting handouts!
Pattern Size: 66″ x 77″
Price: $57.50
Pattern Includes: Instructions, Cover Sheet, Yardage Information, Foundation Papers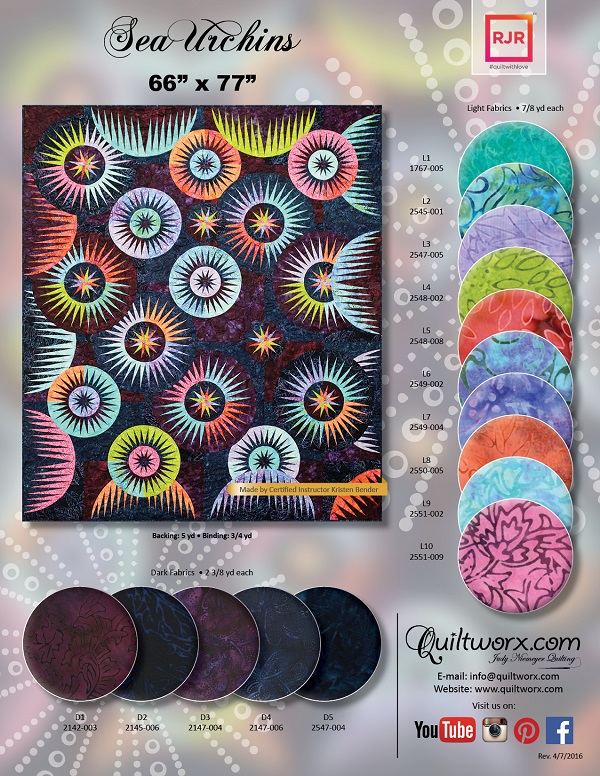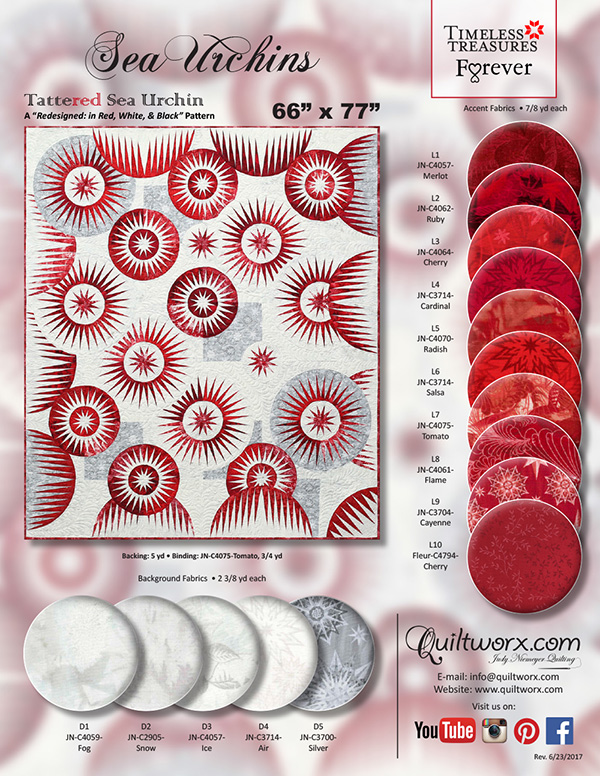 Related Products
Gallery
Quiltworx.com
Sea Urchins, Quiltworx.com, Made by Tammy Huffman Gardner
Tammy Huffman Gardner
Thanks for posting this!! I had to re-draft it to make it this big- not the easiest task... Pat, I believe it was 9 X 10 blocks, but it's been a while since I made it, so I don't remember for sure. It was certainly a challenge, but I love a challenge! Thank you!
Mary Karen Gurtler
My son wanted this in King size for his wedding quilt but I was too intimidated.
Brenda Barnett Retzlaff
Very pretty.
Judith Kauffman
Thus is absolutely gorgeous. Love it
Frances Elsheimer
Wonderful. So many points.
Theresa Talbot
Awesome colors
Polly Bell
I want to make it. Wow
Pat Marsoun
How many squares did this make
Sorry, there are no classes scheduled for Sea Urchins 2015 at this time.