Bio
Josephine has been an avid quilter for many years. Three friends gave her a quilt as a gift which introduced her to our wonderful world of quilting. After that she was hooked! She says her "first few quilts were examples of everything not to do when making a quilt."
She loves teaching and she also continues to take classes from other instructors, thus enabling her to stay current in the "how to" department and, of course, to incorporate additional information when teaching others.
After living in Southern California since she was born, Josephine and her husband decided to move to Utah where she continues her involvement in all aspects of quilting. In Utah she has served as an officer of the state guild, president, vice-president, newsletter editor, and coordinator of both the quilt show and vendors for the annual quilt show for many years. At the State Guild's 2021 Annual Quiltfest event she was awarded the Silver Thimble award "for outstanding efforts to encourage, promote and preserve the art of quilt making in Utah."
Having made more than 200 quilts in just the past fourteen years, she was honored to be an Artist in Residence for Empty Spools Seminars at Asilomar in 2015. She exhibited 40 quilts at that time, including eight designs by Quiltworx. She has taught at Empty Spools and will be teaching there again in 2022 and 2023.
Josephine has exceptional skills in all areas of quilting including design, piecing techniques, and border options. She has an excellent awareness of color theory including value and texture, and she thoroughly enjoys assisting her students in the color/fabric selection for their projects.
As an example of her talent, expertise, and joy of teaching, in just the past few years she has taught numerous classes, and has exhibited some of her quilts in shows resulting in numerous ribbons, including first place at HMQS for her Bali Wedding Star and the Teachers' Ribbon for Fire Island Hosta.  In 2017 she won blue ribbons for excellence at the Springville Art Museum for several of her quilts.
Josephine says "Call me – I look forward to helping quilters at all levels to experience the joy of making a Judy Niemeyer designed quilt.
Click on the images below to find Josephine's gallery of quilts on Facebook!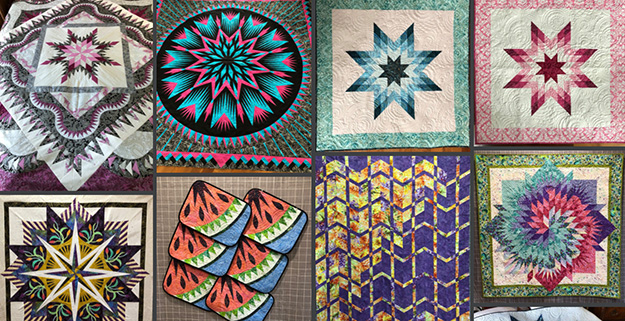 Sorry, there are no classes scheduled for Josephine Keasler at this time.