INTRODUCING QUILTWORX WORX SESSIONS!


FREE Online Classes Featuring the New Amethyst Pattern

On September 15th, Judy Niemeyer will be holding her first ever workshop on our Youtube Channel. This workshop will be free, available forever after it is posted, and is called a Quiltworx Worx Session. The quilt she will help you make is the Amethyst pattern. The September 15th class will be focused on a block called Moon Star, and will begin at 12:00 noon, Mountain Time, include two (1 hour and 15 minute sessions), followed by a Facebook Live Event that will air around 3:30 p.m. Additional Worx Sessions to make the Woven Star block and the Razor Star and Background blocks will happen on October 20th and November 17th. If you can't make the workshop launch dates and times, don't worry! You can join us for this workshop on our Youtube Channel any time!
Patterns are available on our website or through your favorite quilt shop. A Work Sessions with Judy Niemeyer event is located on Facebook. You can join this event and find shops that are sponsoring in-store events, have kits available, and are able to help you along the way with your own specific needs!
You can also join us on the Quiltworx Support Network to network with others that are creating this pattern along with Judy, and even use Quiltster to design your own colorway.
Is Quiltster a mystery to you?
Check out this video on how to color the Amethyst pattern.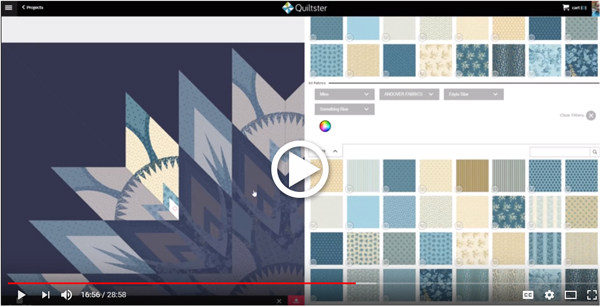 To make sure you have everything you need for the workshop, watch our pre-class preparation video and be sure to subscribe to Quiltworx on Youtube so that you don't miss out on important content!
---
Make Amethyst with us. We can't wait to share our techniques with you!
---
3 New Patterns Are Now Available!

These patterns are now available for purchase on our website, and the fabric lines are available in a quilt shop near you!  There will also be digitized quilting designs available in the near future.
Many of these patterns are also being prepared for the Quiltster App!  If you've never heard of Quiltster, it's an incredible fabric auditioning software that allows you to pick and choose fabrics before you spend money.  Look for the Quiltster Compatible logo on the patterns below, and click the quilt images or links to learn more about each pattern, find replacement papers, see samples made by Quiltworx.com and others, find kitting information, and purchase the pattern!
Wholesale purchases are available to those approved with a wholesale account. Visit our wholesale page to order (minimum purchase of 3 and advance approval of wholesale account is required).
---
Amethyst
91″ x 91″ • Fabrics: Tonga Jewels – Amethyst & Jade, and Wallflowers by
Judy and Judel Niemeyer with Timeless Treasures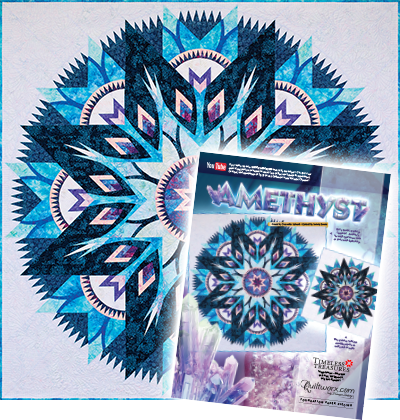 We're so excited to introduce Amethyst, Quiltworx.com's first ever "Work Sessions" pattern which comes with free online classes on YouTube!  Judy will teach the three diamonds for this quilt, the Moon Star, Razor Star, and Woven Star blocks. The first video for Moon Star is coming September 15th, followed by the Woven Star on October 20th, and finally the Razor Star and Blank Background Queen on November 17th.  If you can't make these dates, no worries…all videos can be found on our YouTube Channel!
Join our Work Sessions Event on Facebook, subscribe to our YouTube Channel, and stay tuned for more information as the dates draw closer.

---
Indian Summer
64″ x 73″ • Fabric:  Tonga Jewels – Amethyst & Jade by

Judy and Judel Niemeyer with Timeless Treasures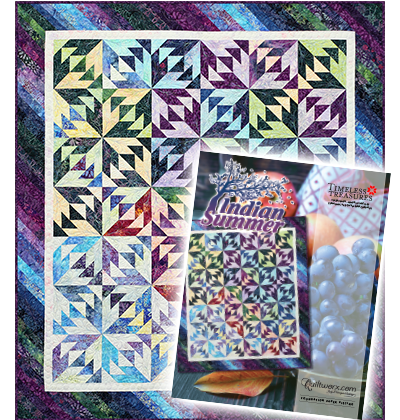 Please enjoy our newest colorway for our popular Indian Summer pattern.  A great beginner design, but super fun for quilters of any skill level.


COMING SOON TO QUILTSTER
---
Succulent Jade
91″ x 91″ • Fabrics: Tonga Jewels – Amethyst & Jade by

Judy and Judel Niemeyer with Timeless Treasures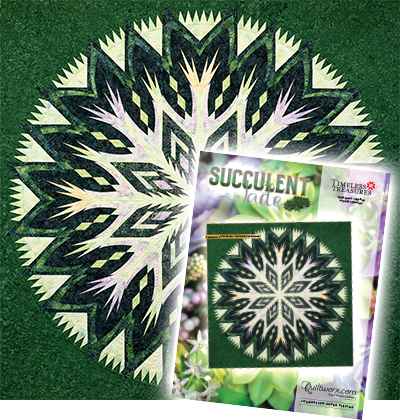 Our latest Queen Star Mixer pattern, Succulent Jade, is made up of 48 diamonds in 3 different designs, the Ribbon Star, Shimmering Star, and the Log Cabin Star.


Queen Star Mixers Galore!

Amethyst, Blue Lagoon, Diamonds in Bloom, Ice Castles, Prismatic Star Queen, Rainbow Crystal & Succulent Jade…What do all of these patterns have in common?  They're all created from blocks designed for the new Queen Star Mixer!
For those of you that are crazy addicted to Quiltworx patterns, have you considered the value of Mixers? With Mixers, you can DEFINITELY save money over all. Say you bought all 5 patterns in the Sunrise Mixer series (Allisyn's Wondered Land, Shattered Ruby, Sunsations Magnolia, Lakeshore Sunrise, and Butterfly Garden) the patterns would cost a total of $290. However, if you buy all the mixers, plus one Instruction Intro that works with all of them, the cost is only $245!
That saves $45 for those of you that collect patterns, which is nearly 50% of your Quiltster account cost each year. And, your collection still includes everything you need to make ALL 5 patterns. Plus, you can mix and match and create something that no one else has, and you can see what your quilt looks like in advance. You can see where Quiltster and Mixers can really give our valued customers, like you, more flexibility and more control, and the ability to BE UNIQUE!
Click on the images below to see all of the available blocks.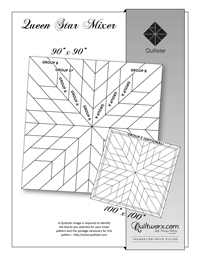 New Award Winning Quilts!
First of all, thanks again to all who shared their inspirational quilts with us and our community!  Enjoy your gift certificates!
Without further ado, the new Award Winning Quilts Album is up on Facebook! Congratulations to the winners, including Linda Davis whose Harboured Lighthouse is featured artistically above!
If you have an award winning quilt made from a pattern designed by Quiltworx.com, send a picture to 
ilyse@quiltworx.com
 and we will award you a $10.00 gift certificate when the publish our next newsletter!