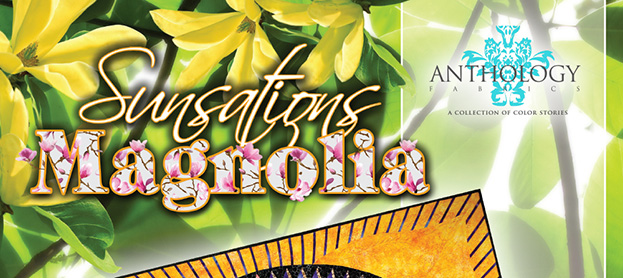 Sunsations Magnolia was designed by Judy and Brad Niemeyer as part of the Sunrise Mixer series. It includes three distinct groups to create an 80" x 80" quilt. A circular center sits in the middle of the quilt with a diameter of 62". A 4" wide ring surrounds the center for a total increased diameter of 70". Then, a border is added to square the quilt off at 80". The pattern teaches many of Judy's latest techniques for paper piecing and is fully compatible with Quiltster, meaning that you can find the layout in Quiltster and work with the program to develop your own colorway if you like. The A, B, and C groups can also be mixed and matched with other group designs in the Sunrise Mixer series to make a quilt that is truly unique to you!
Quiltster is available on a monthly or annual subscription basis. You can learn more about it at www.quiltster.com.
Click below for a downloadable .PDF of various kitting handouts!
Pattern Size: 80″ x 80″
Price: $59.00
Pattern Includes: Instructions, Cover Sheet, Yardage Information, Foundation Papers

Related Products
Gallery
Load More