The Sunrise mixer layout includes three distinct groups to create an 80" x 80" quilt. A circular center sits in the middle of the quilt with a diameter of 62". A 4" Wide ring surrounds the center for a total increased diameter of 70". Then, a border is added to square the quilt off at 80". Quiltworx.com has designed a series of centers, rings, and borders that fit this layout. These three Groups can be mixed and matched to create a quilt that is unique to you.  To mix and match the blocks and create your design, a subscription to Quiltster is required.  You can learn more about Quiltster here:
http://www.quiltster.com
If you have reached this page after already utilizing Quiltster and need help ordering (from the Buy Now page), you can send us an image of your quilt using the Print feature in Quiltster.  Send the image to info@quiltworx.com with what you think you should order and we will check to make sure you have it right!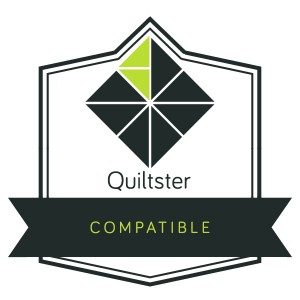 This pattern is Quiltster Compatible! This means you can color the quilt with your favorite Fabric Collection in Quiltster before you make it and obtain yardage! Click on the logo to the left to be taken directly to the Template page for this design in Quiltster. You may need to log into your account for the link to work. If you do not have a Quiltster account already, you will need to subscribe and log in before this link will work. Subscriptions can be obtained by going to http://www.quiltster.com, click on Subscribe!
Gallery
[fts_facebook id=10154673858417160 album_id=10154673858417160 posts=12 title=no description=no words=0 type=album_photos image_width=150px image_height=150px space_between_photos=1px hide_date_likes_comments=no image_position_lr=-0% image_position_top=-0% loadmore=button popup=yes hide_like_option=no ]
Sorry, there are no classes scheduled for Sunrise Mixer at this time.