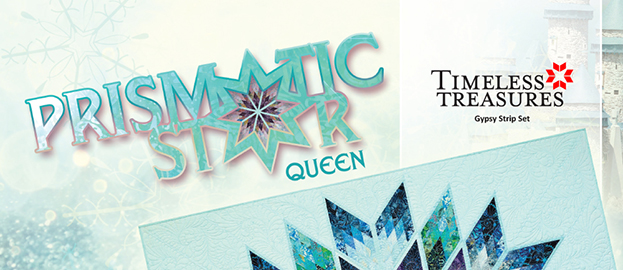 The Prismatic Star Queen foundation papers and strip piecing processes were designed by Quiltworx in 2014 as part of a wall quilt layout called the Prismatic Star. The Queen Layout was created and published due to popular demand. The Prismatic Star block teaches a basic strip piecing process that is used in most of our star quilts and required 2-1/2" strips. The block is used in a 91" x 91" layout that includes (48) diamonds and a background. The block can be mixed and matched and rotated with other similar sized diamond blocks using an online fabric and block auditioning application called Quiltster.
Compatibility: This pattern is NOT compatible with the previously published Prismatic Star wall quilt. During design of the queen layout, Judy realized that adding a 3rd group of diamonds significantly increased the difficulty of final assembly over the original wall quilt size. She reviewed the pattern elements and realized that increasing the size of the sashing strips and alternating how they were sewn to the 4 x 4 diamond block removed hours of frustration in final assembly due to stacked seams and matching complicated intersections. As a result, the Prismatic Star Queen units are not the same size as the original pattern. We will also be updating the wall quilt pattern soon, so that the two sizes will be compatible. This pattern cannot be purchased (in whole or in part) to expand the previously published design.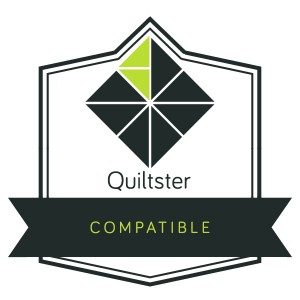 This pattern is Quiltster Compatible! This means you can color the quilt with your favorite Fabric Collection in Quiltster before you make it and obtain yardage! Click on the logo to the left to be taken directly to the Template page for this design in Quiltster. You may need to log into your account for the link to work. If you do not have a Quiltster account already, you will need to subscribe and log in before this link will work. Subscriptions can be obtained by going to http://www.quiltster.com, click on Subscribe!
Click below for a downloadable .PDF of various kitting handouts!
Size: 91″ x 91″
Price: $47.00
Pattern Includes: Instructions, Cover Sheet, Yardage Information, Foundation Papers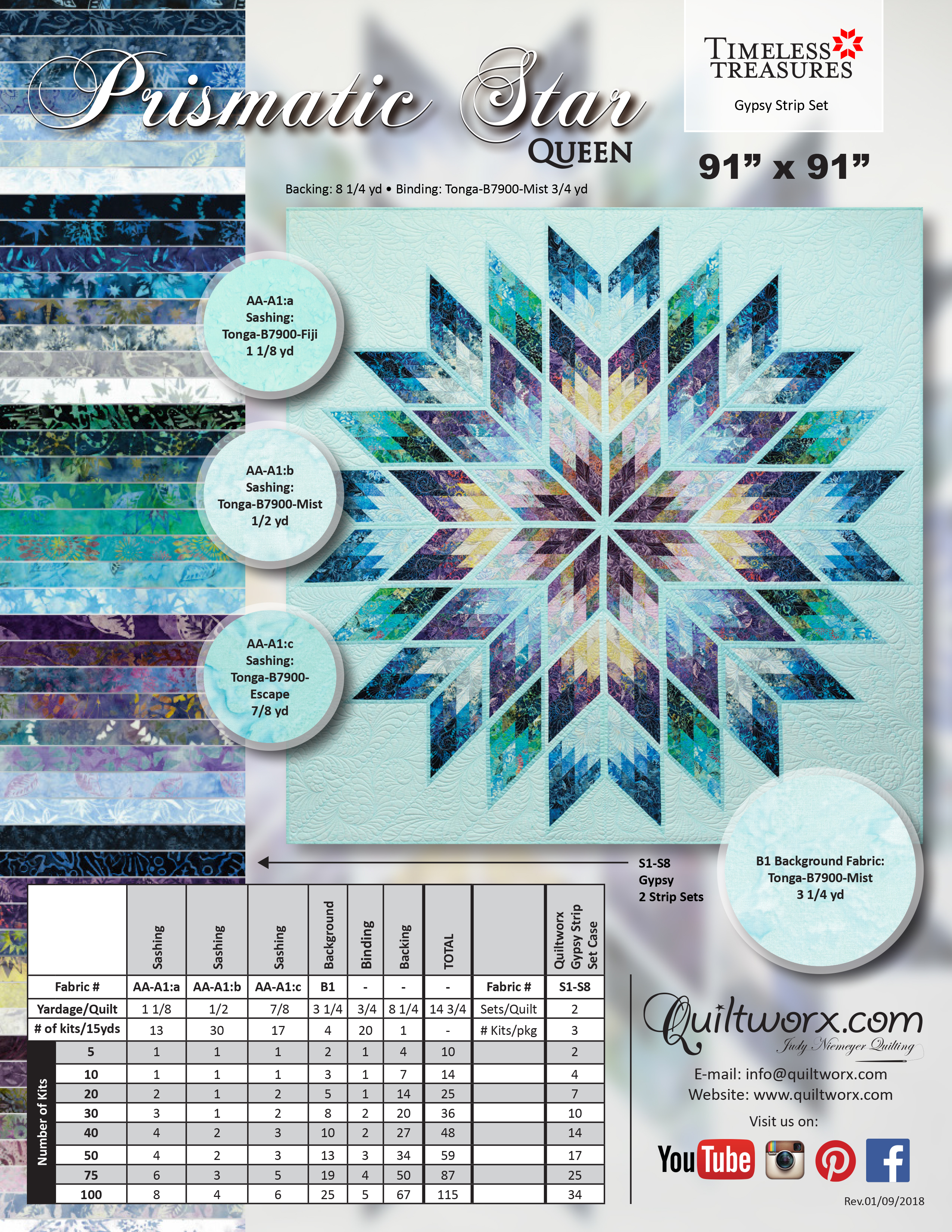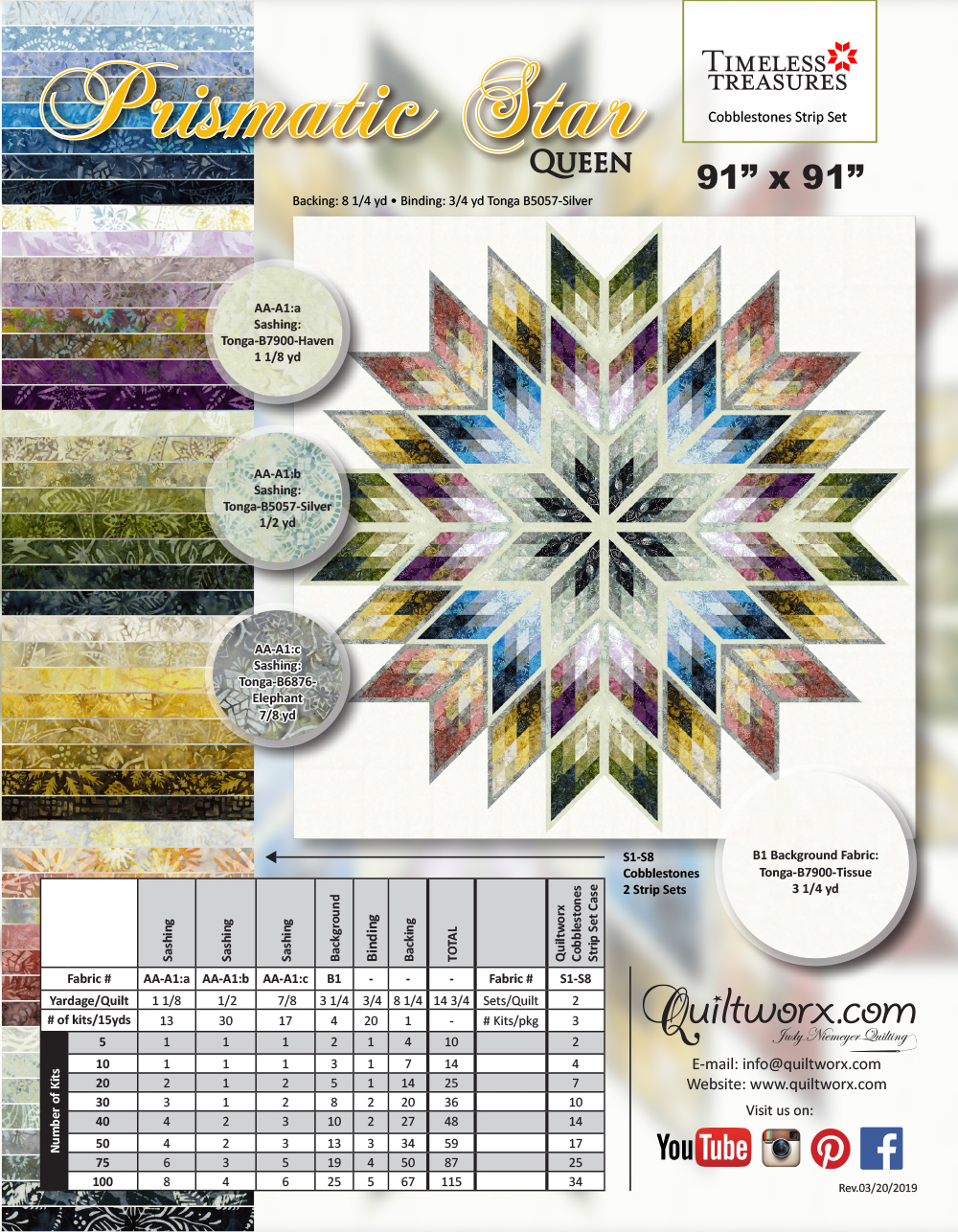 Related Products
Gallery
Quiltworx.com
2 months ago
Roberta Deferio Guenther
Wow beautiful and the quilting is superb
Beverly Lee
Breathtaking Gorgeous oh the work!!!!
Janine Warner
The quilting on that is amazing! Such a beautiful job by both!
Joyce Wolfenbarger
This is gorgeous love the quilting too
Pegge Mason Davis Gee
Wow that is just elegant. Love it.
Barb Novak
This is so gorgeous what a masterpiece.
Pam Larry Bowser
Design, colors and quilting are gorgeous.
Suzanne Mclaughlin
Absolutely awesome. Would love to make one. Any way I could get the pattern.
Irene Becker
Unbelievable,just so beautiful!
Pat Blanchard
Unbelievably beautiful. Especially the negative space quilting!
Nancy N Lee Swanson
Masterpiece for sure!!
Roberta Lessner
That looks like a lot of work but it's outstanding
Joan Smith
Do you have quilts for sale?
Irene Becker
Unbelievable,just so beautiful!
Linda VanPutten
So gorgeous!! A masterpiece. 🌹
Kathy Jacobs
Awesome quilting also
Rosalind Wolfe
Marvelous quilting
Dottie Donahoe
So beautiful!
Rosmarin Davison
Absolutely beautiful
Yvonne George
Wow what a talent
Robin Fair
Wow...this is lovely!!
Gill Brewin
Stunning, very clever.
Shelley Rowland
Absolutely amazing
Pam Lamia
Absolutely stunning!
Sheila Walker
Took my breath away.
Quiltworx.com
12 months ago
Susan Speedy
Colours are beautiful
Quiltworx.com
1 year ago
Mimi Urrutia
Love this version. Please post again after quilted
Jeff Kimble
That is cool looking!
Linda Standley
looks like lots of ripples due to bias edges
Nancy Hornsby
BEAUTIFUL!!!!!
Lynn Feldman
WOW 😮 stunning 💜💜💜
Sorry, there are no classes scheduled for Prismatic Star Queen at this time.