Hot off the press!
These patterns are now available for purchase on our website, and the fabric lines are available in a quilt shop near you! There will also be digitized quilting designs available in the near future.
Many of these patterns are also being prepared for the Quiltster App which was launched last fall! Quiltster is an incredible fabric auditioning software that allows you to pick and choose fabrics before you spend money. Look for the Quiltster Compatible logo on the patterns below, and click the quilt images or links to learn more about each pattern, find replacement papers, see samples made by Quiltworx.com and others, find kitting information, and purchase the pattern!
Wholesale purchases are available to those approved with a wholesale account. Visit our wholesale page to order (minimum purchase of 3 and advance approval of wholesale account is required).
---
Butterfly Garden

Butterfly Garden was designed by Judy and Brad Niemeyer as part of the Sunrise Mixer series. It includes three distinct groups to create an 80" x 80" quilt. A circular center sits in the middle of the quilt with a diameter of 62". A 4" wide ring surrounds the center for a total increased diameter of 70". Then, a border is added to square the quilt off at 80".
The pattern teaches many of Judy's latest techniques for paper piecing and is fully compatible with Quiltster, meaning that you can find the layout in Quiltster and work with the program to develop your own colorway if you like. The A, B, and C groups can also be mixed and matched with other group designs in the Sunrise Mixer series to make a quilt that is truly unique to you!
Quiltster is available on a monthly or annual subscription basis. You can learn more about it at www.quiltster.com.
The sample above was made from the Shiny Objects fabric collection by Flaurie and Finch with RJR Fabrics.
---
Caribbean Starfish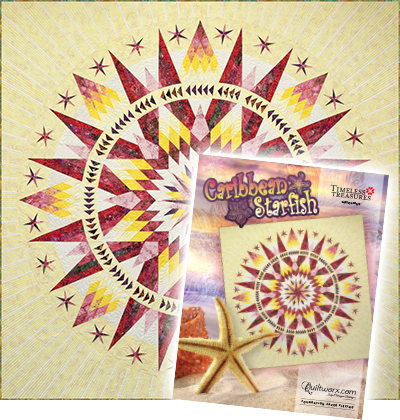 The Caribbean Starfish pattern is part of the Congo Star Mixer Series, which was designed to bring a new look to a pattern that Quiltworx has sold for years called the Amazon Star. The Caribbean Starfish uses a similar layout, slightly smaller than the original. In addition, it incorporates a series of units meant to portray a tropical starfish. This pattern incorporates all of Quiltworx's latest techniques as well. It is a breeze to put together, easy to modify, and can also be colored in Quiltster before you create the final project!
---
Sunsations Magnolia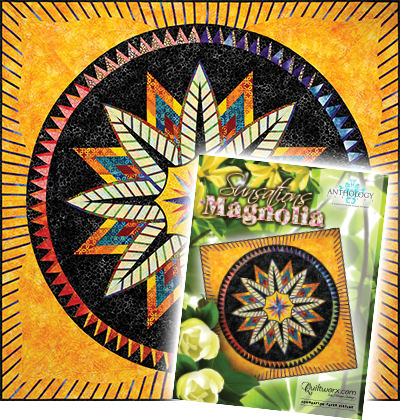 Sunsations Magnolia was designed by Judy and Brad Niemeyer as part of the Sunrise Mixer series. Like Butterfly Garden above, it includes the three distinct groups (center, ring, border) to create an 80" x 80" quilt. But look how different they look with the different mix of blocks for each group…the possibilities are endless!
This sample was done in beautifully bright Anthology Fabrics.
---
Vintage Compass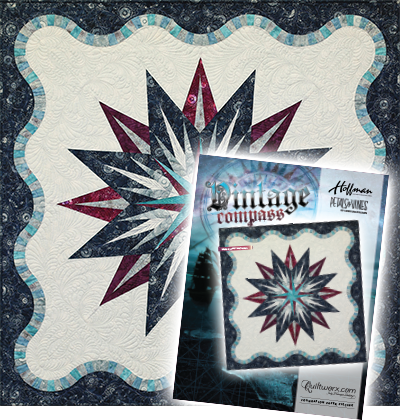 Judy and Brad Niemeyer designed the Vintage Compass layout, instructions, and foundation papers for the Vintage Compass. This pattern is a wonderful example of a beginner pattern building off the outside compass unit in the Mariner's Compass Pattern. We highly recommend this pattern for both beginners and instructional workshops.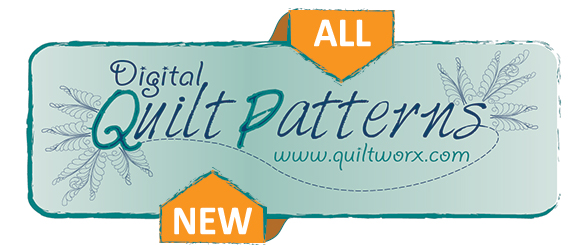 Three NEW Digital Quilt Designs – Now Available!
Do you have a Lakeshore Hosta Wall quilt or a Lily Pond ready to be quilted? Well it just so happens that they're the newest additions to our digital quilting library! You'll love these rich, beautiful, heirloom-quality designs that drop in effortlessly.
Most can be purchased as a complete package or in individual units, and are compatible with most commercial machines that can read quilting design files. Refer to the QUILT DESIGN web pages below for details.
---
Lakeshore Hosta
Designed and digitized by Quiltworx.com
Dimension: 74″ x 74″
---
Lakeshore Hosta Queen
Designed and digitized by Quiltworx.com
Dimension: 100″ x 100″
---
Lily Pond
Designed and digitized by Quiltworx.com
Dimension: 100″ x 100″