The Congo Star mixer layout includes six distinct groups to create a 96" x 96" quilt, creating a radiating star. Quiltworx.com has designed a series of star and border blocks that fit this layout. These blocks can be mixed and matched to create a quilt that is unique to you.
To mix and match the blocks and create your design, a subscription to Quiltster is required.  Quiltster is a fabric auditioning and design enhancement application. It is available on a monthly or annual subscription basis that allows quilters to play with pre-designed blocks and current fabric collections to find their favorite combination before purchasing the foundation papers and fabrics for their quilt. You can learn more about Quiltster here:
http://www.quiltster.com
If you have reached this page after already utilizing Quiltster and need help ordering (from the Buy Now page), you can send us an image of your quilt using the Print feature in Quiltster.  Send the image to info@quiltworx.com with what you think you should order and we will check to make sure you have it right!
To find all of the individual components for the mixer and the introduction booklet for all mixers, click the Buy Now Button.  Related products include quilting designs for the Congo Star Layout and patterns that Quiltworx has published using these layouts.  Watch for more to be added over time!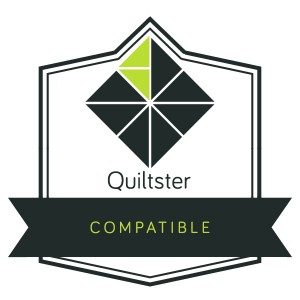 This pattern is Quiltster Compatible! This means you can color the quilt with your favorite Fabric Collection in Quiltster before you make it and obtain yardage! Click on the logo to the left to be taken directly to the Template page for this design in Quiltster. You may need to log into your account for the link to work. If you do not have a Quiltster account already, you will need to subscribe and log in before this link will work. Subscriptions can be obtained by going to http://www.quiltster.com, click on Subscribe!
Click below for a downloadable .PDF of various kitting handouts!
Gallery
Quiltworx.com
2 weeks ago
Natalie Megow
Absolutely love this!!
Maryellen Kmiec
The best colorway I've seen. Stunning!!!
Debbie Smith
Beautiful and a lot of work.
Cindy Bundrick
Yes, love the colors! Beautiful!
Jenny Stenning
I'm really going to try one of these one day, fantastic!
Janet Ryan
That is incredible
Hounon Gan Alognon
Hounon Gan Alognon BONJOUR BONSOIR mes amis je suis le grand Maître Hounnonguan Alongnon. Je mets à votre disposition les domaines suivante : 👁La construction en ligne à distance ou face face retour d'affection de sont l'être aimée en 16 ou 41 jour maximum ( Maintient d'harmonie au foyer en familles ) Pour garder votre entreprises en sécurité Contre Accidents 🦉 Contre sorcellerie 🥕 Faiblesse sexuel Bague de chance) 🖊bic magique Activation du portefeuille que les faux marabout on fait Portefeuille magique valise magique 🥚 Rituel pour trouver un bon travail avoir un bon poste au travail 🕳 Savon de chance pour attirance de clientèle pour les vendeuses les entreprises ⚱ Parfum de chance pour attirance de clientèle Produit pour augmente votre pénis Je vous offre mes aides de loin et si vous ne trouver pas les résultat je vais vous rembourser votre argent sans aucun problème comme pouvez venir chez moi pour assister vos travaux en face a face Pour plus de renseignements, contactez moi sur whatsapp au:(+229) 69974159 Ou appel directe. appelle directe (+229) 69974159 NB: vos colis seront envoyé par la DHL, STM par l'intemedier des 🛩🛬🛫 ils sont disponible a tout temps et ils va dans tout les pays du monde entier
Del Caskey
Your work is fantastic. 🇨🇦😘👍
Anne Morrison
Lovely vibrant colours & design.
Tracy Leduc
That is beautiful
Helga Ziemdorf Whittaker
Stunning! The colors .... WOW!
Charmaine Karl
Absolutely stunning 😍😍
Charmaine Karl
Absolutely stunning 😍😍
Felicityann Khan
Wow magnificent
Eileen Somerset Nitsche
Outstanding!!!
Pam Larry Bowser
Another WOW
Carol Marohn
Oh my goodness.
Mauricio Chacon Solis
Hola
Marjorie Holland
Beautiful
Quiltworx.com
2 years ago
Teresa Moffitt
This is great! I have been wanting to do one of these for a grandson about to enter pilot's training in the Navy! This has a masculine feel to it and I just might borrow some of them for his quilt!
Deby Lutterschmidt
Just gorgeous!
Terri Budesa
That's awesome!
Brenda Barnett Retzlaff
Wow!
Reena Firetag
Andrea Lapidus Diamond
Sorry, there are no classes scheduled for Congo Star Mixer at this time.