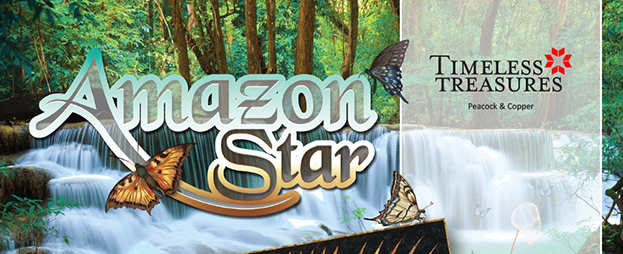 Judy and Brad Niemeyer designed the Amazon Star for foundation paper piecing over 10 years ago. The pattern was first designed when Judy was just beginning to adapt her patterns for pre-cut templates, stacking instructions, and strip piecing for her lone star blocks. Since that time, she has made tremendous advancement in her techniques and added a few more! The new pattern, while more expensive, includes full Template Layout Sheets allowing for layers of (8) pieces of fabric, floating points, her latest strip-piecing technique for lone star construction, smart corners, and also uses less fabric than the original design.
This king size quilt comes in at less than 20 Yards of fabric! The cutting instructions will save you hours of time, assembly is more accurate with smart corners, and the updated instructions clarify many of the areas where quilters have struggled with the original pattern. We hope that the updates will be ones many people appreciate with the overall changes being ones that make this quilt easier to make for future quilters.
A collection of Tonga Batiks called Copper and Peacock, designed by Judy and Judel Niemeyer with Timeless Treasures Fabrics, were used for the quilt shown on the coversheet.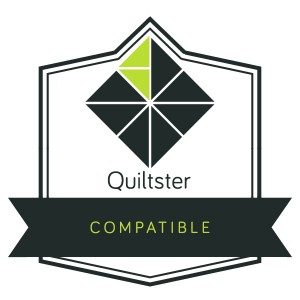 This pattern is Quiltster Compatible! This means you can color the quilt with your favorite Fabric Collection in Quiltster before you make it and obtain yardage! Click on the logo to the left to be taken directly to the Template page for this design in Quiltster. You may need to log into your account for the link to work. If you do not have a Quiltster account already, you will need to subscribe and log in before this link will work. Subscriptions can be obtained by going to http://www.quiltster.com, click on Subscribe!
Click below for a downloadable .PDF of various kitting handouts!
Pattern Size: 104″ x 104″
Price: $117.50
Pattern Includes: Instructions, Cover Sheet, Yardage Information, Foundation Papers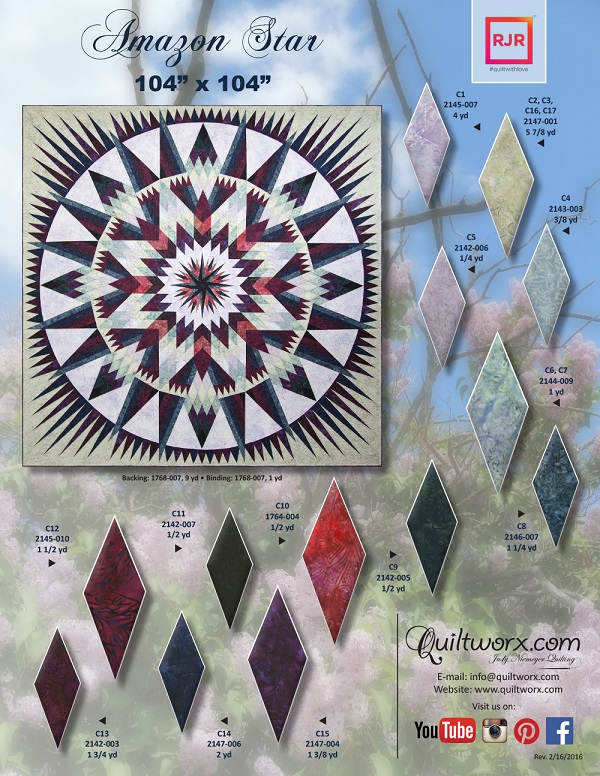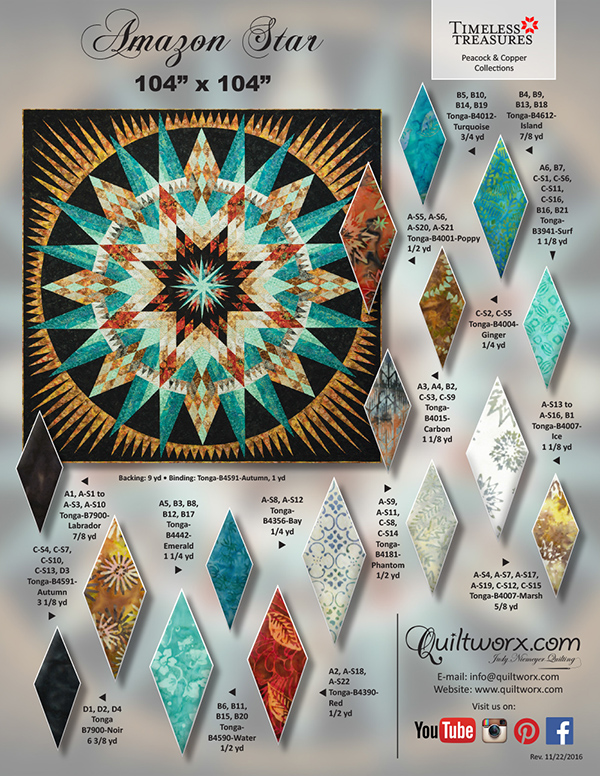 Click on the images below to find the Amazon Star gallery of quilts on Facebook!
Related Products