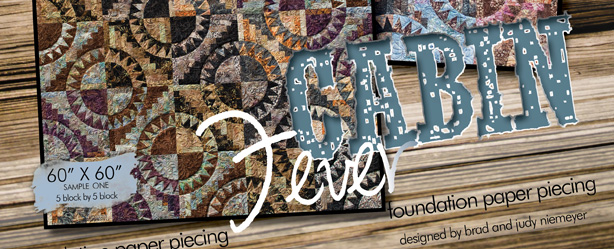 Judy and Bradley Niemeyer designed the foundation blocks for the Cabin Fever quilt, which we believe transforms the way the world will think about Log Cabin Quilts! Paper piecing gives this age old classic precision you will appreciate. Quick cutting techniques, so many different ways to lay out your colors, and sew lines that leave you with the flattest Log Cabin Top you will ever sew, makes this pattern a Staple.  Add to that, a cutaway process that allows for the insertion of a paperpieced arc and cutaway pieces that build a forthcoming companion quilt called the Log Cabin Cutouts (Published late Fall of 2012).  We can't wait to hear what you think when you make your first one…and your second…and your third. Our hope is that we've modernized this pattern in a way that will make you never want to make one without paper again!
Pattern Size: 60″ x 60″
Price: $45.50
Pattern Includes: Instructions, Cover Sheet, Yardage Information, Foundation Papers
Related Products
Gallery
Quiltworx.com
2 years ago
Brenda Barnett Retzlaff
Stunning....I'm a fan of purple.
Mary Beth Stearns
OMG it's gorgeous!!
Priscilla Orr
LOVELY WORK!
Heffner Lorri
Wowsa thats purple passion!
Sheila Armentano
Beautiful
Gail Meyers
I LOVE this!!!
Sharon Garbutt
Venessa Watt