Here are our Newest Publications

!
We've been super busy updating patterns with new techniques and creating samples with our newest fabric lines designed by Judy and Judel Niemeyer with Timeless Treasures.
The following patterns are now available for purchase on our website, and the fabric lines are available in a quilt shop near you!
Many of these patterns are also being prepared for the Quiltster App which was launched October 7th! Quiltster is an incredible fabric auditioning software that allows you to pick and choose fabrics before you spend money. Look for the Quiltster Compatible logo on the patterns below, and click the quilt images or links to learn more about each pattern, find replacement papers, see samples made by Quiltworx.com and others, find kitting information, and purchase the pattern!
Wholesale purchases are available to those approved with a wholesale account. Visit our wholesale page to order (minimum purchase of 3 and advance approval of wholesale account is required).
---
Dragon Star
Made from a collection of batiks designed by Flaurie & Finch with RJR called Blossom Batiks, this

Dragon Star

is eye-catching! Back by popular demand, we've updated the pattern modernizing the papers, templates and instructions, making this pattern come together even more easily!
Dreamcatcher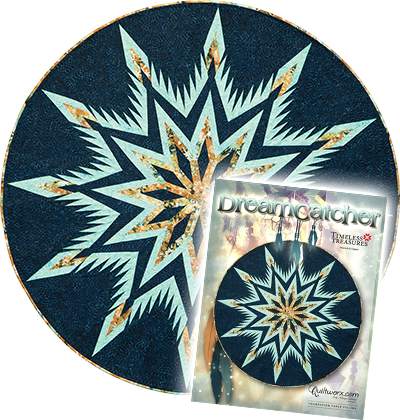 This pattern is the first pattern to be published in a series of quilts called the Willow Tree Skirt Mixers.

Dreamcatcher

was created in 2016 as a Tree Skirt or Table Topper incorporating foundation paper piecing with four simple Group Elements. The color concept was derived using three fabrics from two different Batik collection designed by Judy and Judel Niemeyer, with Timeless Treasures, called Peacock & Copper. The pattern incorporates all of the latest techniques from Quiltworx and is assembled in a straightforward approach, breaking a kaleidoscope into a four block layout.
Raindrops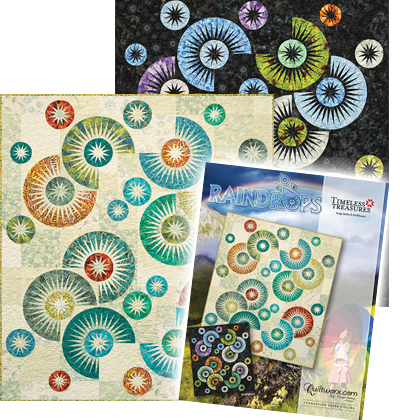 Bradley and Judy Niemeyer designed the first layout and foundation pieces for

Raindrops

in 2005. The pattern sold out about a year ago and has been off the market for a while pending updates to bring it up to current Quiltworx design standards. We are thrilled to release Raindrops once again with a new layout for our cover quilt using a mix of several fabric collections designed by Judel and Judy Niemeyer with Timeless Treasures.
Red River Star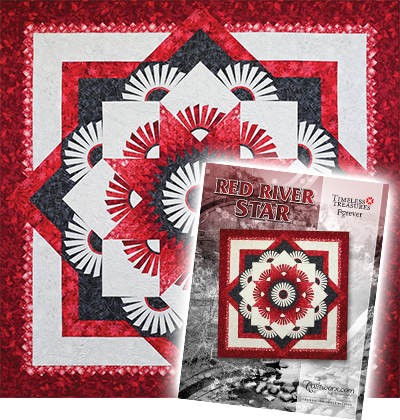 | | |
| --- | --- |
| | The Red River Star is the queen-sized version of our Tarnished Windmill measuring 99″ x 99″. The lone star was designed using 3" strips for the strip piecing, and also incorporates a series of windmill blocks. The general assembly process was designed with no Y-Seams. It is also an incredibly efficient quilt for 99" x 99", using just under 19 yards of fabric. A digitized Quilting Design is available. |

New Quiltworx.com Fabric Collections Shipping in December!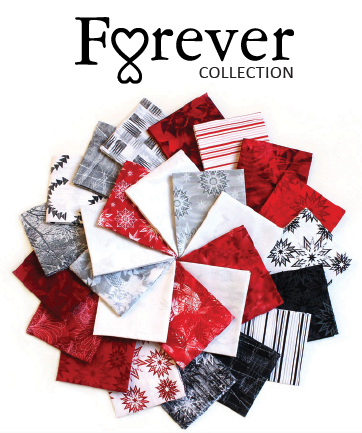 The Forever collection features 30 cotton prints including six white, six red, four red & white, four black, four grey, four black & white, and two striped fabrics. Naming this collection was such a challenge. In the end, we selected: Forever. Red & white (and black & white) are classic color palettes that will be sought after Forever. Quite simply put, your quilts, made in this collection, will carry that elegance, grace, and whimsy that will leave them loved, Forever. We are thankful to Timeless Treasures for the once in a lifetime opportunity to see Judy's quilts fabulously redesigned in red and white.

---

The Rosé collection includes 20 Tonga Batiks from Timeless Treasures, designed by Judy and Judel Niemeyer in red, black, antique beige and white. Many of the designs incorporate elements of some of Judy's most popular designs such as Diamond Wedding Ring, the Wedding Star, the Tea Time Placemat leaves, the Feathered Snowflake, and even an adaptation of the hummingbird print that was included in Judy and Judel Niemeyer's Wildflowers fabric collection, released in the Fall of 2015. The collection name, Rosé, was inspired by the wonderful wine, which embodies the best of a fabulous red and fabulous white.


Introducing our book Redesigned: In Red, White, & Black


AVAILABLE IN NOVEMBER for $14.95!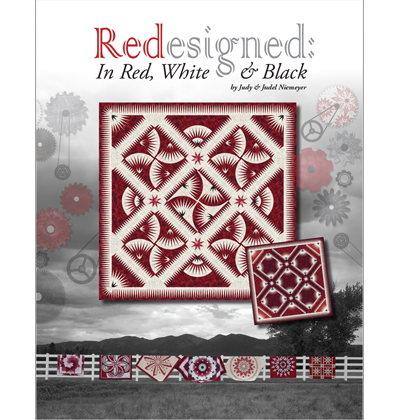 We're so excited to announce the release of our newest book which rethinks Quiltworx.com designs in a color palette of reds, whites, and blacks. Featuring the two Timeless Treasures fabric collections featured above, Forever and Rosé, designed by Judy and Judel Niemeyer.
Redesigned: In Red, White & Black not only teaches how to achieve show-stopping results with a paper-pieced pattern and limited color palette, but also pairs a collection of breathtaking quilts with jaw-dropping photography. You'll pick it up again and again not only to learn, but to appreciate the seduction of red, white, and black.
Pick up a signed copy during Quilt Festival where Judy is joining Stitchin' Heaven's booth #2400!


Quiltster has launched!
IT'S HERE! We're very pleased to announce to the friends and supporters of Quiltster that we have officially launched!
THANK YOU for your support while we trimmed the last few threads on this program. Your loyalty means the world to us and we truly thank you from the bottom of our hearts.
We hope you enjoy this unique way of planning your next quilt!
Subscriptions are available for $9.99 per month or $99 per year, which gives you two FREE months!
Start pre-planning your quilts today with your fabrics and Quiltworx.com patterns at Quiltster.com. New patterns are coming online weekly!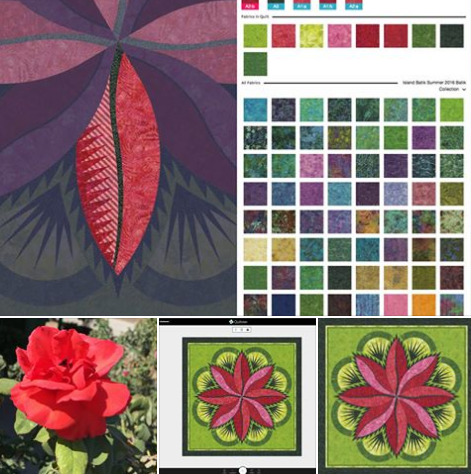 Pattern: Fire Island Hosta • Fabrics: Island Batiks 2016 Batiks
Inspired by a roadside snapshot of a rose.

Visit us at Quilt Festival with Stitchin' Heaven

!
Stop by the Stitchin' Heaven booth (Booth #2400) for a chance to see their exclusive Wildflowers and Windmills quilt which is a queen-sized expansion of the Tarnished Windmill design, created using the latest fabrics from Island Batik. The original colorway was designed by Judel Niemeyer using Quiltster.
Judy will be on hand promoting our newest book Redesigned: In Red, White & Black, so stop by and get your signed copy!
We'll also be doing Quiltster demonstrations and offering sneak peeks of our newest Technique of the Month Pattern, Vintage Rose, to be released to a Certified Shop near you in January 2017!

Do you have an award winning quilt?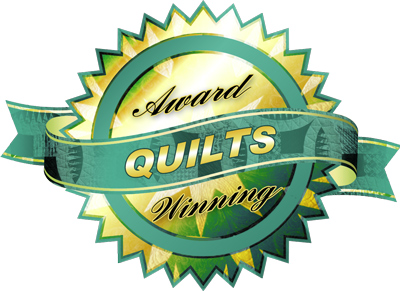 The new Award Winning Quilts Album is up on Facebook! Congratulations to the winners! If you have an award winning quilt made from a pattern designed by Quiltworx.com, send a picture to Ilyse@quiltworx.com and we will award you a $10.00 gift certificate when the publish our next newsletter!