Bio
Elsa has live up and down the east coast of the US and has resided in Greenville, South Carolina for over 20 years. Her love of the sewing and creating started young and has never let up. She made her first quilt in her teens, but was not in love with the processes at that time and moved onto clothing design and construction including designing and making wedding gowns, as well as clothing for her growing family. Combined with her career in Food Service Management and Dietetics, there was not enough time for quilting…yet!
In the early 2000s, with the gradual start of the 'empty nest' phase of life, Elsa decided to give quilting a try again. Technology had dramatically improved the processes of quilting and she was hooked. After a few years of block of the month quilts, Elsa saw a Quiltworx ad in a quilting magazine and knew she was up for the challenge and wanted to make that quilt.
She found a quilt shop offering a class and made her first Quiltworx quilt, Summer Solstice. Two years later, with encouragement from the CI she was taking classes from, Elsa attended her first Quiltworx retreat in Montana. There was no looking back. Elsa has made over 40 Quiltworx projects and has many more in the queue.
Elsa loves to share the Quiltworx processes with quilters and has many years of experience in teaching adult learners at a variety of skill levels.
"I am not addicted to Quiltworx patterns…we are in a committed relationship".
You can contact Elsa for classes, retreats, demos or trunk shows at:
Facebook
Instagram
Email her at papertrailquilting@gmail.com
Click on the images below to find Elsa's gallery of quilts on Facebook!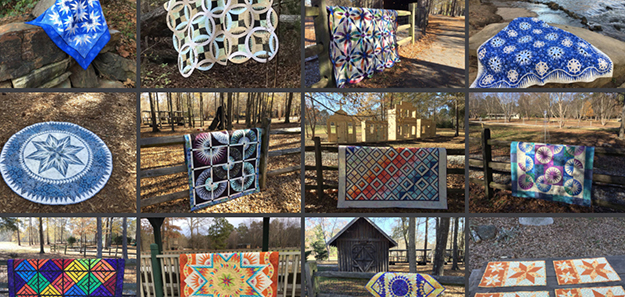 Sorry, there are no classes scheduled for Elsa Neubauer at this time.