Check Out Our Newest Releases

!
We've been super busy updating patterns with new techniques and creating samples with our newest fabric lines designed by Judy and Judel Niemeyer with Timeless Treasures.
The following patterns are now available for purchase on our website, and the fabric lines are available in a quilt shop near you! Click the images or links below to learn more about each pattern, find replacement papers, see samples made by Quiltworx.com and others, find kitting information, and purchase the pattern!
Wholesale purchases are available to those approved with a wholesale account. Visit our wholesale page to order (minimum purchase of 3 and advance approval of wholesale account is required).
---
Weeping Willow Tonga Treat Strip Set
The following two quilts were made using a limited release strip set called the Weeping Willow Strip Set designed by Judy and Judel Niemeyer, with Timeless Treasures.

The strips are Tonga Batiks, all with the same print, but in 20 different colors, with 2 of each strip included the package.
Stepping Stones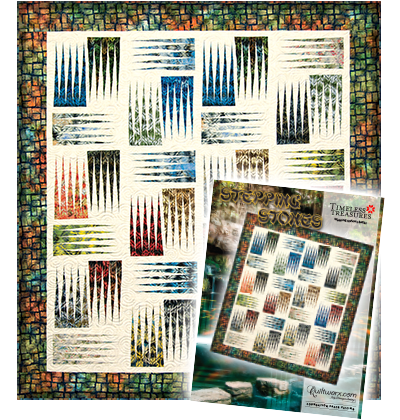 Stepping Stones was designed for all skill levels making this a fun and easy quilt for any beginner or advanced quilter to make up in just a few days. The pattern was republished in November of 2015.
Wisteria Lane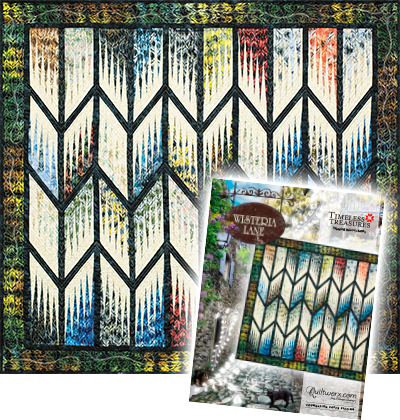 Wisteria Lane, a very unique display of color introduced as a Chevron Wall Hanging, will add a splash of color to any Modern or Southwestern living décor as a Wall Hanging, Couch Throw, Table Topper or Bed Runner.
---
Lakeshore Batiks Collection

This next quilt features Lakeshore Batik fabrics which were designed around some of Northwest Montana's most famous lake shores, where waters are a rich turquoise color, the glacial rock deposits are deep reds and purples and shine brightly in the clear mountain waters where wheat fields line the shore. Stay tuned for more beautiful quilts created using this bright collection.
Lakeshore Sunrise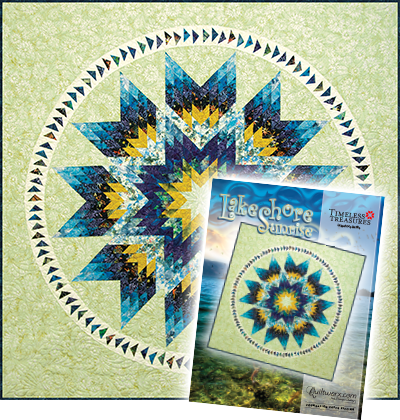 The Lakeshore Sunrise pattern was designed after the Prismatic Star using the same techniques, adding a border, and setting the stage for a wide range of quilt sizes that feature the exploded lone star design. A circling flying geese block was designed to frame the exploded star and a large open background was added to showcase quilting designs.

---
Robert Kaufman Fabrics
The next quilts have been long awaited and were created using Robert Kaufman Collections.
Southern Belles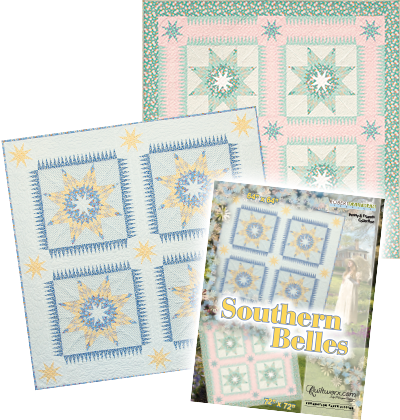 The Southern Belles pattern was designed to feature our newest lone star technique using 1-inch diamonds to complete a 20″ block. We bordered the blocks with a very traditional antique quilt layout consisting of tiny spiked borders and floating stars. The quilt was designed with two different border options and two different sizes. The overall impact is a soft, vintage deep south quilt with no Y-seams, simple construction, only three different techniques, and will be available soon in expanded sizes. Digitized Quilting Designs are also available for this layout!
Southern Belles was created using the Penny and Friends fabric line, or choose your favorite line of vintage/reproduction fabrics!
Into the Northwoods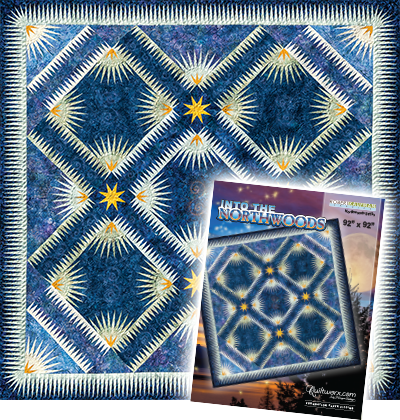 Into the Northwoods was designed around the Robert Kaufman Batik Collection, Northwoods. Robert Kaufman called us and expressed interest in our Glacier Pines quilt design, so we took advantage of this and started designing new 20″ blocks to fit in the center of the set-in borders. This pattern is first in a line of designs that will show different 20″ center designs, which will ultimately be published through our Charm Elements program, to mix and match and make your favorite layout.

Northern Star Table Topper
Cut Loose Press Pattern by Cindi McCracken Designs,
using the 8" Hexi Block Charm Element by Quiltworx.com!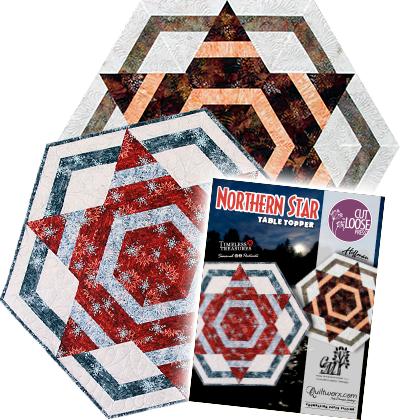 The Northern Star Table Topper pattern is different than a traditional Quiltworx pattern in that it utilizes various tools and Charm Elements to create fast, fun, projects and layouts aimed at the beginner or a customer that simply wants to try out a fast project to learn a new technique or how to use a new tool. For more information on Charm Elements, click HERE.


Congratulations to Certified Instructor,
Jackie Kunkel for publishing her first book!

One of her book patterns, Star Bright (shown below in both light and dark colorways), uses our Charm Elements Pack #9: Small Stars which can be purchased along with the book here, or you can purchase the book by itself here. Click the images below to enlarge for a better look.

Don't Forget our Sales & Specials Web Page!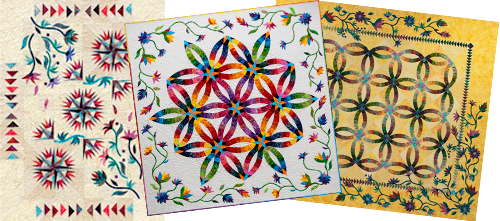 Quiltworx is almost OUT of our fusible applique packages associated with the Flowers For My Wedding Ring, Diamond Wedding Ring, and Midnight Blooms patterns! For great closeout prices on Quiltworx Impressions kits that fit these quilt patterns, please click here!
These kits coordinate with all three Generations of Quiltworx Bali Pops and also look amazing with 1895 backgrounds from Hoffman! All use Hoffman Batiks in rich vibrant garden inspired colors and eliminate literally hundreds of hours of applique preparation! Not to mention, they look perfect when finished due to the precise laser cutting process used to prepare them!
Here's a link to a video showing you how to use these products:
www.quiltworx.com/techniques/quiltworx-impressions/


Do you have an award winning quilt?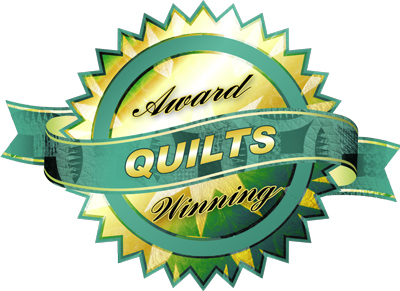 The new Award Winning Quilts Album is up on Facebook! Congratulations to the winners! If you have an award winning quilt made from a pattern designed by Quiltworx.com, send a picture to Ilyse@quiltworx.com and we will award you a $10.00 gift certificate when the publish our next newsletter!