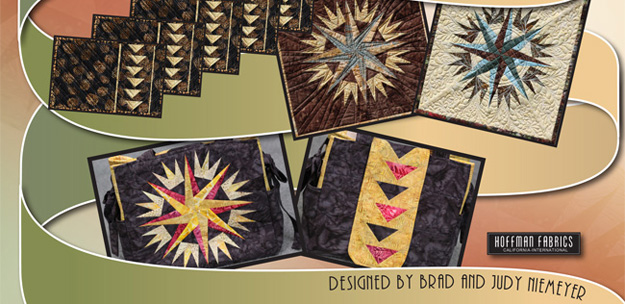 What is a Charm Element, you ask?  It's a package of units that are not set to any specific layout, but rather purchasable and usable in a variety of projects either published under separate cover as patterns only by Quiltworx.com, through other designers, or for incorporation into your own project as you desire!
What is in the Instructions?  A coversheet is not included with these projects to keep costs down and provide basic information regarding how to figure out yardage for a project that can be completed in a variety of ways, along with basic cutting and foundation paper piecing directions.
Do you Need Additional Pattern Information Beyond the Charm Element?  Maybe, it depends on your goals!  If you have found this package through a pattern published in another location, (i.e. the Janet's Tote Purse, designed by Sandy Lueth, or a Cutloose Press Pattern), you will need those products to give you the additional information to complete the project.  However, if you are simply wanting basic foundation blocks to create your own project, purchasing this package will give you that chance!
What Size are the Blocks?  The main blocks in each pattern are designed to be standardized at 4", 8", 12", and 16" blocks so that as we create new Charm Elements Packages they can be mixed and matched to obtain an unlimited range of projects!  Please check the pattern information for the block sizes.  Note that Charm Elements #1 has a border block that is 6-1/2" x 11".  Some Charm Elements Packs may include pieces that are intended to float in a quilt or form a border.  This is the intentions of the flying geese block that has been included herein.
When will Other Layouts Be Available?  Upon publication of this pattern, a complimentary product called the Janet's Tote is available, designed by pattern designer and Certified Instructor for Quiltworx.com, Sandy Lueth.  You can find the Tote by simply clicking on the "related product" below, which will allow you to purchase the purse from our website.  Quiltworx.com is working with Checker Distributors to develop a line of Cutloose Press patterns that will include a variety of layouts!  When these become available, they will also be available here or at your local shop that carries Cutloose Press!  We'll announce them, with our first patterns planned for Late October, 2013, to be rolled out at Fall Market in Houston!  Watch our Facebook Page for fun projects that include our Charm Elements Packages combined as follows:
1)  You may need only (1) Charm Elements Pack to complete a project
2)  You may need (2) or more Charm Elements Packs to complete a project
3)  You may need a combination of Charm Elements Packs (Pack 1…plus any combination of future Packs)
4)  You may need a Charm Elements Pack, PLUS a pattern from another designer (such as Janet's Tote!)
It is our hope that these blocks become usable for shop hops, online blog hops, and shop developed block of the month programs in the future.  So, watch for the Charm Elements Program to grow and grow and grow!  Our goal is to have a new Element on the market every few months, with a few new layouts and ideas to INSPIRE creativity!  We want to give beginners some basic blocks to start working from and our valued customers a way to get CREATIVE with our blocks!  Create your own layout.  Share it with us.  Blow our socks off!
Charm Element Corrections
Charm Element Pack #17
7/6/2017 – Sew Side Correction
          
To help you get started with ways to take Charm Elements to the next step, take a look at the Cut Loose Press page, where Quiltworx.com has taken our Charm Elements Design and put together some simple layouts and packages you can purchase!
Click on the albums below to see all of the possibilities on Facebook and Pinterest!