Here are our Newest Publications

!
We've been super busy updating patterns with new techniques and creating samples with our newest fabric lines designed by Judy and Judel Niemeyer with Timeless Treasures.
The following patterns are now available for purchase on our website, and the fabric lines are available in a quilt shop near you!
Many of these patterns are also being prepared for the Quiltster App which is currently being beta tested, and is due to release later this year. Quiltster is an incredible fabric auditioning software that allows you to pick and choose fabrics before you spend money. Look for the Quiltster Compatible logo on the patterns below, and click the quilt images or links to learn more about each pattern, find replacement papers, see samples made by Quiltworx.com and others, find kitting information, and purchase the pattern!
Wholesale purchases are available to those approved with a wholesale account. Visit our wholesale page to order (minimum purchase of 3 and advance approval of wholesale account is required).
---
Wrapped in Ribbon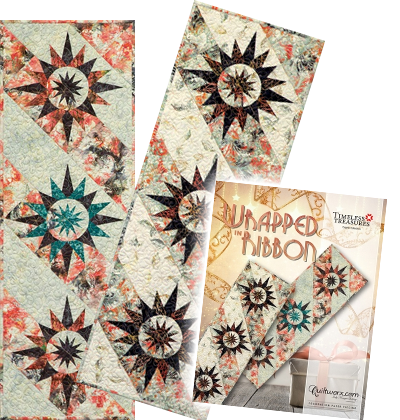 Wrapped in Ribbon

was designed by Quiltworx.com in 2016 as an optional color and block layout for one of our most popular table runner patterns known as the Cactus Flower Table Runner. A Tonga Batik collection called

Copper

by Judy and Judel Niemeyer with Timeless Treasures was the inspiration for the samples shown above.
---
Wedding Star Table Toppers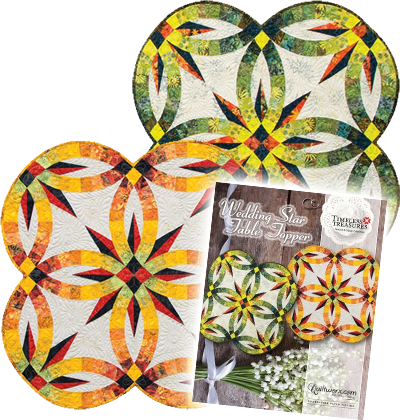 The Wedding Star Table Topper

pattern is Judy's original Wedding Star design downsized to a 2 ring by 2 ring layout. The small size makes this pattern a great teaching tool because it's affordable to kit and students enjoy small projects that allow them to get their feet wet without the commitment to a large project.
---
Lily Pond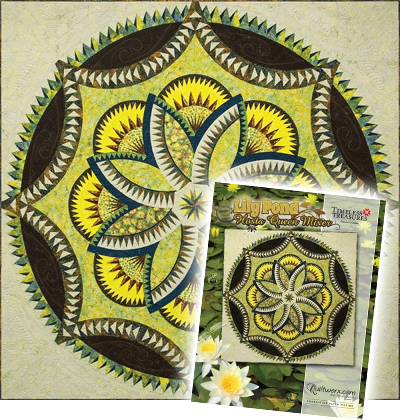 With the

Lily Pond Hosta Queen Mixer

, Quiltworx marks the launch of a series of patterns using new units designed to fit the original

Fire Island Hosta Queen

layout. Using Quiltster, we designed the color layout for this quilt using a collection of batiks from our

Peacock Collection

designed by Judy and Judel Niemeyer with Timeless Treasures.
---
Lakeshore Hosta Queen Mixer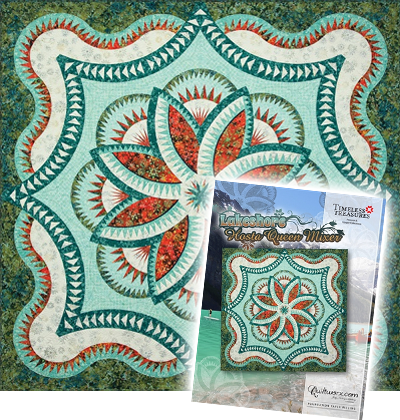 Lakeshore Hosta Queen Mixer

, another mixer pattern that uses alternate units that fit the Fire Island Hosta Queen pattern layout. This sample uses a collection of fabrics from our

Peacock

and

Copper

Collections.
---
Feathered Snowflake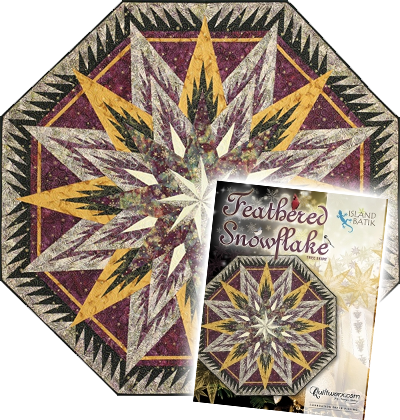 This new take on our

Feathered Snowflake

features fabric selections from Elizabeth Phillips and Anne Hall using a special release collection of Christmas batiks from Island Batik.

The pattern now incorporates all of the latest techniques from Quiltworx and is assembled in a straightforward approach, creating (8) wedges of an octagon, then assembling those together.
---
Broken Daisy Placemats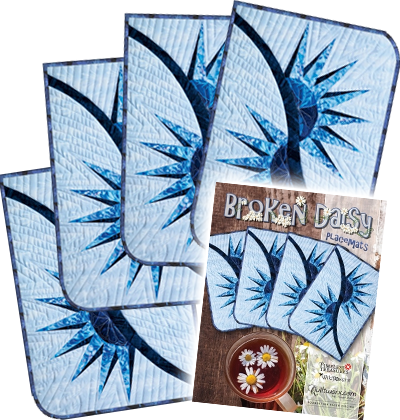 One of Judy's newest designs, the

Broken Daisy Placemats

pattern is a quick and fun paper piecing project that's easy to do, and easy to kit.

Do you have an award winning quilt?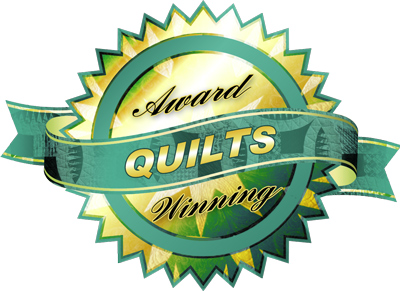 The new Award Winning Quilts Album is up on Facebook! Congratulations to the winners! If you have an award winning quilt made from a pattern designed by Quiltworx.com, send a picture to Ilyse@quiltworx.com and we will award you a $10.00 gift certificate when the publish our next newsletter!