Three New Patterns Now Available!
These patterns are now available for purchase on our website, and the fabric lines are available in a quilt shop near you! There will also be digitized quilting designs available in the near future.
Many of these patterns are also being prepared for the Quiltster App! If you've never heard of Quiltster, it's an incredible fabric auditioning software that allows you to pick and choose fabrics before you spend money. Look for the Quiltster Compatible logo on the patterns below, and click the quilt images or links to learn more about each pattern, find replacement papers, see samples made by Quiltworx.com and others, find kitting information, and purchase the pattern!
Wholesale purchases are available to those approved with a wholesale account. Visit our wholesale page to order (minimum purchase of 3 and advance approval of wholesale account is required).
---
Frozen Fountain
65″ x 65″ • Fabric: Baltic Mini Collection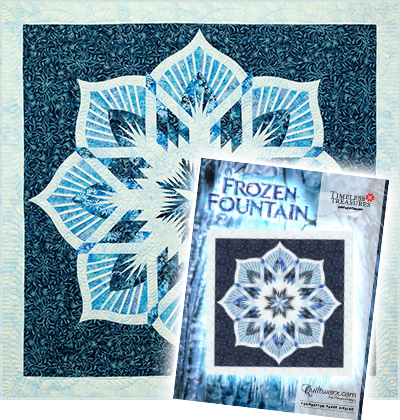 Part of our Cattail Mixer Collection, the Frozen Fountain layout was designed with a standard size and a number of interchangeable units. It incorporates all of Quiltworx's latest techniques, is a breeze to put together, and is easy to modify. Use Quiltster, to try different blocks for the center or border, and test out different fabrics to arrive at the perfect unique combination before you buy any yardage.
---
Summer Solstice Queen
98″ x 98″ • Fabric: Bohemian Blues Collection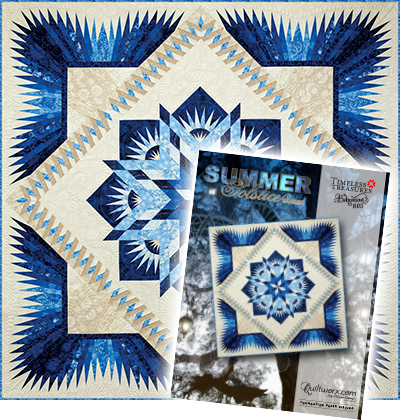 It's finally here! The expanded version of our popular Summer Solstice pattern! Summer Solstice Queen incorporates updated techniques to increase yardage efficiency, time efficiency and organization. It's not compatible with the original pattern, so if you're going that route, we recommend just remaking the center and New York Beauty units using the new papers.
Using the Quiltster app, there are 1,400 different combinations of blocks available for this queen sized layout!
---
Chinese Lattice
75″ x 75″ • Fabric: Bohemian Blues Collection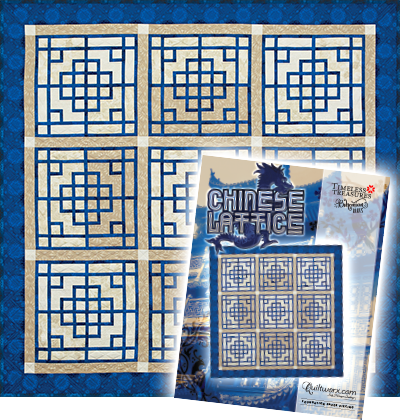 The Chinese Lattice pattern was designed as a beginner pattern to introduce quilters to paper piecing. The project is fast, uses only straight-lined foundation piecing and assembly, employs simple cutting techniques, and is an affordable and fun way to jump into your first paper piecing project. It is meant to make those new to the process find confidence, understanding and success.


Quiltworx University: Thimble Towne, Bakersfield, CA Has Openings

A sampling of kits (designed by attendees) being made for the event!
We still have some spaces available in this February 27th to March 4th, 2018 event. If you're able to make it to the Bakersfield, California area, we'd love to see you, and help you create a one of a kind quilt like the ones shown above! This exclusive Cattail Mixer project is only available at this retreat. There are three quilt sizes, 65″, 77″, and 99″ square, with several block options for each of the center star, background, and border blocks creating over 4,500 ways to make your quilt unique!
Join us February 27th – March 4th, 2018!
Get your project started now! Click here for more information and to sign up.

Hope to see you soon!


We are so pleased to welcome the latest group of incredible quilters to our Certified Instructor Program. They've worked so hard the last year training with Judy, learning the tips and tricks that make teaching Quiltworx patterns fun and rewarding. They're versed in the latest Technique of the Month patterns and are ready to join your shop or guild to share their knowledge, quilts, and techniques. If they're in your area, check out their calenders to see which classes they're teaching. Many are willing to travel!
Click on the links below to view more information about each instructor along with their gallery of quilts, and certifications.
Ana Blickenderfer • Charles City, IA • 641-220-3237

Ana started sewing clothing at the age of 9 for 4-H. At age 16 she started hand quilting and binding. By 21 she had started a scrapbooking and quilting business. Making quilts and quilting on commission was in higher demand, so in 2010 she got rid of scrapbooking to focus on quilting. Since 2008, Ana has made over 450 quilted items for others. She discovered Quiltworx online in 2013, by 2014 she was looking all over for a class to learn to paper piece.

Ana's first pattern was Winter Wonderland table runner with CI Jodie Madison. Her second was Stormy Seas, then Weathered Windmill (2015) and another Weathered Windmill in 2016. By the end of 2017, Ana has completed 26 "Judy" patterns.

When she isn't teaching or quilting Ana works full time at Zoetis Inc. (Animal Health), spends time with her husband, daughter and two dogs, gardens and does woodworking.

In September 2017, Ana opened a home training center/studio in Charles City, Iowa to teach and carry Quiltworx patterns and fabric by Judy and Judel along with basic paper piecing supplies. She travels in Iowa, mainly, but is willing to go anywhere!
Carol Hattan • Vancouver, WA • 360-607-3473

Carol began sewing clothing but began quilting with a flip and sewing log cabin. She was a 4H sewing leader for 10 years. As her two children left home she found more time to quilt. First simple pieced quilts, stack-n-wack and then lots of applique. Since Carol is a mathematics major with Geometry, Algebra II and Statistics her teaching area, the symmetry patterns in Judy's quilts were a major attraction. In 1997 she bought her first pattern Judy pattern – The Wedding Star. Two queen size quilts later she was hooked. These wedding gifts are still her children's favorite quilts.

In 2016 she retired from school teaching and running a national teacher training program in Park City Utah (the Park City Mathematics Institute). She decided to attend a Judy retreat in Montana as a way to not be worried about the kids going back to school. The staff at PCMI helped with her shopping in Montana with a Quiltworx gift certificate. They appreciated the fact that they had all gotten quilts when they join the staff over the 18 years.

Over the years Carol taught quilting at a local shop and at the guild meetings. With retirement Carol is now sewing and teaching paper piecing with Judy's techniques. The beautiful award winning quilts are so much fun to make.
Brenda Anderson • Portland, OR • 503-913-7101

Brenda has lived a life full of all things crafty. She enjoys sewing, quilting, and embroidery and loves teaching these crafts to others. Throughout her life, she has taught both children and adults how to sew and quilt, quilted for others, and even owned a scrapbooking business. As a longarm quilting machine owner herself, she has made and quilted several quilts that range anywhere from placemats and beautiful appliquéd wall hangings to amazing Judy Niemeyer quilts.

Brenda lives in Portland, Oregon and has been married to her husband Randy for nearly 35 years. They have raised two sons together, with the youngest currently a senior in college.

In early 2011 she began working for HandiQuilter as an international educator where she taught on longarm quilting machines. Currently, she works for Brother International as a national educator. Although it is her job, she thoroughly enjoys teaching and training others on Brother's awesome line of sewing, embroidery, and quilting machines. She also gets to teach quilting classes… which is a highlight of her career. She loves to share and teach Judy Niemeyer's paper piecing process and awesome assembly techniques.
Prudie Taylor • Intervale, NH • 207-852-6049

Prudie Taylor remembers her grandmother teaching her the Blanket stitch on a pot holder when she was 4 years old. Never one for idle hands, she took that lesson and has enjoyed many aspects of sewing from embroidery and needlepoint to making her own clothes. In 1984, she took a quilting class while serving in the Navy. This involved ripping the fabric on the grain and making all of her own templates. After a 20 year hiatus while raising 3 active children, she returned to a quilt class and found a lot had changed. But when a friend took her to her first Judy Niemeyer/Quiltworx class, a spark ignited. Nearly 30 quilts later, she is excited to bring her enthusiasm and skills to classes in the New England area. Available for shops, guilds and retreats, she can guide quilters from novice to experienced, to gain confidence in learning new techniques and completing the beautiful patterns designed by Judy Niemeyer and her team.
Cindy McEntee • New Port, OR • 541-270-7610

At present I am working at Jannilou's Quilt Shop in Philomath, Oregon. I teach a class called "Judy, Judy, Judy" , one Friday every month. It is open to anyone working on a Judy Quilt that needs a little help or encouragement. My day starts at 9:00am till 5:00 pm. The attendance varies from 3 to 12, all working on different projects. It is a super fun class where I get to actually work on many different patterns at once!! Everyone gets a lot of exposure to other patterns, plus some help on picking out their next quilt project and fabric. My Calendar also includes a 2 day Twinkle Star class, starting in March. Lou is filling our Calendars with more projects for myself and Shirley Scott. I will be adding more teaching in 2018, not just here in Oregon but where ever the love of making beautiful Quilts takes me.

Twice a year we host a Judy Niemeyer Mini Retreat. Three days of solid sewing, held at our Yaquina Bay Yacht Club in Newport, Oregon. Accommodating 22 students we have one in May and another in October. There is always a waiting list for the next Retreat. We teach all skill levels and often have 5 to 8 'New to Judy' Sewers. This is educational and all the sewers learn more than just their particular quilt nuances but good habits for all quilt making. These Retreats have produced some beautiful work and at our 2017 "Quilts by the Sea" Quilt Show, which has AQS Judging, we had 10 beautiful Judged Entries. I am very proud of those men and woman that won Ribbons and also happy to have been a part of their success.
Celeste Akre • Lisle, IL • celesteakre@gmail.com

My name is Celeste Akre. I live in the western suburbs of Chicago, Illinois.

I began quilting when my teenage daughter came home from school one day and told me I would really enjoy quilting because of the math and geometry used in designing and creating a quilt. She certainly was right about that, and I have been happily quilting ever since 2000.

I completed my first Judy Niemeyer quilt in 2011. I had experience with paper piecing before, but nothing like this. Her organization and cutting templates made a complicated project not only doable, but much easier and fun.

I have been teaching Judy Niemeyer's methods and techniques since 2012. My greatest satisfaction is helping a student grasp Judy's unique techniques and putting them on their way to making their own beautiful masterpiece.

Contact me at CelesteAkre@gmail.com

Whether you're a quilt shop interested in bringing our addictive Quiltworx patterns to your shop, or an enthusiastic quilter interested in learning how to paper piece, our Certified Instructors bring a wealth of experience, tips, and organizational tricks that make learning and completing our quilts efficient and enjoyable. Look for an instructor in your area here.

Stay tuned as we feature our other
Certified Instructors in future newsletters!

If you've already caught the Quiltworx bug, and are interested in more information on becoming a Certified Instructor, click this link for a PDF document that outlines the process and how to contact us.