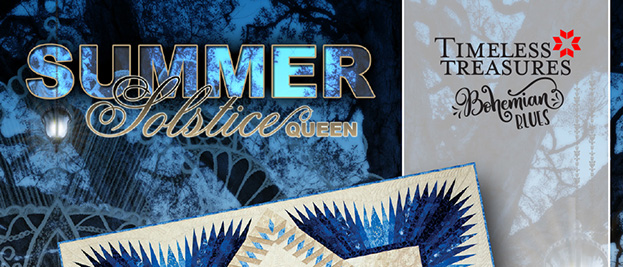 The Summer Solstice Queen pattern is a long awaited publication from Quiltworx, expanding the Summer Solstice pattern, a customer favorite, to a Queen size layout. To accomplish this, a few changes had to be made to the pattern. In addition, some updated techniques were incorporated into this design to increase yardage efficiency, time efficiency, and organization. Through these updates, we have designed a great pattern, although not compatible with the original design. As a result, if you are hoping to use this queen pattern to expand the original quilt, we recommend just remaking the center and New York Beauty units using the new papers. During assembly, you will be very glad that you did!
The design for this Queen layout was created using Quiltster. The center diamond is the same size as the Diamond blocks in Amazon Star, Congo Star, Tarnished Windmill and Red River Star. We presently have 7 different options for the center star. The New York Beauty blocks are 10" square, which match windmill blocks we've designed for the Tarnished Windmill, and the Quarter Star blocks used in Southern Belles for a total of 3 options. We have designed two background options for the center background, there are 8 possible C-Borders, and 4 different Queen Expansions. With all the currently available options, there are over 1,400 different combinations of blocks available for creating another Queen size quilt using this layout. I am certain that in the future additional designs will be available as well.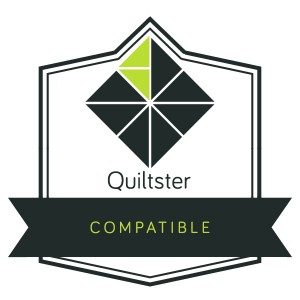 This pattern is Quiltster Compatible! This means you can color the quilt with your favorite Fabric Collection in Quiltster before you make it and obtain yardage! Click on the logo to the left to be taken directly to the Template page for this design in Quiltster. You may need to log into your account for the link to work. If you do not have a Quiltster account already, you will need to subscribe and log in before this link will work. Subscriptions can be obtained by going to http://www.quiltster.com, click on Subscribe!
Click below for a downloadable .PDF of various kitting handouts!
Size: 99″ x 99″
Price: $72.50
Pattern Includes: Instructions, Cover Sheet, Yardage Information, Foundation Papers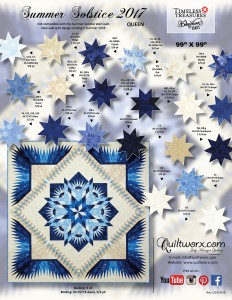 Related Products
Gallery
Quiltworx.com
Summer Solstice Queen, Quiltworx.com, Made by Shirley, Taught by CI Janet Spinks
Joan Losurdo Goodman
Beautiful. I love the colors
Vera Lobody
wow amazing the colors are beautiful
Joan Losurdo Goodman
Beautiful. I love the colors
Cathy Houston
Wow a lot of beautiful work
Becky Corthorn Weimer
Does anyone in western PA teach the Quiltworx stuff?
Rosemary West
Just beautiful!!
Rosalind Wolfe
Big and Beautiful.
Joan Traeger
Beautiful work
Sandra Congdon Kollath
I love it!
Jeanette Harrison
BEAUTIFUL work
Kathy Curll-Hoenig
Love this!
Jan Redden
On my to do list!
Marjorie Overly
Beautiful!
Elizabeth Garling
beautiful
Margaret Homan Du Plessis
Beautiful
Roberta Deferio Guenther
Stunning
Margaret Homan Du Plessis
Beautiful
Sorry, there are no classes scheduled for Summer Solstice Queen at this time.