June 25, 2018


Are you ready for Madeline Island!?
We are! In preparation for your trip, we're resending the Retreat Supply List and Retreat Schedule for reference below.
Quilters Quest and Quiltworx are presently preparing your patterns for this event! And, many of you will be showing up to class with your pattern prepared for you!
For the few of you that are working on Kaleidoscope in your own colorway, patterns will be published by June 29th and we will work with you to get one ordered so we can ship it, ASAP! I will be sending you a yardage chart for the quilt as it is shown on the cover. Also, please remember that you can presently use Quiltster as a planning tool for your quilt and when you click on the Print Page, then click on Block and Inch Strips in the yardage chart using the drop down menu, you will see strip sizes and fabric references you need to be prepared for class. You can begin this preparation without the pattern. If you would like more information in this regard, please let me know, ASAP!
For those of you working on Ice Castles and choosing your own fabrics, I believe you should already have your fabrics and be well on your way to cutting your pattern in preparation for class. If you are not at this point by now, please let me know if there's anything I can do to help you get started.
We can't wait to see you! ~ Sincerely, the Quiltworx University Team

You'll need to bring the following items with you to class:
3″ by 12″ piece of Template Plastic (3″ by 12″ piece)

3-1/2″ by 18″ piece piece of Template Plastic

12″ Add-a-quarter ruler

18″ Add-a-quarter ruler

Purple Thang (optional)

6″ by 12″ ruler

Medium size cutting mat (18" by 24")

Rotary cutter 45mm or 60 mm

New rotary blade

Size 70 needles (Microtex recommended)

Scissors

Seam ripper

Small Extension Cords (May not be necessary)

Fabric glue UHU stic

Glue Pen (Fons and Porter, Sewline, or Avery recommended)

High quality cotton sewing thread

Flower pins

Scotch Tape

Large Ziploc Bags

Stapler

Binder Clips (medium and small)

Large Paper Clips
Sewing Machines will be provided at no extra charge for this event. We kindly ask that you leave your personal machines at home so that we can assure power will be adequate to meet the needs of each student! Pressing stations will be included in each room that you can share (1 table for 7 students). We will also have movable design walls available when you are ready to layout your quilt and see how it's coming along!
Each Room will have (4) Pressing and at least (2) Cutting Stations. Madeline Island has done a great job assuring that power requirements are available for the machines and ironing stations, along with everything that is needed to keep us all *on the grid*. You will be sharing the pressing and cutting stations with 32 students. Much of the cutting you will be doing can be done at your own station and there is enough space on each 4 foot table for your machine and a cutting space. There is also some available wattage for you to have lights and irons at your space. But, PLEASE adhere to the following guidelines below.
OPTIONAL: You are also able to bring a small iron (less than 40 Watts, please. Anything greater will not be allowed), to press seams while at your seat.
Some options might be:
Darice 1204-59 Mini Crafting Iron ~ 15 Watts
The Petite Press Portable Mini Iron ~ 10 Watts
Original Mini Iron by Clover ~20 Watts
Clover Wedge Iron (Shared by Two People) ~ 80 Watts…if you share with a friend, we will allow this one!
As a courtesy to other students, extra table extensions will not be allowed. Please understand that these extensions make it difficult to move through the aisles and also increase the amount of space you are likely to encroach on your neighbors. We also ask that any storage containers that are too large to fit beneath your own sewing station be stored in your vehicles during the week.
In addition, some students like extra light. LED Lighting Kits for Sewing Machines are allowable, but please do not bring magnifying glass combos. Some of those shown below might give you an idea of options that seem to work well in retreats at Quiltworx. Since we will be providing machines at this event that may be purchased by other customers in the future, please do not bring a light that needs to permanently attach to your machine unless you plan on taking it home with you!
Slimline Table Lamp
Portable LED Lamp

Getting to the Island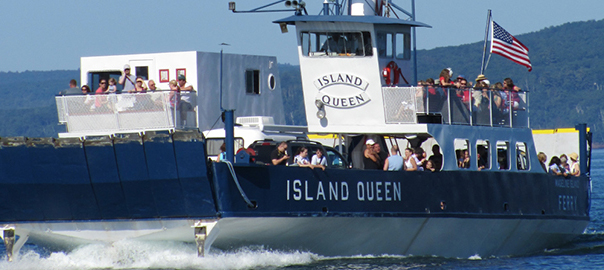 Many of you have booked your tickets and have travel plans for getting to Madeline Island. Please remember that part of your trip involves a ferry ride from Bayfield, WI to the island and the ferry runs on a schedule. For more information on the Ferry Schedule and cost, please click the link below.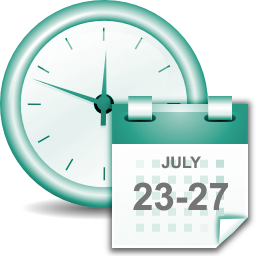 The general program schedule is provided below if you are interested in how your day to day will work! Your week will include special events, check-in, and check-out information!
Sunday, July 22nd:
10:00 a.m. to 5:00 p.m. Check In. Get situated in your cabin, and set up your sewing station.

6:00 p.m. Welcome Banquet

7:30 p.m. Meet your Instructors and receive a basic machine demo, learn basic cutting techniques for Monday's first workshop
Note: The sewing studio has (2) rooms, each with (28) students. Every station has its own 4 foot table, and, each room is outfitted with (4) ironing and pressing stations. You will not be able to have an iron that does not meet the class requirements set forth above at your own personal station. However, even if you must get out of your seat to iron, your sewing station can accommodate much of your trimming needed during the paper piecing process in your quilt.
Don't forget, you are invited to arrive to a station that has already been set up with a sewing machine (so there's no need to haul your own). These complimentary machines are provided from Bernina and Quilters Quest, your exclusive Certified Shop on the island!
Staff from Quilters Quest will be on hand throughout the week to help you learn about your machines and will provide some excellent workshop specials for those of you that may be in the market for machines! The prices are so good, that during past events, Quiltworx has purchased several machines for use in our training center in Montana!
Daily Schedule:
7:00 a.m. to 8:30 a.m.: Breakfast

8:30 a.m. to 11:30 a.m.: Morning Workshop

11:30 a.m.to 1:00 p.m.: Lunch

1:00 p.m. to 3:30 p.m.: Afternoon Workshop

3:30 p.m. to 4:00 p.m.: Afternoon Break

4:00 p.m. to 5:30 p.m.: Afternoon Programs (Optional)
Quiltster demonstrations will be provided for interested students in the shop area above the dining hall.
Trunk Show from Instructors and students will be held either in one of the classrooms or outside over the balcony of the Farmhouse if you are interested.
Judy will be available for demonstrations on other techniques beyond just those used in the units for the workshop.
On Thursday, there will be free sew and time to shop with your Certified Shop after 4:00 p.m. The Certified Shop will be available throughout the week for supplies, quilt kits, fabric, and anything else you may need to satisfy your quilting desires!

On Friday, class will end at 4:00 p.m. Students can check out early and head home, stay and sew for the evening, or hang out around Bayfield! If you do, make sure to visit the local quilt shop,

Quilt Elements

. They always makes sure to treat the quilters on the island well, showcasing extra deals and promotions on products throughout the week! Take the ferry over and eat in Bayfield, then head back to your lodging on the Island in the evening. Or, head on your way out of town!

6:00 p.m.: Dinner (except Friday, where dinner is on your own).

Evening: Tuesday: Evening demonstrations will happen on Tuesday. All other evenings are free sew events and one instructor will be on hand during each evening to help answer questions!
Saturday, July 28th, 4:00 p.m.: Official Check-out

---
---
March 8, 2018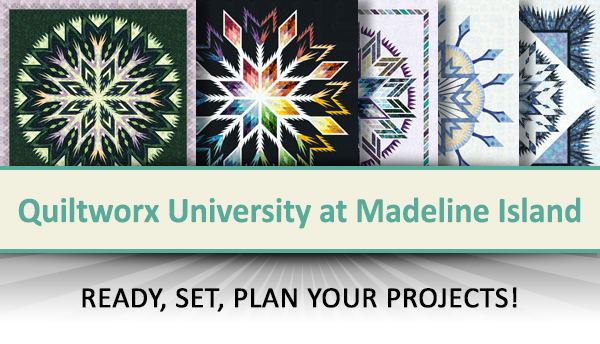 July 23rd – 27th, 2018
Hello everyone! We're beyond excited about this upcoming retreat, and the beautiful design options we've developed especially for you! Check them out below and start planning your project today!
---
THE PROJECT!
We're thrilled to introduce you to our newest mixer patterns, the gorgeous Kaleidoscope Mixer, which is basically the Prismatic Star on steroids incorporating the lone star blocks with many kaleidoscope-like layouts.
The first thing you'll need to do is to pick Option 1, 2, or 3 below for selecting your patterns and fabrics:
OPTION 1: Purchase a Diamonds in Bloom ($59.50), Prismatic Star Queen ($47.00), Ice Castles ($62.00), or the NEW Kaleidoscope pattern ($42.00 – coming in June!), and choose your own fabrics from your stash or as desired.
Please prepare your kit by cutting the strips up to the point where you would begin cutting with a Template Layout Sheet (you do not need to cut apart the layout sheets prior to class). These options can be colored in Quiltster if you would like. To prepare them, click on the Ice Castle pattern, or the Kaleidoscope Mixers. Preparing the strip cutting will help you be prepared to begin working on your project at the steps where the rest of the students will begin.
If you require a kit for any of these patterns, Quilter's Quest will be happy to cut them and send them your way in advance so you can prepare them. Simply contact the shop and let them know which pattern you want!
OPTION 2: Select one of the Kaleidoscope Mixer kits, exclusive to this event! There are six options for you to choose from (and more may be added over the next few weeks). You will still have a Quiltster account available to you for the next 6 months as part of your event, but you will not need to use it to prepare your project if you've chosen one of these options.
We have not finalized all kit pricing at this time, but to give you an idea, your kit will include the following:
A pattern, ranging from around $30 (68" x 68") to $100 (On-point queen-size option), depending on the size and number of papers required.

A kit with fabrics included, pre-cut for you to the strip size, (Small patterns will range from $150, with larger designs being over $300). A 15% kit cutting fee will be included so the shop and Quiltster platform can prepare your kit for the workshop.
OPTION 3: Create your own completely customized quilt, where you pick the combination of blocks for your quilt and your favorite fabric collections from the list shown below! If you haven't received it already, you'll receive a 6 month subscription to Quiltster, allowing you the opportunity to mix and match blocks and fabrics in 5 different quilt sizes to achieve your perfectly unique quilt! You may use Quiltster, or contact Judel Niemeyer for an additional design fee ($25/design) to help you create your perfect quilt.
Again, we have not finalized kit pricing at this time, but the range will be similar to that noted above and depend on the selection of blocks and fabrics for your pattern!
All kits will be based on a yardage price of $12.99 per yard, regular price, however, kits purchased for this event will be discounted at 10%! If you are interested in backing and binding, you will have the option to purchase this at the time of kit purchase. Backing and binding purchased with the kit will be discounted 25%. Sales to customers in the state of Illinois will be subject to Illinois sales tax of 6.25%. This will not be added to your order, but will be billed separately by the shop, as appropriate. Our goal is to have kit ordering begin on April 1st. We will send out an email and more information in the event page of Facebook when you can order your project.
---
Over 188,000 unique combinations before factoring in fabrics or block rotations!
---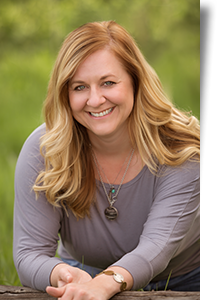 TIPS FROM JUDEL: To complete this project, you need to get comfortable with the lock and unlock feature, the rotate button, and sync! We have provided video tutorials below to get you started and will also be scheduling some Facebook live events for you to ask questions and also get more details.
We want you to make the most of these kits! We suggest choosing at least 2 different types of diamond blocks and no more than 3. Our class will be taught with Days 1, 2, and 3 dedicated to diamond demonstrations, Day 4, for the background options, and Day 4 for the border options and assembly.
So, if you choose more than 3 diamonds, then lots of border options, you may not get demonstrations on all of your blocks!
The diamonds are also generally packaged in groups of 8. Therefore, your pattern will become more expensive if you choose your diamonds with less than 8 or in numbers that are not a multiple of 8.
Finally, we have given you access to our Quiltworx Strip Sets! But, there are some things you need to know before you use them. There is also a video demonstration to go over this below. Plus, please understand that these pieces are ONLY available as 2-1/2" Strips. You will also need to purchase an entire package even if you only use a few. So, it will take more thought and effort on your part to use the strips properly! If you want me to check your project to make sure it's good, I will!
There are a few issues with the projects I want to bring to your attention. They will actually be fixed on Monday, I believe, with a launch of new features. But, if you are working on your project this weekend, you will want to know this:
1) There are some fabrics that show up in the Block Editor when you first open it. You do NOT want to use these! They are not fabrics that are available for this event. Instead, go to the Collections tab and choose one, then you will work with the correct fabrics.
2) The rotate button currently has a small glitch. You must load your block, then save your project, then leave the project and reopen it before rotating will work. It's a simple work around. And, we have the fix ready to go with a number of other fixes and a couple new features next Monday. I just did not want to wait another weekend to get this information out to you!
Thanks for being patient with us! ~ Judel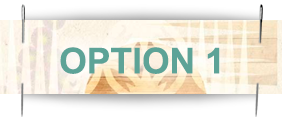 Purchase either of these patterns and choose your own fabrics.
Official Kits
(CLICK IMAGES TO ENLARGE)
These are the official kits for these patterns. If you would like one, they will be shipped in advance of the program in order to allow you time to prepare your kits in advance. If you would like your kit prepared for you, a 15% kit cutting fee will be applied and you can pick up your kit at the event.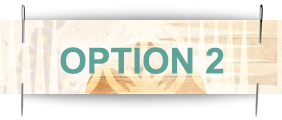 6 Kaleidoscope Mixer Kits

If choosing blocks and fabrics seems overwhelming, we're also offering the following exclusive fabric kits only available to event attendees. (3 to 5 kits are estimated to be available of each, and will be considered on a first come, first served basis!) We will be releasing a few more throughout the next few weeks before ordering begins, so watch for those as well!

If you select this option, we'll cut the kit and prepare it, for the class. We will bring the kits to the workshop for you so there is no preparation needed! The kits will be purchased in Quiltster after April 1st. You will have the opportunity at that time to see the total cost before you purchase. We are still working out some yardage details, so we haven't finalized kit pricing at this time.

(CLICK IMAGES TO ENLARGE)



100″ Square
Tonga Jewels – Amethyst & Tonga
Jewels – Jade by Judy & Judel
Niemeyer with Timeless Treasures

100″ Square

Tonga Jewels – Jade
by Judy & Judel Niemeyer
with Timeless Treasures





99″ Square

Baltic Mini Collection by
Judy & Judel Niemeyer
with Timeless Treasures




90″ Square
Quiltworx Prismatic Strip Set
by Judy & Judel Niemeyer
with Timeless Treasures




80″ Square
Quiltworx Gypsy Strip Set
by Judy & Judel Niemeyer
with Timeless Treasures




6″ Square
Bohemian Blues by
Judy & Judel Niemeyer
with Timeless Treasures
---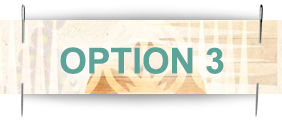 Create your own completely customized quilt, by selecting a quilt size and blocks for each section of the quilt (Groups A, B, C, & D) shown below along with new fabrics from 7 collections!
There are two ways to do this:
1. Use Quiltster! Prior to this event, you'll receive a 6 month subscription to Quiltster (as part of the fee for attending the event), allowing you the opportunity to mix and match blocks and fabrics in 5 different quilt sizes to achieve your perfectly unique quilt! If you're new to Quiltster, check out the tutorials on their website by logging into Quiltster, then clicking this link or using the drop down menu on the top left of the screen (three little stacked white bars), then selecting Tutorials. Once you get the basics, here are a couple of tutorials that will help you with a couple features that are especially important for this workshop.
| | |
| --- | --- |
| | |
| HOW TO USE THE STRIP SET | HOW TO LOCK AND UNLOCK BLOCKS |
2. We'll Design it With You! For an additional design fee you can work one on one with Judel Niemeyer as she uses Quiltster to mix and match blocks and fabrics to create your one of a kind quilt. You'll have final approval before your quilt is kitted.
Whether you use Quiltster on your own, or have us do it, your finalized quilt kit will be prepared for you and brought to MISA for you to complete! No preparation on your end will be needed!
---
Your block options are as follows:
QUILT SIZE OPTIONS




(CLICK IMAGES TO ENLARGE)

100″ Square

99″ Square

90″ Square

80″ Square

68″ Square
---
GROUP A OPTIONS
(CLICK IMAGE TO ENLARGE)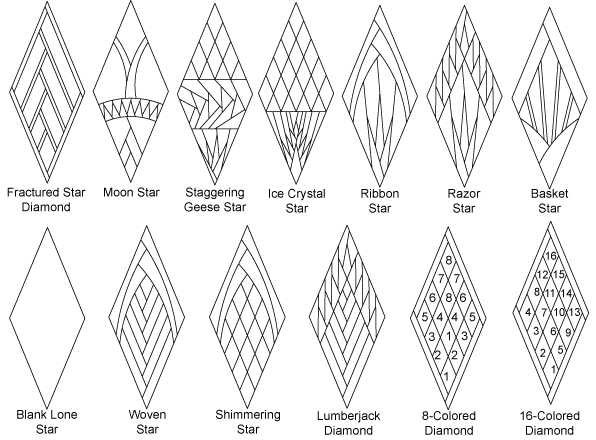 ---
GROUP B




(CLICK IMAGES TO ENLARGE)

Blank Star – Wall

Spiked Ring Star – Wall
---
GROUP C OPTIONS


(CLICK IMAGES TO ENLARGE)

1-Piece Border – Wall

2-Piece Border – Wall

1-Piece Border – Queen

2-Piece Border – Queen
---
GROUP D OPTIONS




(CLICK IMAGES TO ENLARGE)

FABRIC OPTIONS
We're THRILLED to offer you such a diverse selection of fabrics to work with for your Quiltworx University project.
---
Baltic Mini Collection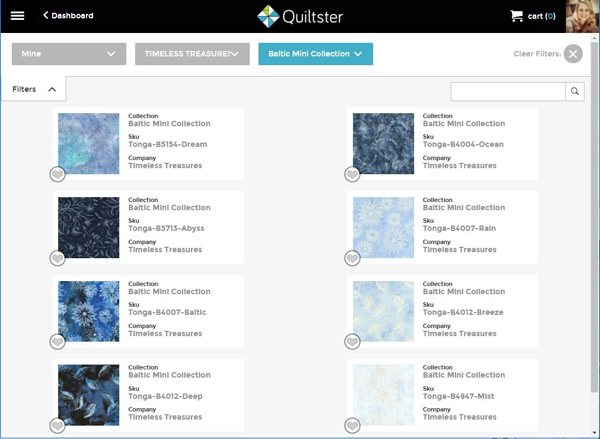 ---
Bohemian Blues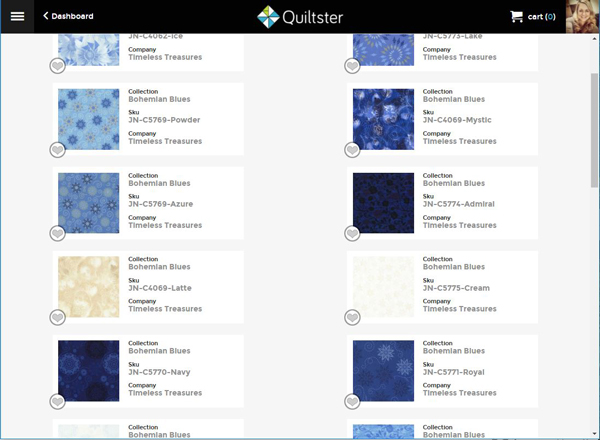 ---
Cactus Mini Collection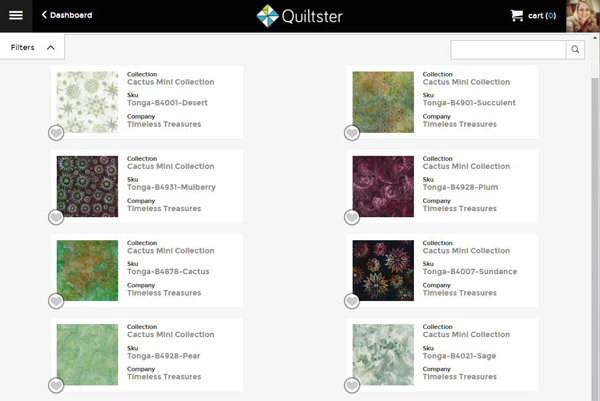 ---
Garnet Mini Collection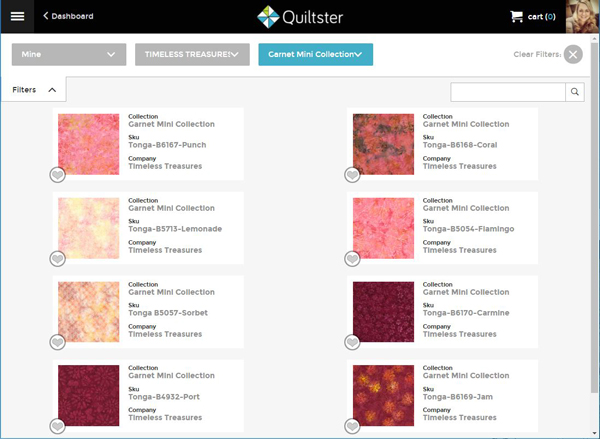 ---
Gypsy Strip Set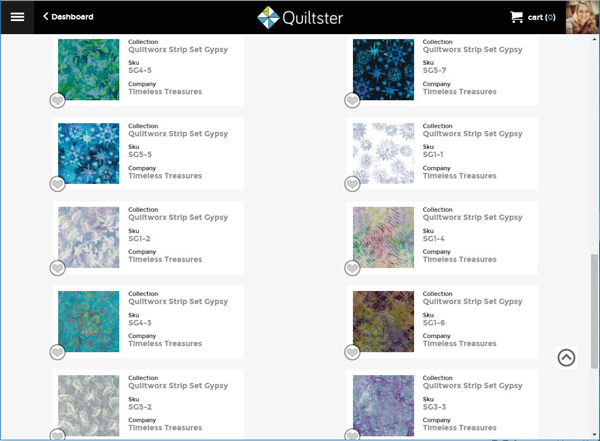 ---
Heirloom Strip Set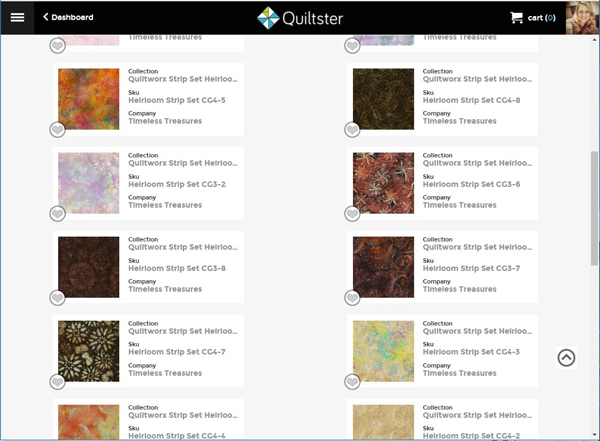 ---
Java Blenders Wallflowers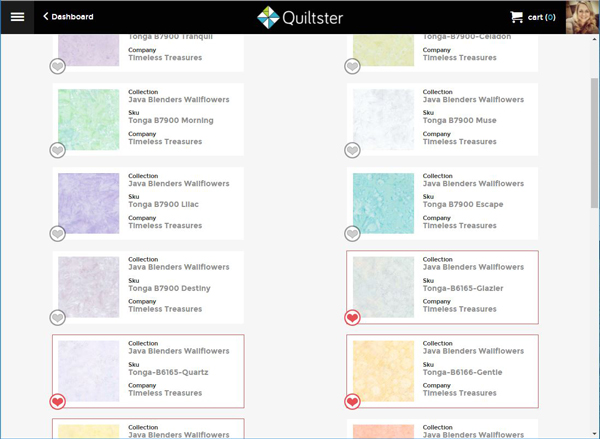 ---
Only a sampling of fabrics is shown above…THERE'S MORE! Check out the fabric list to find collections including a special assortment of Java Blenders, the Jungle Mini Collection, and our NEW collections from Quiltworx that haven't been seen or used by anyone else, including our Jewels – Amethyst, Jewels – Jade, and the Prismatic Strip Sets!
The fabric selections brings you 165 fabrics and (3) strip sets with (48) fabrics each! To see all available fabrics for this event, click on the images above for each collection and to see the never before seen collections, visit them in the project editor. A subscription to Quiltster is required to see this information.

HOW TO SIGN INTO QUILTSTER
Every one of you will receive 6 months access to Quiltster as part of your workshop fee.
If you already have an account:
Log in and see the green Madeline Island Quiltworx University 2018 button at the top of your project list. Select the project and template, and begin exploring fabrics! Also, under your account information, there is a $60.00 coupon already added. This will be deducted from your future subscription fees as follows:

If you are a monthly subscriber, you will not be charged for the next 6 months. Standard $9.99 billing will resume on the 7th month and beyond

.

If you're an annual subscriber, your card will be charged $39 instead of $99 during the next annual billing cycle. Standard $99 billing will resume for the following year and beyond.
If you do not have an account yet, please do the following:
Subscribe at

Quiltster.com/subscription

Interested in only a Monthly Subscription? Go to the Sign Up Page and follow the sign up directions. When prompted, enter the following coupon code: MadelineMonthly

This means you will not be charged for 6 months. Your subscription will automatically renew each month and will be charged $9.99 beginning the 7th month, forward, unless you

cancel

.

Interested in an Annual Subscription? Go to the Sign Up Page and follow the sign up directions. When prompted, enter the following coupon Code: MadelineAnnual

This means you will be charged $39 for this first year, instead of $99. Your subscription will automatically renew in one year at $99, unless you

cancel

.

ALL NEW USERS MUST DO THE FOLLOWING: Send an email to

info@quiltster.com

. You need to tell them the email you've signed up with. At that time, we will provide you with access to the special Madeline Island content inside the app. You will receive an email confirmation letting you know this is done.
SIGN UP PAGE LINK HERE
Click on the pink Sign Me Up or Subscribe button in upper right!
Also, we recommend you scroll down on this page and sign up for the newsletter.
This is how you learn what's new in Quiltster!
Please also consider joining the Facebook Group: Quiltster Support Network

SUPPLY LIST
A complete list of supplies will be provided closer to the event.

HAPPY QUILT PLANNING!