Hot off the press!
We're really excited to kick off the new year with two more NEW patterns made using our newest fabric lines Forever & Rosé which were designed by Judy and Judel Niemeyer with Timeless Treasures.
These patterns are now available for purchase on our website, and the fabric lines are available in a quilt shop near you! There will also be digitized quilting designs available in the near future.
Many of these patterns are also being prepared for the Quiltster App which was launched last fall! Quiltster is an incredible fabric auditioning software that allows you to pick and choose fabrics before you spend money. Look for the Quiltster Compatible logo on the patterns below, and click the quilt images or links to learn more about each pattern, find replacement papers, see samples made by Quiltworx.com and others, find kitting information, and purchase the pattern!
Wholesale purchases are available to those approved with a wholesale account. Visit our wholesale page to order (minimum purchase of 3 and advance approval of wholesale account is required).
---
Harboured Lighthouse

The Harboured Lighthouse pattern is part of the Congo Star Mixer Series, which was designed to bring a new look to a pattern that Quiltworx has sold for years called the Amazon Star. The Harboured Lighthouse uses a similar layout, slightly smaller than the original. In addition, it incorporates a series of units meant to portray the beam from a lighthouse. This pattern incorporates all of Quiltworx's latest techniques as well. It is a breeze to put together, easy to modify, and can also be colored in Quiltster before you create the final project!
To be truly unique, there are other block designs available that match the size of those used in Harboured Lighthouse. If you want to experiment and mix and match the pieces included here with those from other designs, Quiltster is the perfect tool for you to make a quilt completely your own. Just open the Congo Star Mixer Template in Quiltster and get started!
To top it all off, there's also a beautiful digitized quilting design available for this pattern.
---
Shattered Ruby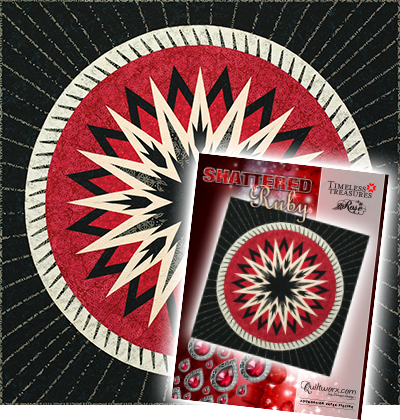 Shattered Ruby was designed by Judy and Brad Niemeyer as part of the Sunrise Mixer series. It includes three distinct groups to create an 80" x 80" quilt.
A circular center sits in the middle of the quilt with a diameter of 62". A 4" wide ring surrounds the center for a total increased diameter of 70". Then, a border is added to square the quilt off at 80".
The pattern teaches many of Judy's latest techniques for paper piecing and is fully compatible with Quiltster, meaning that you can find the layout in Quiltster and work with the program to develop your own colorway if you like. The A, B, and C groups can also be mixed and matched with other group designs in the Sunrise Mixer series to make a quilt that is truly unique to you!

Do you have an award winning quilt?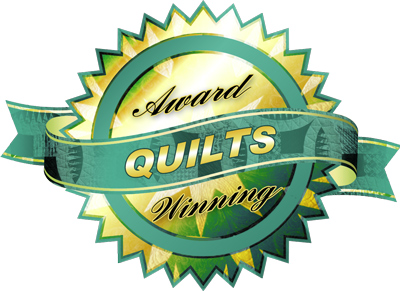 The new Award Winning Quilts Album is up on Facebook! Congratulations to the winners! If you have an award winning quilt made from a pattern designed by Quiltworx.com, send a picture to Ilyse@quiltworx.com and we will award you a $10.00 gift certificate when the publish our next newsletter!