The Wedding Star pattern was designed for foundation paper piecing in 1996 by Bradley and Judy Niemeyer and redesigned in 2008 to include:
Strip piecing to complete the foundation piecing on the arcs,
Redesigned stars with floating points, and
Template Layout Sheets to speed up the cutting process for the stars and background pieces.
The 2008 pattern has become a staple for wedding ring quilts in the quilting industry and continues to be one of our best selling patterns every year.
Since 2008, Quiltworx has expanded on its product to support the Wedding Star pattern by creating a Creative Grids ruler set to assist with trimming the units.  Quiltworx has also starting working with fabric companies to create specialized strip sets that have been pre-sorted and pre-packaged into Ring Color Sets of (6) Groups of (8) fabrics ranging from light to dark.  Each package contains (48) 2-1/2″ strips and two packages are required to make an 80″ x 80″ Wedding Star Quilt.
To learn more about Current and Past Strip Sets, please reference the following link:
In early 2016, Quiltworx made additional updates to the Wedding Star pattern.  This latest publication includes:
Instructions that have been updated to current Quiltworx formatting standards
Removal of the Geese Papers for squaring up the quilt, which will now be available in an alternate package
Addition of Smart Corners to the foundation papers to make assembly of the Wedding Star pattern easier than ever
If you have a copy of the older Wedding Star designs, it is encouraged that you complete that quilt according to those directions!  The newsprint has been reorganized, along with the way the instructions are laid out to fit our current publication requirements.  The older versions of our pattern are still wonderful options and all releases of the design have been made by many over the years!  If you have old instructions and are thinking of making a new one, we would recommend that you re-purchase the new pattern, instructions and all to get the biggest benefit of the improvements.
The Coversheet Quilt was made and quilted by:  Judy Niemeyer, Certified Instructor, Diana Simkins, and Quiltworx.com Staff
Extra foundation papers, acrylic rulers, and digitized quilting designs are available for this pattern as well, simply reference the related products below.
Click below for a downloadable .PDF of various kitting handouts!
Pattern Size: 80″ x 80″
Price: $79.50
Pattern Includes: Instructions, Cover Sheet, Yardage Information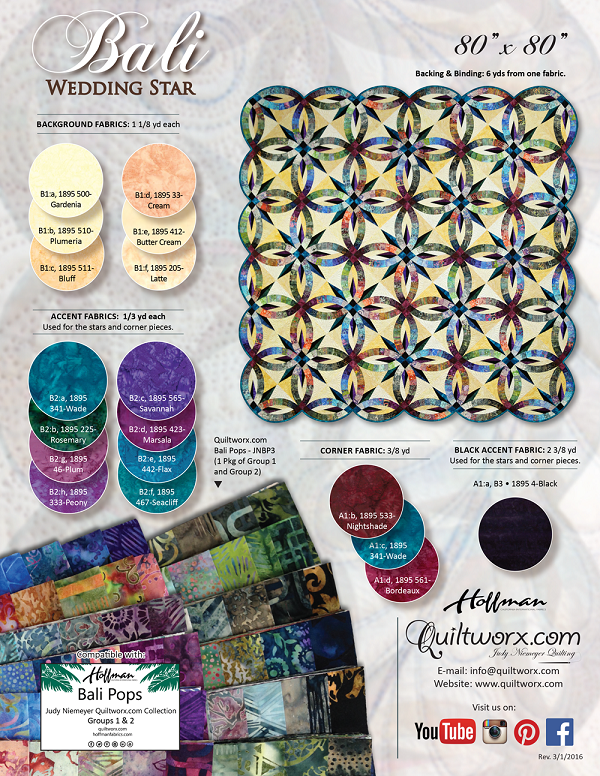 Related Products
Gallery
Load More