The Bali Bed Runner is a smaller version of our Bali Wedding Star quilt pattern.
This pattern uses pre-cut strip sets that include (48) 2-1/2″ strips pre-sorted and designed by Judy and Judel Niemeyer.  Instructions also include information for creating your own strip set if desired.  It is also helpful to purchase the Creative Grids Wedding Ring Ruler set.  This set of Template Rulers helps trim all of the units for a perfect fit during assembly!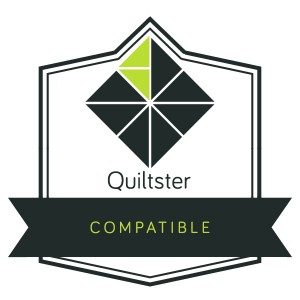 This pattern is Quiltster Compatible!  This means you can color the quilt with your favorite Fabric Collection in Quiltster before you make it and obtain yardage!  Click on the logo to the left to be taken directly to the Template page for this design in Quiltster.  You may need to log into your account for the link to work.  If you do not have a Quiltster account already, you will need to subscribe and log in before this link will work.  Subscriptions can be obtained by going to http://www.quiltster.com, click on Subscribe!
Click below for a downloadable .PDF of various kitting handouts!
Related Products
Gallery
Load More