Check Out Our Newest Releases

!
We've been super busy updating patterns with new techniques and creating samples with our newest fabric lines designed by Judy and Judel Niemeyer with Timeless Treasures.
The following patterns are now available for purchase on our website, and the fabric lines are available in a quilt shop near you! Click the images or links below to learn more about each pattern, find replacement papers, see samples made by Quiltworx.com and others, find kitting information, and purchase the pattern!
Wholesale purchases are available to those approved with a wholesale account. Visit our wholesale page to order (minimum purchase of 3 and advance approval of wholesale account is required).
---
Wildflowers Collection

Wildflowers was designed by Judy and Judel Niemeyer with Timeless Treasures. Inspired by the vibrant colors of nature, this eye-catching collection really pops with our patterns creating show-stopping quilts. We love the whimsical incorporation of motifs found in the patterns, and the wild little critters found in several prints.
Rainbow Hosta Queen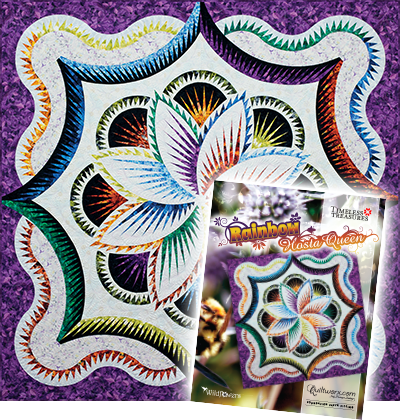 The Rainbow Hosta Queen marks the launch of a series of patterns using new units designed to fit the original Fire Island Hosta and Fire Island Hosta Queen layout. When all of the patterns are published you'll be able to mix and match units from each design to create your own unique quilt pattern using an upcoming subscription service called Quiltster.
This color layout was designed using Quiltster by Judel Niemeyer Buls. Quiltster is set to launch in the Spring 2016.

Clamshell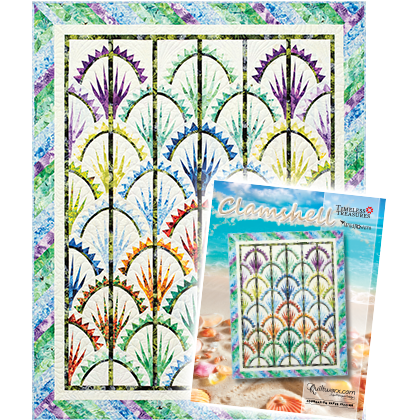 Clamshell is here! We've added the traditional shell block to our collection of foundation paper pieced patterns. With the shell, New York Beauty arcs, long spikes (with floating points), and sashing, this quilt incorporates many techniques that are very popular with those who love our patterns.
---
Bali Pops Strip Set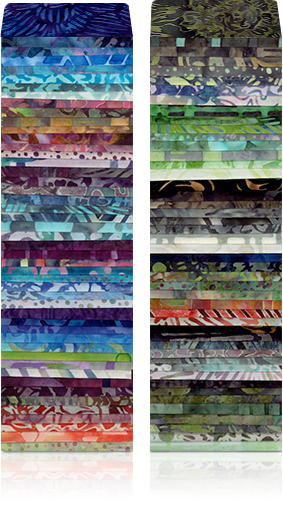 Quiltworx.com with Hoffman Fabrics of California are rolling out our latest generation of Bali Pops fabrics hand selected by Judy Niemeyer. The 2 strip sets include 48 2-1/2″ strips per group. These sets are designed to complement many of our quilt designs, especially our wedding ring patterns.
Bali Wedding Star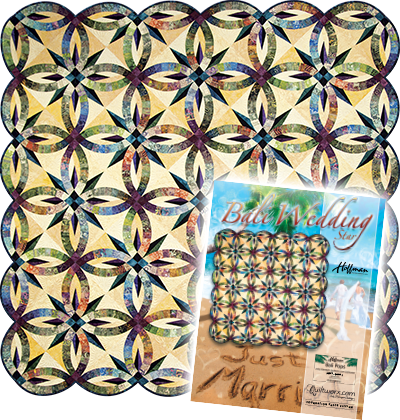 With this latest release of the Bali Wedding Star pattern, we've updated the instructions to our new standards including Smart Corners making assembly easier than ever.
Solar Flares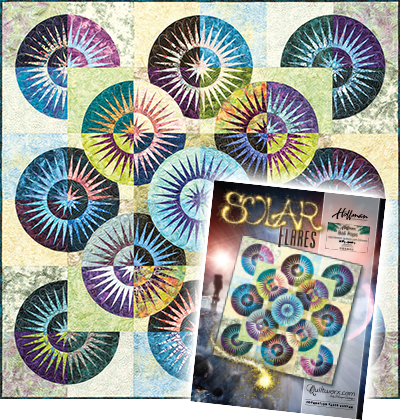 Solar Flares was designed by Quiltworx in 2015 as an addition to our collection of patterns that use the (48) pack of 2-1/2" strips that Quiltworx has created, involving pre-sorting and pre-packaging strips in six groups of 8, ranging from light to dark in color value. The design utilizes a block that is familiar to Quiltworx fans, originally used in the Raindrops pattern. The instructions have been adapted for a scrappy layout using 2-1/2" strips and a collection of (36) background fabrics (the pattern requires 1/4 Yard of each!).
---
Lakeshore Batiks Collection

This next quilt features Lakeshore Batik fabrics which were designed around some of Northwest Montana's most famous lake shores, where waters are a rich turquoise color, the glacial rock deposits are deep reds and purples and shine brightly in the clear mountain waters where wheat fields line the shore. Stay tuned for more beautiful quilts created using this bright collection.
Lakeshore Hosta
Lakeshore Hosta is another beautiful rendition in our Fire Island Hosta series. It's Quiltster Compatible, allowing subscribers to not only mix and match blocks but also audition fabrics.
Tonga Petals Batiks

Judy and Judel Niemeyer's latest batik collection, Petals is a beautiful flower petal inspired collection of batiks in all of the colors of the rainbow! This collection was created as a complementary collection to Judy and Judel Niemeyer's Wildflower Collection from Timeless Treasures and can be intermixed with that collection to make bright, spring inspired designs!
Try accenting it with the light background prints in Wildflowers or a rich black batik from the Tonga Java Blenders Collection to make a bold statement. Quilt samples using this collection and Wildflowers are coming out from Quiltworx daily so watch for more creative options that pair these fun batiks with Wildflowers and some of the latest publications from Quiltworx.com.
Tarnished Windmill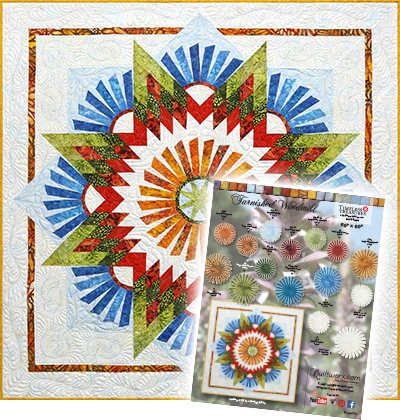 Here's a new take on one of our newer patterns the Tarnished Windmill. This fun pattern is designed with no y-seams, making the assembly process a snap. You can find the kitting information for this eye-catching color layout here.
Summer Solstice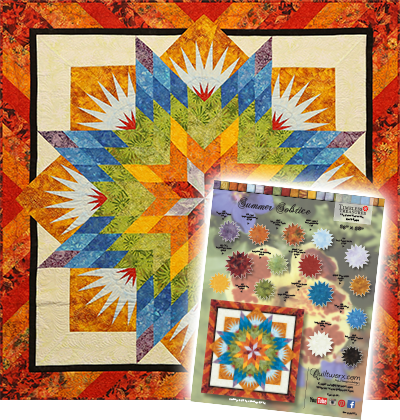 We've given a new look to one of our most popular patterns, Summer Solstice, which we think looks stunning in the deep rich Petals fabrics. Click here for kitting information for this vibrant new color layout.

Do you have an award winning quilt?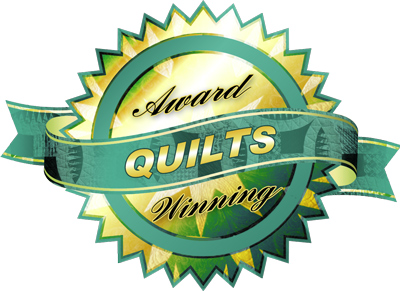 The new Award Winning Quilts Album is up on Facebook! Congratulations to the winners! If you have an award winning quilt made from a pattern designed by Quiltworx.com, send a picture to Ilyse@quiltworx.com and we will award you a $10.00 gift certificate when the publish our next newsletter!