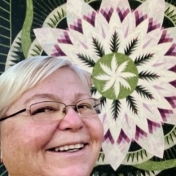 Bio
Being creative and sharing with others are the things that spark JudyQ's engine. From the youngest recall as a child throughout her entire professional career she has surrounded herself with an always reaching desire to expand her knowledge base in the areas of her most passionate of interests. For JudyQ's complete updated teaching/events calendar please see them at https://judyqblock.com/calendar/
She has aimed her life along a path that evolved from cloth dollmaking, dressmaking, costuming, home décor and customized specialty wear (bridal, skiwear and outerwear). Her plan to be home for her two daughters during their younger years were filled with contract sewing for individual clients to making coronation gowns for the Portland Rose Festival Princesses and Queens including senior and junior courts for 4 years in a row. Her branch of into quilt making was a nature evolution for her and she began managing the Quilt Department at Daisy Kingdom, finding her days planning quilt projects, ordering fabric lines, and building a community of customers. Traveling to National Trade Shows and learning from Industry Leaders and Artists that offered a wide range of avenues to learn from.
The Fabric Industry at her fingertips, she was able to learn and understand every process of fabric creation… from importing of greige goods, fabric design creation, engraving and printing of the goods directly from the presses (predominately on the eastern coast) helped to understand the entire fabric process.
Teaching quilt making techniques rose to the top of her passions and sharing this special passion with her customers and friends. Ever reaching still to learn techniques and ways to grow her skills. Her Happy Place was definitely in sharing her love of the quilting arts. Developing creative classes to draw in other quilters was just pure pleasure. Sharing again, was #1.
Her desire to hone in on the look and techniques of Judy Niemeyer and Quiltworx designs lead her on the journey of focusing on learning and being trained by Judy herself and her qualified Certified Instructors. Also having opportunity to be involved from President to Programs with local Guilds have rounded out the experience that she wishes to share with you and others.
Sorry, there are no classes scheduled for Judy Block at this time.