New Patterns Hot Off the Press!
These patterns are now available for purchase on our website, and the fabric lines are available in a quilt shop near you! There will also be digitized quilting designs available in the near future.
Many of these patterns are also being prepared for the Quiltster App which was launched last fall! Quiltster is an incredible fabric auditioning software that allows you to pick and choose fabrics before you spend money. Look for the Quiltster Compatible logo on the patterns below, and click the quilt images or links to learn more about each pattern, find replacement papers, see samples made by Quiltworx.com and others, find kitting information, and purchase the pattern!
Wholesale purchases are available to those approved with a wholesale account. Visit our wholesale page to order (minimum purchase of 3 and advance approval of wholesale account is required).
---
Fractured Star
80″ x 80″ • Fabric: Heirloom Strip Set Collection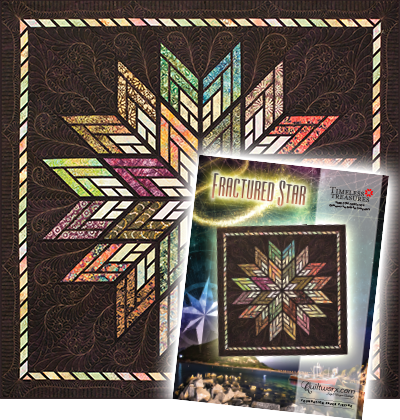 The Fractured Star was designed as a beginner pattern to introduce quilters to paper piecing. The project is fast, uses only one foundation block, employs simple cutting techniques, and is an affordable and fun way to jump into your first paper piecing project. It is meant to make those new to the process find confidence, understanding, and success.
The quilt sample above uses fabrics designed by Judy and Judel as a 48-piece strip set collection called Heirloom from Timeless Treasures.
---
Poinsettia
30″ Diameter • Fabric: Cactus Mini Collection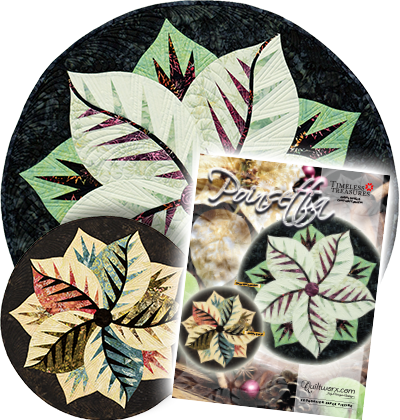 Judy and Brad Niemeyer designed the layout, instructions, and foundation papers for the Poinsettia table topper pattern. A collection of fabrics designed by Judy and Judel Niemeyer with Timeless Treasures were selected to make the samples shown on the cover (collections include the Cactus Mini Collection and Antique Garage).
---
My Two Baby Sisters Placemats
12″ x 19″ • Fabric: Cactus Mini Collection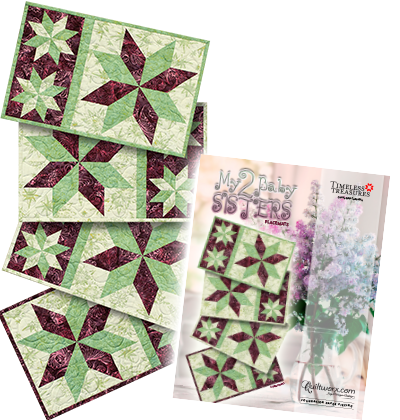 The My Two Baby Sisters Placemats layout includes three distinct groups to create a 12" x 19" placemat. The groups include a large star, a small star, and an accent strip. The large star measures 12" square, finished size, and each of the small stars finish to 6" square.
This is a great introductory pattern as it is a small project using the same technique for all of the paper piecing and can be completed very quickly.
---
2018 Quiltworx.com Retreats
We are now two weeks into booking for 2018 Quilting Retreats at Quiltworx.com! Our July and August retreats filled up fast, but there are plenty of spaces available in Winter and Spring! Why book this time of year? First, travel in and out of the Flathead Valley by air is often more affordable, even up to half the price of Summer travel. Also, our spring retreats offer more variety in services!
Looking for a Retreat with just Judy? Check out the March #1 retreat! Looking for a retreat with all the amenities, but fewer days because of family/work obligations or financial considerations? Do you want a retreat option that spans a weekend instead of over the week days? We have a number of 3 and 4 day options next year! Certified Instructor Jennifer Eubank, an expert in all things related to Quiltworx, will be teaching our 3-day options, with Judy doing drop in Demonstrations and Trunk Show and warehouse tours. These retreats are excellent choices for both new and experienced quilters alike. Click on the links below for more information and to sign up.
---

The Quiltworx.com Lake-house Retreat is For Sale
You may have heard that we've decided to consolidate our retreat venues, and it is with mixed emotions that we announce we're selling our retreat house in Somers, Montana. We are nostalgic with memories of the time spent with those of you who've visited us, but are excited for what the future holds as we continue with retreats held at our specially designed retreat center adjacent to our offices. Thank you to everyone who has made our lake-house retreat center a huge success! Feel free to share this link to the MLS with anyone you think might be interested in this beautiful property. We'd love to see this beautiful home end up in the hands of a quilter!
---

New Patterns in Quiltster
We're quickly adding patterns to Quiltster to help you plan your next project and streamline the fabric buying process.
Here's a list of the newly added patterns:


Autumn Pines

Broken Daisy Placemats

Candy Cane Cabin

Clockworx

Diamond Wedding Star

Fractured Paintbox

Fractured Star

My Two Baby Sisters

Poinsettia

Twinkle Star

Waterwheel

Wedding Star Table Topper
These are the patterns coming soon:


Bali Bed Runner

Bali Wedding Star

Flowers for my Wedding Ring

Labyrinth

Quiltworx.com Stained Glass Window

Wicker Basket
You'll be able to test drive fabric options before you purchase a thread of fabric, and Quiltster provides a list of fabrics and yardage needed by fabric and block which you can then take to your favorite quilt shop. All of this for as little as $10!
Visit Quiltster.com to sign in if you already have an account, or check out the various Subscription options avilable if you don't have an account.
---

Quiltworx.com Sample Quilts For Sale
Every year Judy and the Quiltworx.com sewing team make dozens of quilt samples showcasing new patterns and fabrics for each season. These quilts are showcased at Quilt Markets and trunk shows all over the world returning home sometimes years later.
Occasionally we decide to sell a few them if the patterns have been discontinued or if we've launched newer colorways. You now have the unique opportunity to give one of these stunning quilts a new home! Click here to see the quilts now available to purchase.
---

New Award Winning Quilts!
The new Award Winning Quilts Album is up on Facebook! Congratulations to the winners, including Regina Parsons and her Amazon Star featured artistically above!
If you have an award winning quilt made from a pattern designed by Quiltworx.com, send a picture to ilyse@quiltworx.com and we will award you a $10.00 gift certificate when the publish our next newsletter!