Hot off the press!
We're really excited to kick off the new year with two more NEW patterns made using our newest fabric lines Forever & Rosé which were designed by Judy and Judel Niemeyer with Timeless Treasures.
These patterns are now available for purchase on our website, and the fabric lines are available in a quilt shop near you! There will also be digitized quilting designs available in the near future.
Many of these patterns are also being prepared for the Quiltster App which was launched last fall! Quiltster is an incredible fabric auditioning software that allows you to pick and choose fabrics before you spend money. Look for the Quiltster Compatible logo on the patterns below, and click the quilt images or links to learn more about each pattern, find replacement papers, see samples made by Quiltworx.com and others, find kitting information, and purchase the pattern!
Wholesale purchases are available to those approved with a wholesale account. Visit our wholesale page to order (minimum purchase of 3 and advance approval of wholesale account is required).
---
Congo Star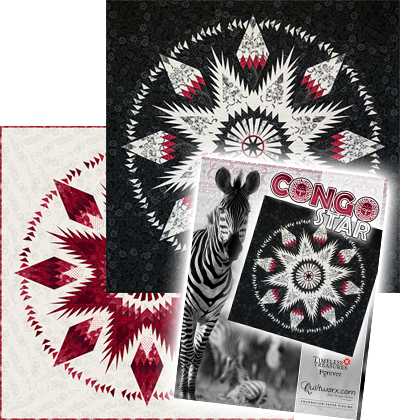 The Congo Star pattern was designed to bring a new look to a pattern that Quiltworx.com has sold for years called the Amazon Star. Many customers have asked for a queen size version of this quilt in the past, so we took this opportunity to design both new units for a similar layout, and also create a slightly smaller quilt. The Congo Star pattern incorporates all of Quiltworx's latest techniques as well. It is a breeze to put together, easy to modify, and can also be colored in Quiltster before you create the final project! Both of the samples shown here were done using fabrics from Judy and Judel's Forever Collection from Timeless Treasures.

Other block designs will be available in the future that match the size of those used in Congo Star. If you want to experiment and mix and match the pieces included here with those from other designs, Quiltster is the perfect tool for you to make a quilt completely your own. Check out the Quiltster Tutorial below for information on how to create your own Mixer pattern in Quiltster!
Daggered Medallion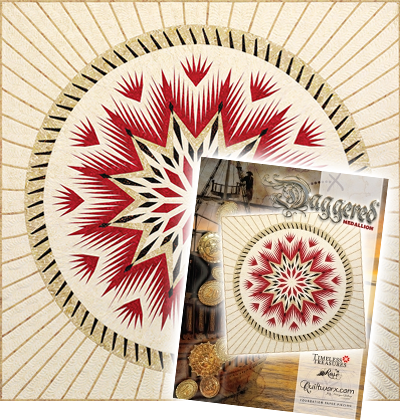 Daggered Medallion is an 80″ quilt that includes a 62″ center medallion, a 4″ ring border (increasing the center medallion to 70″), and a squared off radiant border to bring the quilt to 80″ x 80″.

A Tonga Batik fabric collection designed by Judy and Judel Niemeyer, with Timeless Treasures, called Rosè was used to make the quilt on the cover.

The pattern is available in the Willow Star Mixer listing in Quiltster for auditioning your own fabrics. Also read the Quiltster Tutorial below for more information on other fun features related to this design in Quiltster.

Quiltster Tutorial – Creating a Mixer


Daggered Medallion
If you have been keeping up with Quiltworx.com, the name "Mixer" and "Quiltster" are probably not new to you. But, you may not totally understand how everything is related!
Well, the Daggered Medallion pattern, mentioned above, is meant to show you the power of versatility that Quiltworx.com is building into our designs. The Daggered Medallion pattern is a series of newly design blocks that fit the areas of the 80" x 80" layout. However, before you buy this pattern, you may want to subscribe to Quiltster and check out the Willow Star Mixer (pictured below), which is the backbone of the Daggered Medallion design!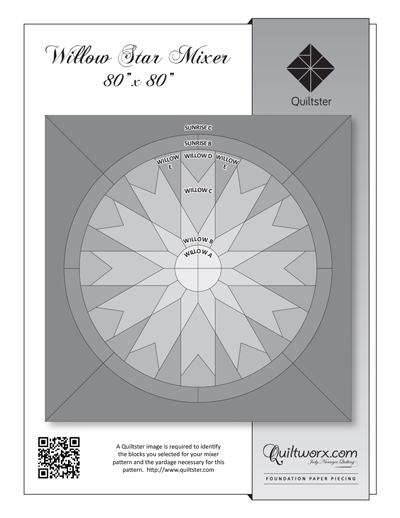 To explain the Willow Star Mixer to you, let's start with the center.
STEP 1: When you open this pattern, you will see two Daggered Medallion templates and a Mixer Template. If you simply want to come up with your own colorway, click on the Daggered Medallion Blank Template, or click on the Daggered Medallion in Rosé Tonga Batik template (Quiltworx.com's official colorway) and tweak that version!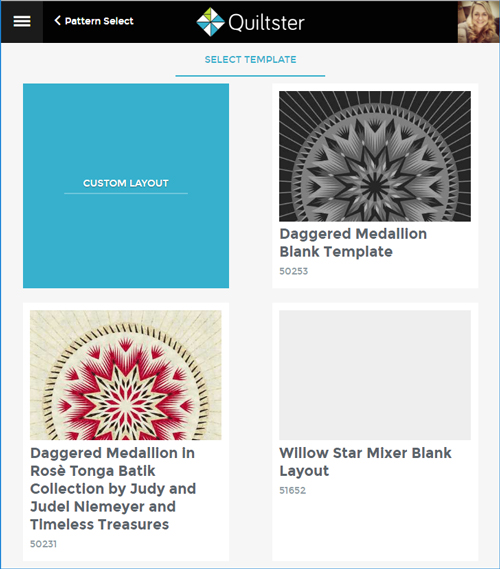 STEP 1
STEP TWO: If you want to see various options for mixing and matching these units with other patterns that fit the same space (think Dreamcatcher for the center, or borders from various Sunrise Mixer patterns, like Allisyn's Wondered Land, for the ring and border), then click on the Willow Star Mixer Blank Layout and start from scratch!
STEP THREE: Starting with the Willow Star Mixer Blank Layout your layout will not have any blocks loaded, so click on a space and get started! We're starting in the center top right coordinate (below).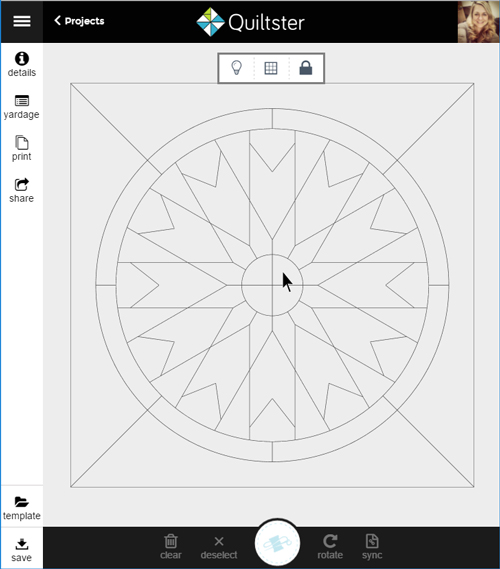 STEP 3
STEP FOUR: In the next screen (below), you will see your different block options. Some look the same, but they have different color options that help you get proper yardage calculations. Click the one you want to play with and it will open up in the block editor where you can add fabrics.

STEP 4
STEP FIVE: If you don't like what you chose, then click "Change Block" (lower left corner) and pick a different one!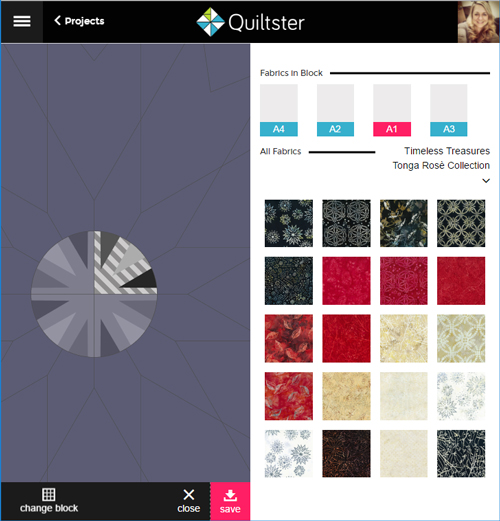 STEP 5
STEP SIX: Keep playing with each group in the layout. When you have a quilt you love and can't live without, visit the Quiltworx Pattern webpage and look for the Willow Tree Skirt Mixer pattern listing (Coming Soon, March 1st, 2017. Please be patient while we gather all the individual components in our stock room!).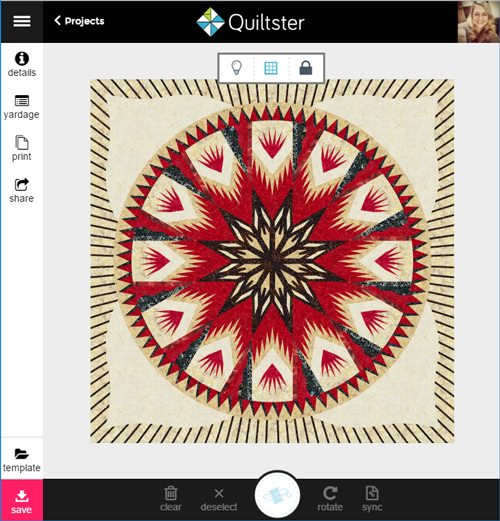 STEP 6
STEP SEVEN: Once the Willow Star Mixer pattern is available on our website, you'll be able to click on Buy Now, look through the available components to find the blocks you've used in your Quiltster layout, and order the papers for your custom design!
STEP EIGHT: In Quiltster, click on the Print Tab, which looks like a piece of paper, in the Project Editor on the left side of the screen (see above in Step 6). A new page will open with a quilt image at the top, and all the fabric yardage you need listed below. Use this to begin collecting your fabrics for your project!
Also, there is a link shown just below the picture of the quilt with a Click to copy and Print button. If you're placing an order on Quiltworx.com for the papers, we'd also like you to click on Copy and send your quilt image to info@quiltster.com. This way, we can assure you have ordered all the correct components when we process your order! This is temporary though!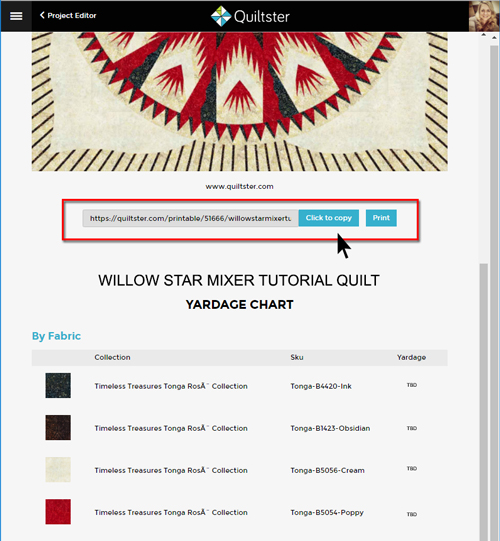 STEP 8
In the future, a direct ordering page right from Quiltster will be available. The Software Development team is still working on this platform and as a result, any Mixers will temporarily need to be ordered right from the Quiltworx.com website.
We're thrilled to bring you Mixers! It is an exciting step forward for our company and something we hope our customers learn and use to fulfill their wildest imaginations!

Do you have an award winning quilt?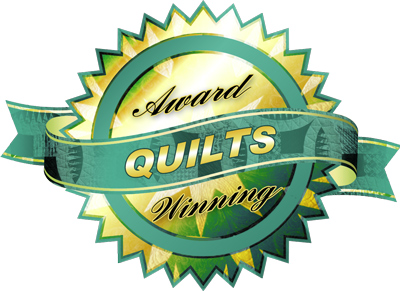 The new Award Winning Quilts Album is up on Facebook! Congratulations to the winners! If you have an award winning quilt made from a pattern designed by Quiltworx.com, send a picture to Ilyse@quiltworx.com and we will award you a $10.00 gift certificate when the publish our next newsletter!