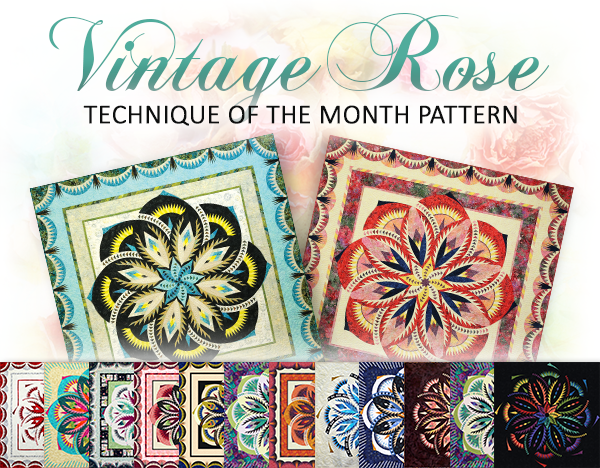 Vintage Rose Queen & Wall Patterns Are Now Available

!
We're really excited to announce that our fourth, and newest Technique of the Month pattern, the Vintage Rose, is now available through your favorite Certified Shops or Certified Instructors.
Our shops and instructors have been preparing amazing quilt samples in drop-dead-gorgeous colorways, as well as organizing classes all over the country to help you make these beautiful quilts.
A "Calendar" of classes and a "Class List" can be found on our Vintage Rose pattern web page if you scroll to the bottom.
To find our Certified Shops (from which you can order the pattern directly without having to take a workshop), click one of these links:
The Vintage Rose Queen is 96″ x 96″, and retails for $95, while the Vintage Rose Wall quilt is 74″ x 74″ and retails for $78. Both patterns are available as kits in a variety of colorways through our Certified Shops, and kitting information is NOW available on the pattern web page!
We hope you enjoy this wonderful new pattern and take advantage of Quiltster, a fabric auditioning app, to play with this pattern, customizing it to your liking before you ever buy a stitch of fabric. We've got templates set up for each colorway pictured above to get you started!
We also have digitized quilting designs created by Laurie Thomas available to purchase and download, and we're expecting several more by our featured designers in the months ahead! Check out Laurie's gorgeous designs now available on our website! Click on the images below for a better look!
| | |
| --- | --- |
| Queen Digitized Design | Wall Digitized Design – Option 1 |
| Wall Digitized Design – Option 2 | Wall Digitized Design – Option 3 |
| Wall Digitized Design – Option 4 | Wall Digitized Design – Option 5 |

Allisyn's Wondered Land is Also Available!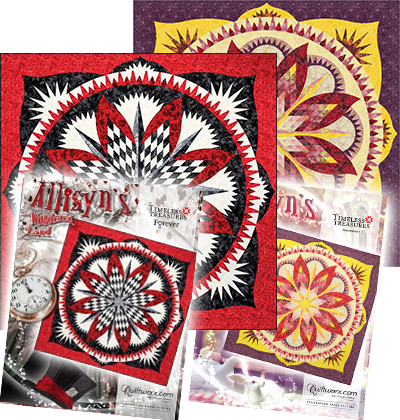 Allisyn's Wondered Land is an 80″ x 80″ quilt that's part of the Lakeshore Sunrise Mixer family. We've got two beautiful samples shown above. The red, white, and black one is made out of Timeless Treasures Forever collection, and the other from the their Passion Fruit collection.

Wholesale purchases are available to those approved with a wholesale account. Visit our wholesale page to order (minimum purchase of 3 and advance approval of wholesale account is required).