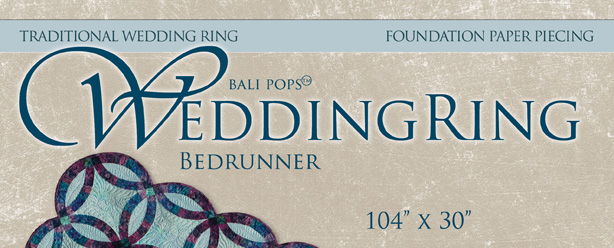 OUT OF STOCK
The Wedding Ring Bed Runner is a smaller version of our Flowers for my Wedding Ring quilt pattern.
Gallery
Quiltworx.com
6 years ago
Deborah Brown
BEAUTIFUL WORK AND THE COLORS ARE AWESOME
Lucile Culbreth
Beautiful donna very talented
Deb Peterson
Hey girl...we'll have to get together and do this one! Looks like a fun mini retreat project!
Bruce Stees
Is that what your quilt ring is going to be used for?
Loretta Welch-Prosser
Beautiful....
Jane Beckner Andresano
I really enjoyed making one also.
Diane Dryden
Just got this pattern, can't wait to make this beautiful runner!
Jaded Spade Creations - Quilting & Crochet
Love these patterns
Connie Goff
This is absolutely beautiful!!
Misty Paugh
Love the colors. .
GlendanJerry Kochany
This would make a really nice table runner.
Kathleen D. Longstreet
Funny - on my 'puter the pix doesn't show until you click in the black rectangle.
GlendanJerry Kochany
love it
Tauna Moody
I appreciate the beauty of this piece and cant imagine the amount of hours it took to complete it.... fantastic!
Marie Cutler
Thinking it is a bad photo and the light is not correct to get the beauty of the project!
Marie Cutler
Nice, but to busy on the stippling!