The instructions in this pattern are based on two different techniques for foundation paper piecing. A technique called Foundation Strip Piecing is used to piece the Wedding Ring arcs. Traditional piecing is used to assemble four squares for the background units. Traditional curved piecing is required to assemble the arcs, centers, and melons.
Click below for a downloadable .PDF of various kitting handouts!
Pattern Size: 68″ X 80″
Price: $40.50
Pattern Includes: Instructions, Cover Sheet, Yardage Information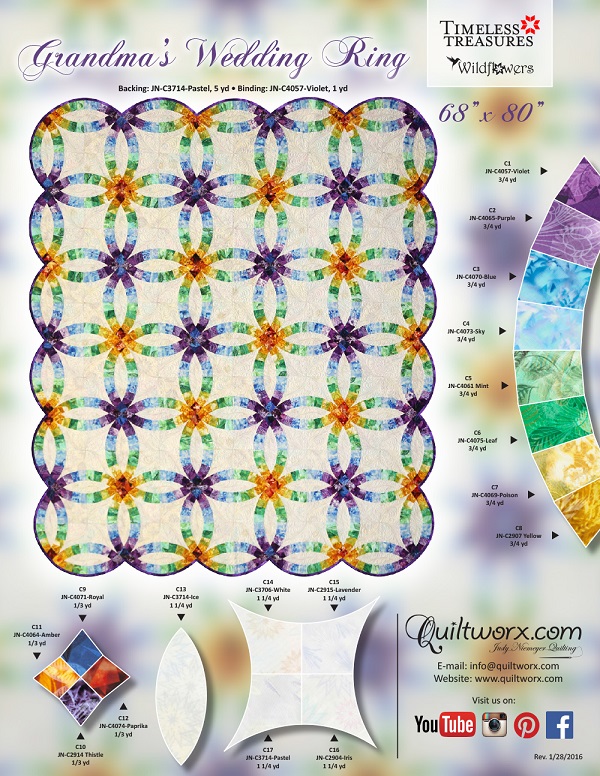 Related Products
Gallery
Quiltworx.com
Grandma's Wedding Ring, Quiltworx.com, Made by CI Nancy Kloster
Bonnie Clark
Love the wedding ring design but not an easy quilt to do. But the results are beautiful LOve your quilt
Jenny Greenwood
I am in the process of making one for my grandson who is to be married February. Have always wanted to do this block, now I have an excuse 😊
Tammy Hatch Latham
I love the "fade" of the fabrics used for the rings!
Joanne Erickson Swinehart
Absolutely stunning, beautiful color placement! So effective!!
Eleanore Darcey
Beautiful quilt. Love your colors.
Jean A. Campbell
Absolutely beautiful colors and quilting!!! Congratulations!!!
Jo Bankus
Wow! So beautiful! It's a work of art!
Nancy Felber
I love this pattern. Made a small lap size a few years ago.
Susie Alt Glover
Beautiful!
Laura M. Croom
Sooo beautiful!
Elizabeth Garling
beautiful
Linda Garrett
Really beautiful.
Ginny Palmer
Absolutely beautiful!
Mary Arata Flores
Beautiful!
Pam Larry Bowser
Absolutely beautiful!
Choni Soberanes
Lovely quilt ✂️💙😊
Charlene Wilson
Lovely quilting!
Pat Taylor
This is beautiful,
Linda Garrett
I love this!
Sorry, there are no classes scheduled for Grandma's Wedding Ring at this time.