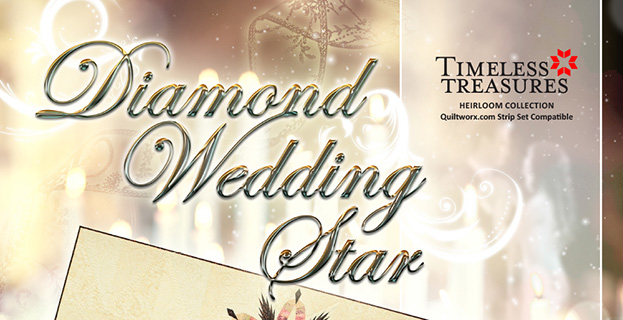 Judy and Brad Niemeyer designed the layout, instructions and foundation papers for the Diamond Wedding Star in 2017. The cover quilt was made from a collection of fabrics designed by Judy and Judel Niemeyer with Timeless Treasures. Two sewing technique referred to as foundation paper piecing and foundation strip piecing are used to assemble the units required to make this quilt. Traditional piecing techniques are used to join the units after the foundation piecing is completed.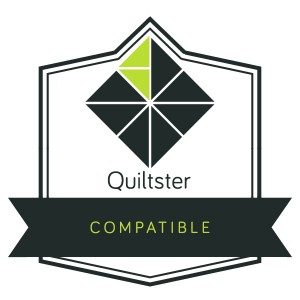 This pattern is Quiltster Compatible! This means you can color the quilt with your favorite Fabric Collection in Quiltster before you make it and obtain yardage! Click on the logo to the left to be taken directly to the Template page for this design in Quiltster. You may need to log into your account for the link to work. If you do not have a Quiltster account already, you will need to subscribe and log in before this link will work. Subscriptions can be obtained by going to http://www.quiltster.com, click on Subscribe!
Click below for a downloadable .PDF of various kitting handouts!
Pattern Size: 96″ x 99″
Price: $53.00
Pattern Includes: Instructions, Cover Sheet, Yardage Information, Foundation Papers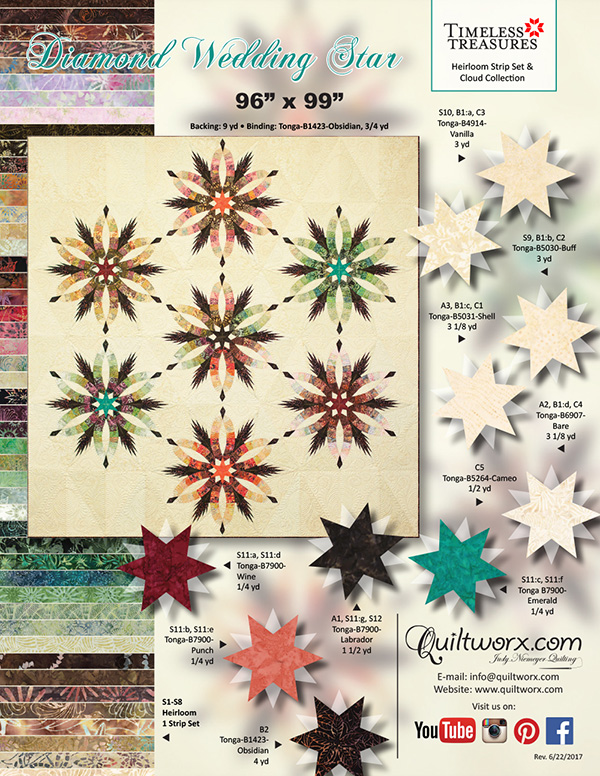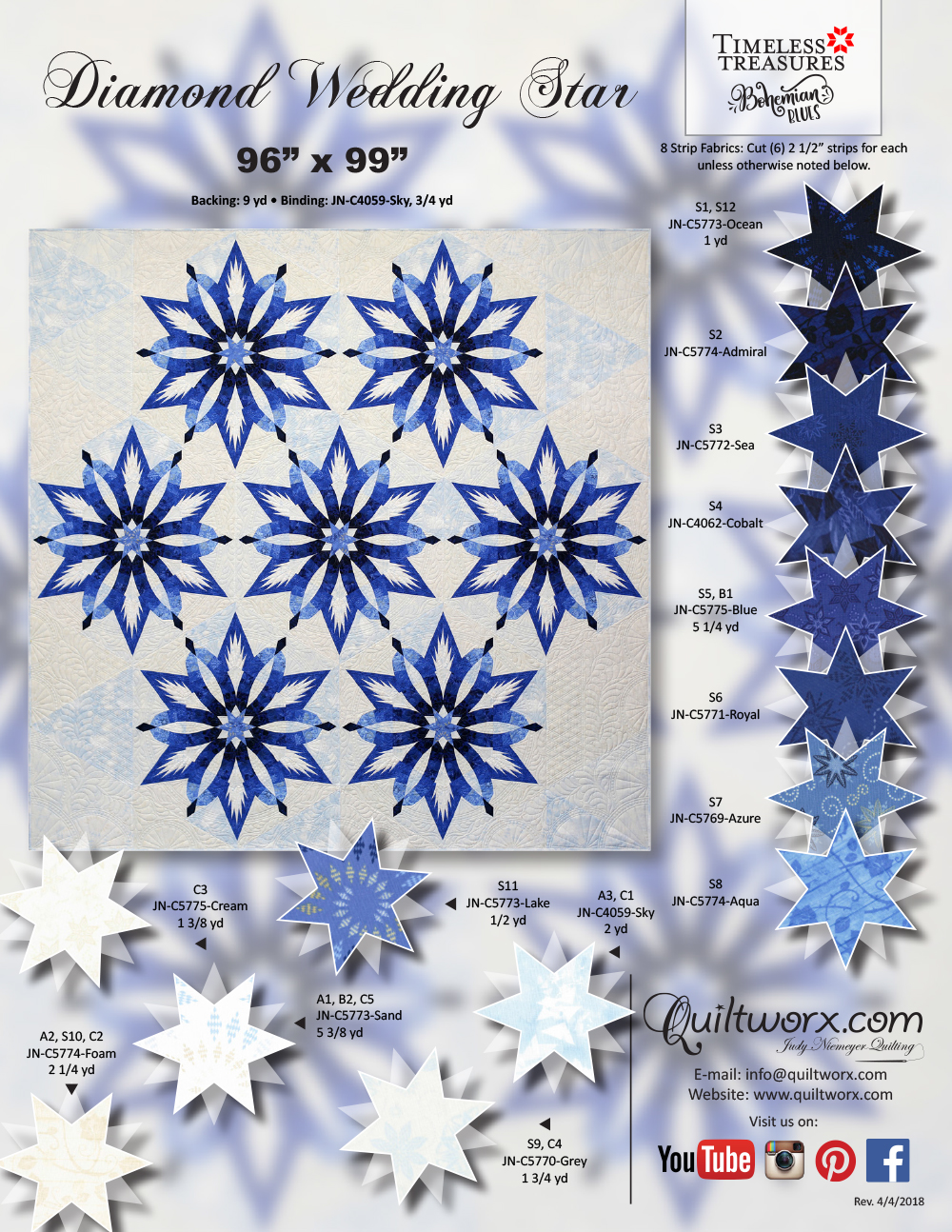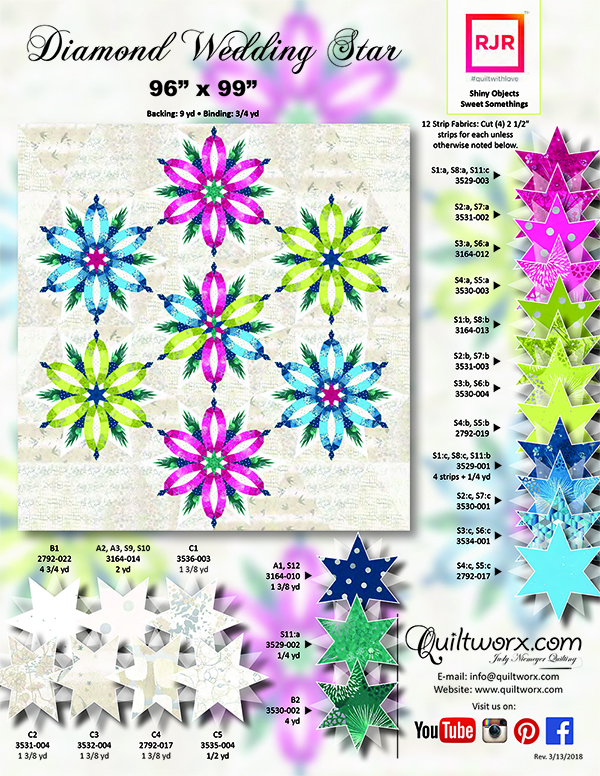 Related Products
Gallery
Quiltworx.com
5 months ago
Shelley Jungen
Wow! An amazing quilt with amazing quilting!
Mary Reed
Yes absolutely gorgeous 🌺 I love your colours that you used.
Marlene Rusnak Hewitt
Oh my! Above and beyond any quilt I have ever seen.
Dona C George Martinsen
The quilt is fantastic
Wynette Thien
Stunning! Quilting and piecing!
Kathleen McMullen
Love it this pattern and the quilting is wonderful.
Pat Zickuhr Wade
I love the quilting in this!
Melaine Moyle
The pattern is beautiful the quilting is gorgeous!
Jan Green
I'm generally not a fan of home made quilts, but this is an exception! How beautiful.
Peggy J Hansen
Beautiful both quilt and quilting!!!!
Kathy Nyquist
I love everything about this - the color choices, the quilting, and it's even well photographed. Beautiful!
Merlyn Morse
such attention to the smallest detail!!!!!
Lynn Warner Kerr
This is stunning......superbly done! How many hours did this take?
Virginia Freeman
Loved the post showing the up close, stunning machine quilting!!!!
MaryEllen Nicholson
Stunning! is right! I sure need that pattern! Wow! is good, too.
Kathy Swauger
I wished I was that good🙏
Jan Frost
You're too funny!
Glynnda Johnson
Well done ! Love it !!!
Denise Marie Jones
Love the quilting!!!
Marj Kammueller
This quilt is so amazing!
Karen Cutbirth
Just beautiful
Christine Culbert Wise
Sandra Reigart look at this one. Really love this one.... all the white background.
MaryJane Meyer
Unbelievable skills
Vicki Newman
Just awesome