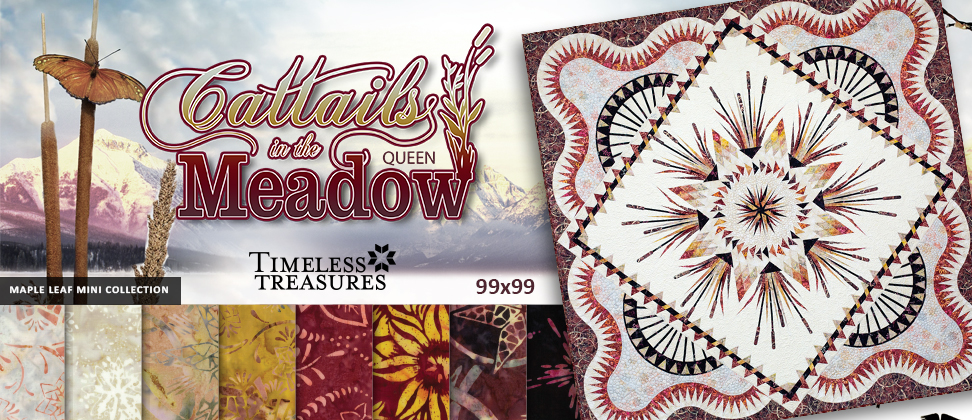 The Cattails in the Meadow design was created using a series of mixer blocks from the Cattail Wall Quilt Mixer series designed by Judy and Bradley Niemeyer, from Quiltworx.com. It includes four sections referred to as Groups A, B, C, and D and these Group sizes have been standardized so that you can use interchangeable blocks in each space. The Units selected for this quilt were named Staggering Geese Star, Cattails, Barbed-wire Fence Border, and Wagon Wheels Queen Border. If you have purchased this pattern, these groups have been combined into one pattern.
This pattern is a Collector's Club Design, which means a limited number of patterns were published to celebrate the release of a Judy and Judel Niemeyer Tonga Batik Mini Collection that was used to make the quilt on the cover sheet. Generally, the number of patterns published is 500. Replacement papers are not available as these patterns are only published in limited numbers. When the patterns are sold out, they will not be re-printed. Get your copy today!
Please note, this version is not compatible with the older versions of Cattails in the Meadow.
---

This pattern is available in Quiltster! This means you can color the quilt with your favorite fabric collections in Quiltster before you make it. Quiltster will even provide you with yardage!  You can also purchase kits designed by Quiltster Sellers right in the application!
Click on the Project button to access the pattern templates and begin coloring with fabrics uploaded from your stash and/or fabric collections from across the industry! A Quiltster account is required to use the coloring tool.  If you do not have a Quiltster account already, you will need to subscribe and log in before these links will work. Subscriptions can be obtained by going to http://www.quiltster.com, click on Subscribe!
If you'd like to purchase a kit from a Quiltster Seller, click the Marketplace button! A subscription is not needed in Quiltster to purchase a kit through the Marketplace.
---
Click below for a downloadable .PDF of various kitting handouts!
Pattern Size: 99″ x 99″
Price: $120.50
Pattern Includes: Instructions, Cover Sheet, Yardage Information, Foundation Papers, Laser Cut Appliqué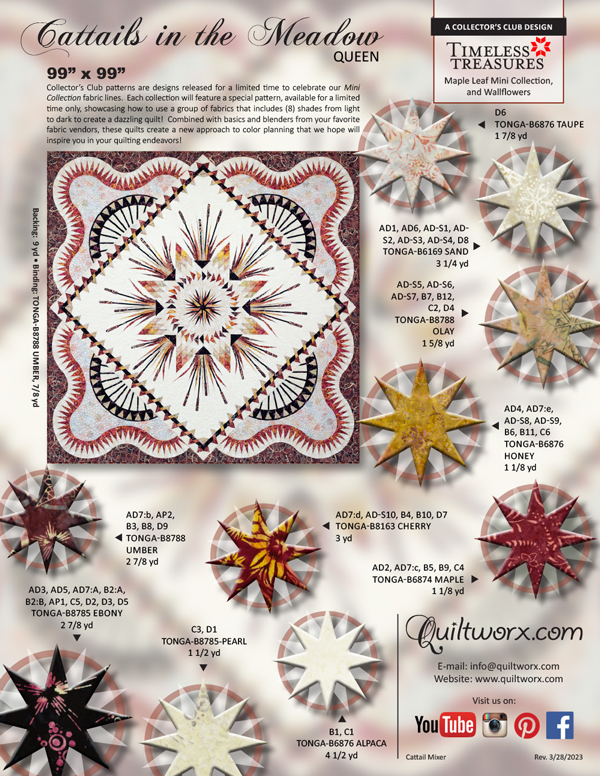 Sorry, there are no classes scheduled for Cattails in the Meadow Queen at this time.