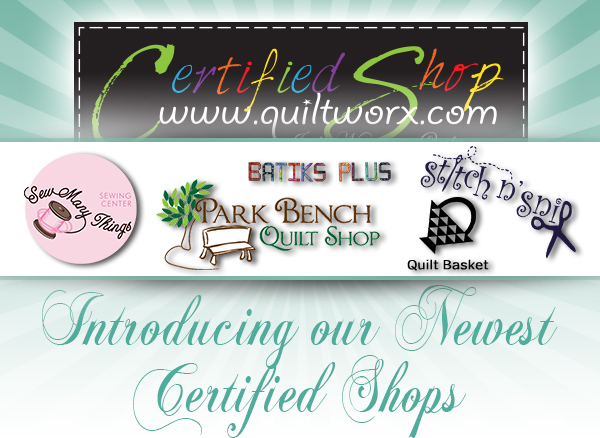 Our Certified Shops are our lifeline to consumers. At first glance, our quilts often seem too hard and even intimidating, but given the right instruction and support, even first-time quilters have completed our beautiful quilt tops quickly. And that's where our Certified Shops come in…
Since 2010, Quiltworx.com has been committed to buidling relationships with quilt shops who are dedicated to teaching, selling, and kitting our products. Since then, we've certified over 97 shops across the US, Canada, Australia, and Europe! We are thrilled and humbled by the interest in bringing our products to cities all over the world, and are committed to supporting shops and quilters who've become addicted to paper-piecing the Quiltworx way.
Please join us in welcoming our newly certified quilt shops that completed training in March. Click on the links below to view more information about each shop.
Batiks Plus • St. Louis, MO • 800-756-1223

BATIKS PLUS is a fun Mother/Son shop in St. Louis, MO. Originally an exclusive resource for Hoffman Batiks, still warehousing over 7000 different HOFFMAN Bali Batik fabrics in stock and online, we have recently expanded to incorporate many other popular fabric collections, including Island Batiks, Timeless Treasures, Free Spirit, Benartex, and more! We are committed to stocking the complete line including every 1895 Bali Handpaint Mottle and every HOFFMAN 885 Bali Dot. Labeled generous cuts of fabrics have made our kits famous. After 14 years online, our warehouse is now open to the general public. We are excited to offer BERNINA machines and proud to be a CERTIFIED JUDY NIEMEYER SHOP. Come and visit or call us!
Park Bench Quilt Shop • Midland, MI • 989-832-5722

With over 20 years of quilting and friendship behind them, owners Patty and Ann opened Park Bench Quilt Shop in 2010 and we haven't looked back since! They hope to create a fun, enjoyable atmosphere to share their love of quilting, beautiful fabrics and knowledge of their craft. The PBQS environment is all about the fun, creativity and friendship that quilting brings. Each day is a new adventure in the world of fabric and thread and they wouldn't have it any other way!
Quilt Basket • Pawling, NY • 845-227-7606

The Quilt Basket is a full service quilt shop that opened for business locally in 1989 and online in 1996. We proudly feature over 4000 bolts of high quality, 100% cotton fabrics, a large selection of books and patterns, and notions for every quilting need. We are devoted to serving both our local and Internet customers with the latest, finest quality quilting fabric, notions, books and supplies. We are also sewing machine and longarm quilting machine dealers. Among the many achievements that make us unique, we are most proud of our own patterns. Our creations have already been featured in multiple national quilt magazines and we continue to create dynamic designs that will fit any home decor. Three years ago we began packing our fabric lines into "CUTIE" Collections. We are the home of the CUTIES!
Sew Many Things • Clinton Township, MI
586-790-5601

Sew Many Things opened its doors in the Fall of 2010 as a school of sewing. The school moved into a new building in March of 2011 and added a small selection of fabric to support the classes being taught. Soon quilters came in asking for quilt fabric, so in order to satisfy them we added several lines of quilt fabric. We soon outgrew the space we expanded two more times to a 1700 square foot space. Some of that space was used to create a spacious classroom. We added a new partner in the Spring of 2015. With over 15 years of quilting experience, Patti brought a wealth of quilting knowledge and expertise into the partnership. We, at Sew Many Things Sewing Center, are excited to bring Judy Niemeyer's Foundation Paper Piecing Techniques to Michigan!
Stitch n' Snip • Garden Valley, ID • 208-462-4602

Fulfilling a life-long dream Rena Hastings founded Stitch n'Snip in October, 2004. Nestled in the scenic mountains of Idaho, Rena transformed the store into a wonderland of fabric, creating a cozy shop that soon became a main staple for quilters in Garden Valley and beyond, inspiring people to drive long distances for the Stitch n' Snip experience. Any one of her customers will tell you that she has a heart of gold. She pours all that she has in to her shop and encourages students to improve their skills by guiding and uplifting them. Seeing the joy and accomplishment of their customers, makes it worth all the work and effort. To provide a great atmosphere that quilters can feel at home and learn new things is what drives them to excel.
If you're a quilter looking for a quilt shop that supports everything Quiltworx in your area, from patterns to fabrics to notions to classes…click here to find the Certified Shops nearest you! All of our Certified Shops have online stores as well, so even if there isn't a shop in your area, you have convenient resources for anything you need.

Stay tuned as we feature our other
Certified Shops in future newsletters!

If you're a quilt shop and would like to bring the Quiltworx.com addiction to your location by becoming a Certified Shop, please contact Katie Malinak for more information.