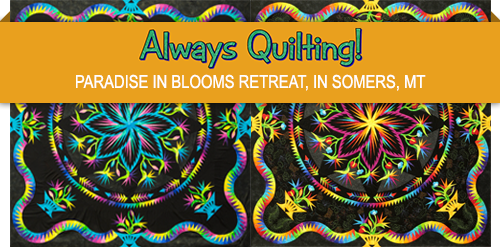 Always Quilting invites you to join them at the Quiltworx Retreat House on Flathead Lake!
Always Quilting is hosting a 5 day and 6 night retreat at the beautiful Quiltworx Retreat House on the shores of Flathead Lake in Northwestern Montana!
Enjoy a week of sewing, fun and friends! We believe you will receive an unmatched experience at our first annual Montana Retreat…simply one of the best in accommodations, food, company, sewing atmosphere, and instruction that you will find anywhere. We want to share the experience with you!
With Certified Instructor Kathi Carter Sweet's expert instruction, we will be making the incredible Paradise in Blooms quilt, in black with bright batiks, featuring beautifully color gradated borders!  Learn the special cutting and placement tricks to get this beautiful effect.  
Kits will also be available for purchase, and you can choose from Hot Nights, which features more reds, oranges, and hot colors, or from Cool Days, which features turquoise blues, pinks and purples. Of course we are happy to customize your kit for you – just let us know what you'd like!  
Click on the images below for a larger view of each quilt.
Paradise in Blooms
HOT NIGHTS
Paradise in Blooms
COOL DAYS
You will be arriving on September 24th, and departing on September 30th. All meals, lodging, and instruction will be included and we'll have lots of fun gifts and prizes! We will pamper and spoil you all week!
For more information and to register, go to our website and select Classes, September, and the date, or call Always Quilting at 650-458-8580.  
Click the button below to go directly to the class registration:

WE HOPE YOU'LL JOIN US!