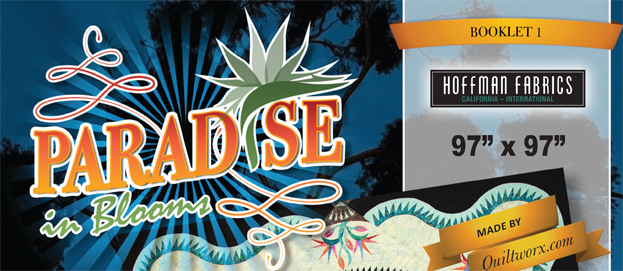 THIS PATTERN HAS BEEN DISCONTINUED
This pattern is only available through our Certified Shops and Instructors.
The Paradise in Blooms is Judy Niemeyer's third Technique of the Month (TOM) quilt, published in 2015.  The goal of our technique of the month program is to design quilts that incorporate a wide range of Judy's techniques to be taught by our Certified Instructor program and Certified Shops and familiarize quilters with our techniques in a manner that will allow them to pick up any of our patterns and successfully complete them after they have completed one of our TOM patterns.
Although we do not sell this pattern on our retail site, we have included it in our pattern gallery to share information and enable us to use our normal method of making corrections to the pattern possible. To see any corrections, please click on the Corrections listed to the right.
To find our Certified Shops and Instructors, click on the Certified Programs and Teaching Link.
To find our Certified Shops (from which you can order the pattern directly without having to take a workshop), click here:  Certified Shops ~ US, Certified Shops ~ Canada, Certified Shops ~ Australia
To find an instructor, you can look at the calendar below to find classes by month, or you can click here to find classes according to instructor:  Instructors
Note that Judy does not teach this workshop.
The pattern includes instructions for each unique unit, created in Booklet form, 8 cover sheets with various samples, and all of the papers necessary to complete your quilt top!
Click below for a downloadable .PDF of various kitting handouts!