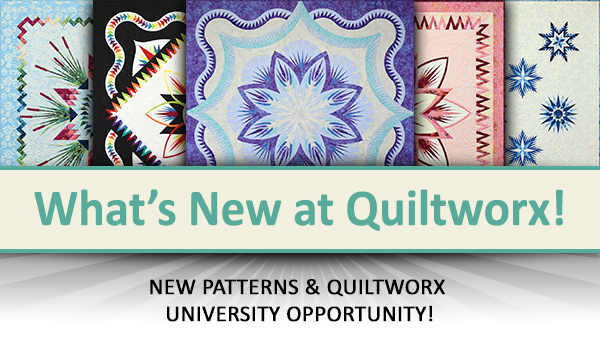 Five New Patterns Now Available!
These patterns are now available for purchase on our website, and the fabric lines are available in a quilt shop near you! There will also be digitized quilting designs available in the near future.
Many of these patterns are also being prepared for the Quiltster App! If you've never heard of Quiltster, it's an incredible fabric auditioning software that allows you to pick and choose fabrics before you spend money. Look for the Quiltster Compatible logo on the patterns below, and click the quilt images or links to learn more about each pattern, find replacement papers, see samples made by Quiltworx.com and others, find kitting information, and purchase the pattern!
Wholesale purchases are available to those approved with a wholesale account. Visit our wholesale page to order (minimum purchase of 3 and advance approval of wholesale account is required).
---
Cattails in the Meadow 2018
77″ x 77″ • Fabrics: Timeless Treasures – Baltic, Jungle,
& Garnet Mini Collections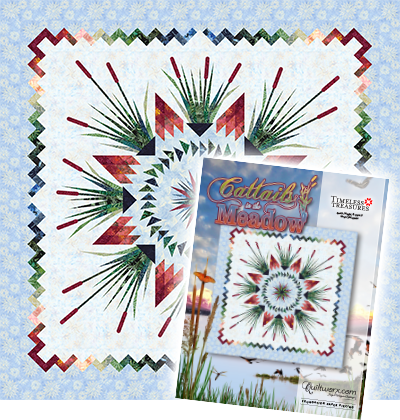 Cattails in the Meadow 2018 is made out of Timeless Treasure's Garnet, Jungle, & Baltic Mini Collections Fabrics designed by Judy & Judel Niemeyer. The pattern is an update to our original Cattails in the Meadow design. The two will not be compatible. This new version is part of the Cattails Mixer pattern with standard sized blocks that can be mixed and matched with other blocks.
Cattails in the Meadow includes (6) laser cut Stitch-N-Peel applique stabilizer sheets for the stems and cattails.

---
Mooncatcher
99″ x 99″ • Fabric: Hoffman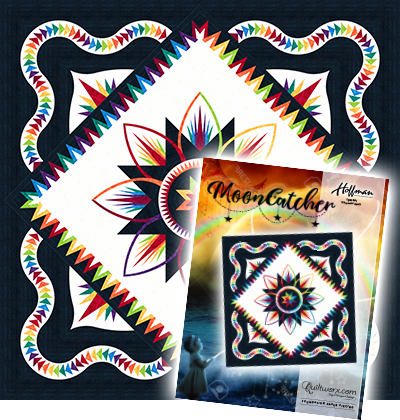 Mooncatcher is another queen sized version of the Cattail Mixer created using Hoffman 1895 Watercolor Batiks. We're only selling 500 of these patterns, so get them while they last!

---
Snowy River Hosta Queen Mixer
100″ x 100″ • Fabric: Island Batik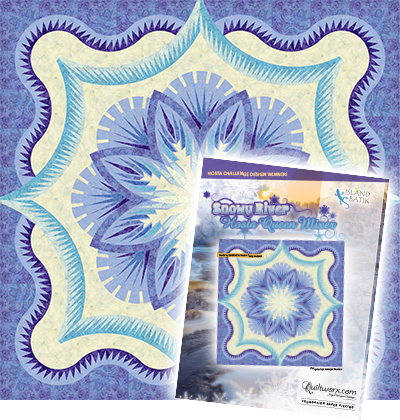 We're so excited about this pattern! You may recognize the Snowy River Hosta Queen (designed by Jennifer Mellow) as the winner of the Quiltster Hosta Challenge Design Contest! This is a limited release pattern with only 500 available, so order yours while supplies last. There will also be a coordinating Aurifil thread box available!

---
Water Lily
77″ x 77″ • Fabric: Timeless Treasures – Garnet Mini
Collection & Wallflower Collection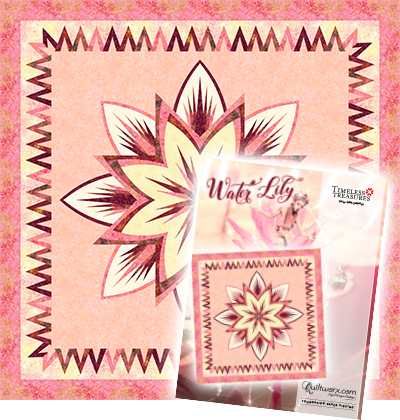 Water Lily, also a Cattail Mixer, is a Collector's Club pattern released for a limited time to showcase the use of our eight-fabric mini collections. The mini collections are eight fabrics sorted from lights to darks, and when combined with a few basic blenders from your favorite fabric vendors, create a new approach to color planning that we hope inspires you.

---
Winter Traditions
85″ x 85″ • Fabric: Timeless Treasures – Bohemian Blues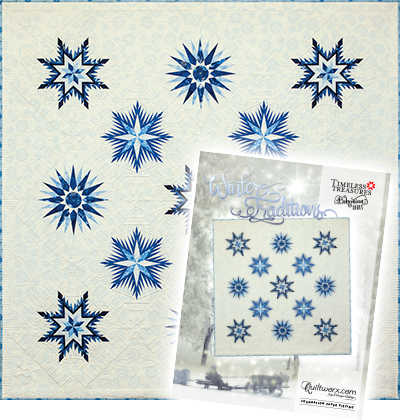 Winter Traditions, adapted from our popular Winter Wonderland pattern in 2018, it was created from a collection of three 16" mixer blocks including a Snowflake, a traditional Compass, and a Feathered Star block. All three blocks are fun and interesting to assemble and the resulting quilt sparkles!


3 SPOTS JUST OPENED UP!
Quiltworx University: Madeline Island Wisconsin


July 23-27, 2018

A sampling of kits (designed by attendees) being made for the event!
Due to a cancellation, we have three spaces available in this July 23-27, 2018 event. If you're able to make it to the Wisconsin area, we'd love to see you, and help you create a one of a kind quilt like the ones shown above! This exclusive Kaleidoscope Mixer project is only available at this retreat. There are five quilt sizes, 68″, 80″, and 90″, 99″, and 100″ square, with several block options for each of the center star, background, and border blocks creating over 1,500 ways to make your quilt unique!
Join us July 23-27, 2018!
Get your project started now! Click here for more information on the projects.

Hope to see you soon!