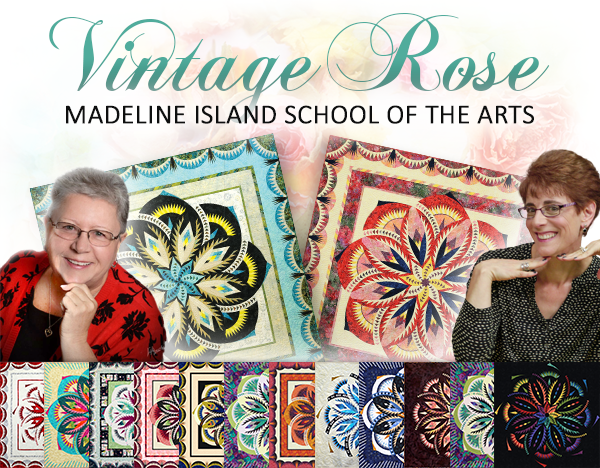 Here's your chance to learn Quiltworx.com's newest
Technique of the Month pattern, the Vintage Rose.
Join us June 5th-9th, 2017!
Madeline Island School of the Arts is offering you an outstanding workshop with two of Quiltworx.com's Certified Instructors and one Certified Shop! This event will bring together a wealth of experience and is conveniently packaged for you to enjoy making the newest Technique of the Month with no worry involved!
Certified Instructors, Jackie Kunkel and Eileen Urbanek are teaming up to teach the Vintage Rose and will walk you through each section of this pattern demonstrating tools and techniques you'll need to successfully complete either a wall-size or queen-size quilt of your own!
Quilter's Quest will help fill kits for many of the cover quilt samples, work with you on Quiltster created designs using some of our most popular fabric collections, and provide Bernina machines perfectly suited for a workshop and paper-piecing project such as this! Staff will be on-hand at the retreat to assist you with your machine, teach you the basics, and provide an onsite store for all of your quilting needs! Machine specials at the program will be offered and fabrics will be available for you to browse and purchase! Let them know if you are in the market for any kits of current projects or others in advance and they will make sure they have your favorites in stock! Leave room in your suitcase, and they'll help you fill it.
With this dynamic team of Certified Shops and Instructors, you'll enjoy the best quilting experience Madeline Island School of the Arts has to offer, in a beautiful and spacious setting. Located on the largest of the 22 Apostle Islands in Lake Superior, Madeline Island is known for it's magnificent light, and colors creating an unparallelled setting for a week of creativity.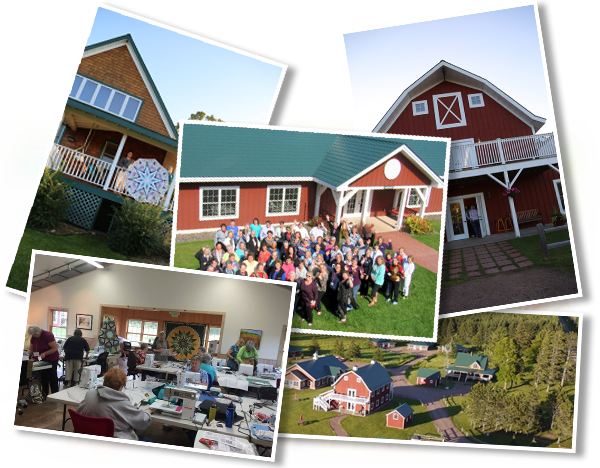 CLICK ABOVE FOR MORE INFO AND TO SIGN UP

About the

Vintage Rose

Pattern


NOW AVAILABLE!
Designed by Judy and Brad Niemeyer, Vintage Rose is the latest installment of our Technique of the Month patterns which are available exclusively through our Certified Shops or through a class with a Certified Instructor!
For this reatreat, the Quiltworx team handling this event will work with you to get the patterns and anything else you might need. For a closer look at the kitting handouts, they're available on the Vintage Rose web page.
---

AVAILABLE IN QUILTSTER
Vintage Rose is now available in Quiltster, allowing subscribers to easily plan their quilt in advance! We've got templates set up for each colorway pictured above to get you started! Or, you can test drive your favorite fabric line or fabrics from your stash to see your finished quilt before you buy fabric or sew a stitch!
For more information and to sign up, visit Quiltster.com.

We hope to see you there!