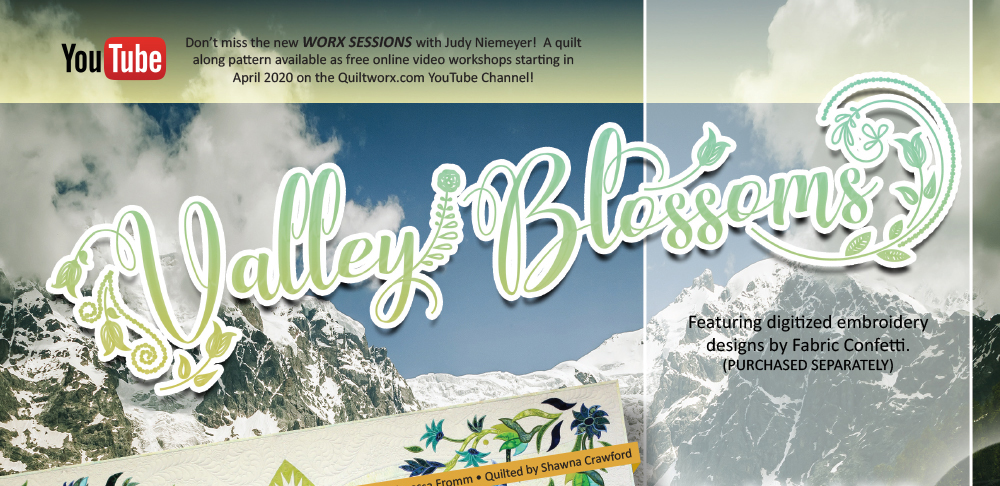 Valley Blossoms is Quiltworx.com's second Worx Sessions pattern, meaning that it comes with a free Youtube training video series for you to follow along with Judy Niemeyer, step by step. We also have a special guest instructor for this design, Vanessa Fromm, from Fabric Confetti. Vanessa will teach you digitized embroidery techniques that can be used to stitch on the applique designs if you would rather embroidery instead of turn under applique.
If you are interested in the digitized embroidery designs for this pattern, they are sold separately. You can get them from Fabric Confetti or find them on the Quiltworx Website for the Valley Blossoms Pattern. If you already own the Tropical Basket and Flowering Cactus patterns, you can just purchase the border element, or you can purchase a package that includes all of the pieces. Look below in the Related Products for the applique files.
Workshops for the pattern will start on April 17th, with a pre-class instructions video and Quiltster Demonstration. They will follow, with workshops with Judy and Vanessa, on May 16th, June 20th, July 11th, and July 25th. Please join us on our Youtube channel. Subscribe for instant notifications of new content!
Workshop dates and times:
o  April 17: Pre-Class Prep/Quiltster Demo – 12 p.m.
o  May 16: Video #1: Basket Diamond, Release – 12 p.m.
o  June 13: Video #2: Flowering Cactus, Release – 12 p.m.
o  July 11: Video #3: Bridal Bouquet Queen Border, Release – 12 p.m
o  July 25: Wrap Up Video – Applique Embroidery – 12 p.m.
---

This pattern is available in Quiltster! This means you can color the quilt with your favorite fabric collections in Quiltster before you make it. Quiltster will even provide you with yardage!  You can also purchase kits designed by Quiltster Sellers right in the application!
Click on the Project button to access the pattern templates and begin coloring with fabrics uploaded from your stash and/or fabric collections from across the industry! A Quiltster account is required to use the coloring tool.  If you do not have a Quiltster account already, you will need to subscribe and log in before these links will work. Subscriptions can be obtained by going to http://www.quiltster.com, click on Subscribe!
If you'd like to purchase a kit from a Quiltster Seller, click the Marketplace button! A subscription is not needed in Quiltster to purchase a kit through the Marketplace.
---
Click below for a downloadable .PDF of various kitting handouts!
Pattern Size: 99″ x 99″
Price: $208.00
Pattern Includes: Instructions, Cover Sheet, Yardage Information, Foundation Papers, (36) sheets of laser cut applique pieces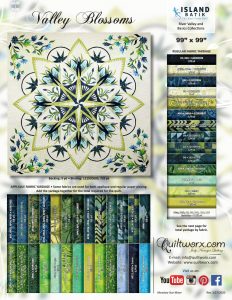 Related Products
Sorry, there are no classes scheduled for Valley Blossoms at this time.