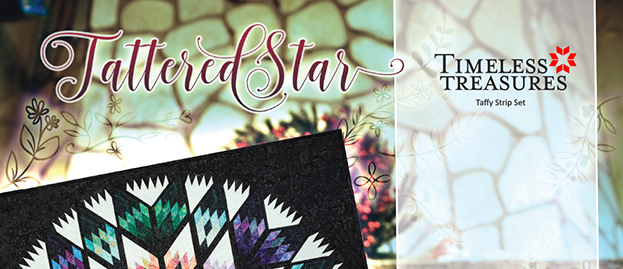 The foundation papers and strip piecing processes used to create the Tattered Star was designed by Quiltworx in 2014. Since 2014, Quiltworx has republished the strip piecing process for making our diamond stars in several different patterns, changing the sizes, color layouts and background elements. The Tattered Star quilt design was based on using (1) package of our pre-packaged Quiltworx 2-1/2″ Strip Sets along with two distinct accent fabrics to create (48) diamond blocks from (6) different color families. The diamonds were assemble with a paper pieced background called the Spiked Ring background border designed for our Kaleidoscope Mixers.
There are many ways to expand your Quiltworx designs into larger sizes with compatible border packages by clicking the Buy Now button.  If listed, you should purchase the Introduction Booklet for the size quilt you want.  Then, you should select expansion borders of your choice.  The following information explains ways to expand your quilt.
To Expand this 91″ Queen to a 100″ Queen, add a 252C border of your choice listed under the Buy Now button.
---

This pattern is available in Quiltster! This means you can color the quilt with your favorite fabric collections in Quiltster before you make it. Quiltster will even provide you with yardage!  You can also purchase kits designed by Quiltster Sellers right in the application!
Click on the Project button to access the pattern templates and begin coloring with fabrics uploaded from your stash and/or fabric collections from across the industry! A Quiltster account is required to use the coloring tool.  If you do not have a Quiltster account already, you will need to subscribe and log in before these links will work. Subscriptions can be obtained by going to http://www.quiltster.com, click on Subscribe!
If you'd like to purchase a kit from a Quiltster Seller, click the Marketplace button! A subscription is not needed in Quiltster to purchase a kit through the Marketplace.
---
Click below for a downloadable .PDF of various kitting handouts!
Size: 91″ x 91″
Price: $61.50
Pattern Includes: Instructions, Cover Sheet, Yardage Information, Foundation Papers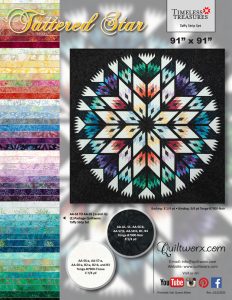 Click on the images below to find our Tattered Star album on Facebook!

Related Products
Gallery
[fts_facebook id= album_id= posts=12 title=no description=no words=0 type=album_photos image_width=150px image_height=150px space_between_photos=1px hide_date_likes_comments=no image_position_lr=-0% image_position_top=-0% loadmore=button popup=yes hide_like_option=no ]
Sorry, there are no classes scheduled for Tattered Star at this time.