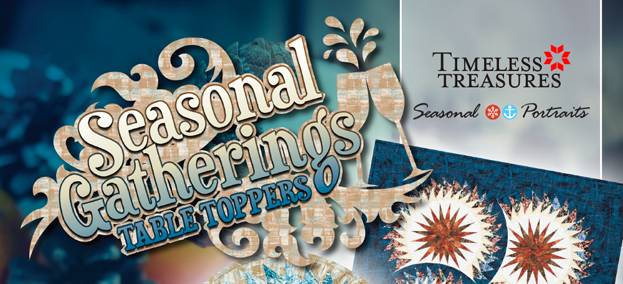 The Seasonal Gatherings Table Topper is a new layout for the Quiltworx Circling Geese block. That creates two possible 4 x 4 overlapping circlular layouts, one with a squared off border and the other with a scalloped border. These units show up in many of our other popular designs, including the Seasonal Table Runner, the Celtic Sunrise, the Autumn Splendor, and even the Glacier Star. The pattern features the latest fabric collection designed by Judy and Judel Niemeyer called Seasonal Portraits, from Timeless Treasures. For more information on the Fabric Collection, click here.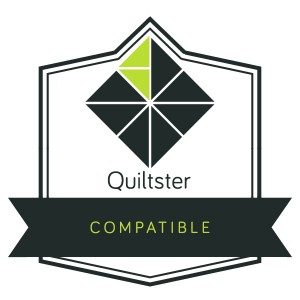 This pattern is Quiltster Compatible! This means you can color the quilt with your favorite Fabric Collection in Quiltster before you make it and obtain yardage! Click on the logo to the left to be taken directly to the Template page for this design in Quiltster. You may need to log into your account for the link to work. If you do not have a Quiltster account already, you will need to subscribe and log in before this link will work. Subscriptions can be obtained by going to http://www.quiltster.com, click on Subscribe!
Click below for a downloadable .PDF of various kitting handouts!
Size: 33" x 33" (Scalloped Option)
Size: 38" x 38" (Square Option)
Price: $26.00
Related Products
Gallery
Quiltworx.com
2 years ago
Jennifer Mellow
I think this is the first Halloween decoration I have ever liked! Black and orange are not usually my colors. It looks great!
Shari Zabroski
Perfect for a Halloween celebration!
Karen Bain
Jill Fischer here is some use of your orange fabric, lol
Regina Foster Parsons
That is stunning
Jacqueline Lloyd
Fantastic
Ineke Vium Kristensen
Love it❤️❤️
Denise Munger
Gorgeous !!!!!!
Lauri Jenkins
Shawn Cook Greenough isn't this pretty?