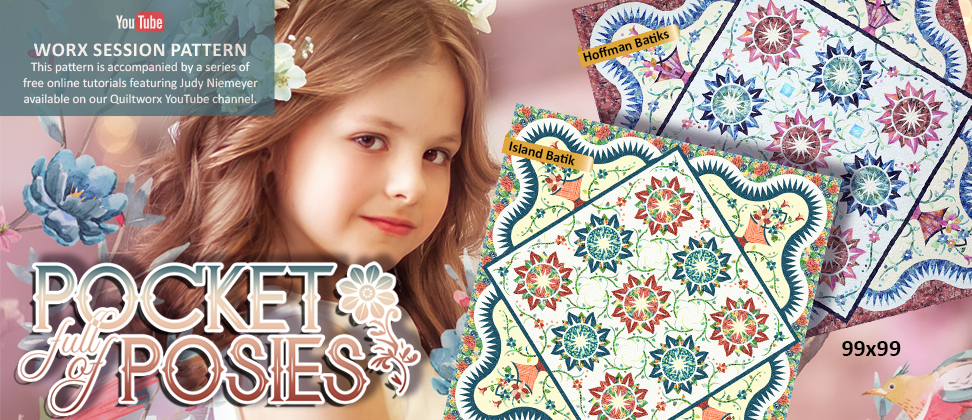 Pocket Full of Posies is Quiltworx's third Worx Sessions Pattern, meaning that it comes with a free Youtube training video series for you to follow along with Judy Niemeyer, step by step. We also have a special guest instructor for this design, Vanessa Fromm, from Fabric Confetti. Vanessa will teach you digitized embroidery techniques that can be used to stitch on the applique designs if you would rather embroidery instead of do turn-under applique.
Workshop dates and times:
October 11, 2023: Preparing for Class (Pre-recorded) – 1p.m. MDT
November 8, 2023: Workshop #1: Cutting & Preparing Your Fabrics (Live), and Choosing your Applique Approach (Pre-recorded)  – 1 p.m. MST
November 29, 2023: Workshop #2: Booklet 2 (Live) – 1 p.m. MST
December 13, 2023: Workshop #3: Booklet 2 continued (Live) – 1 p.m. MST
January 3, 2024:  Workshop #4: Queen Booklet – Basket of Posies (Paper Piecing Live), Applique (Pre-recorded) – 1 p.m. MST
January 10, 2024:  Workshop #5: Final Assembly (Live) – 1 p.m. MST
---

This pattern is available in Quiltster! This means you can color the quilt with your favorite fabric collections in Quiltster before you make it. Quiltster will even provide you with yardage!  You can also purchase kits designed by Quiltster Sellers right in the application!
Click on the Project button to access the pattern templates and begin coloring with fabrics uploaded from your stash and/or fabric collections from across the industry! A Quiltster account is required to use the coloring tool.  If you do not have a Quiltster account already, you will need to subscribe and log in before these links will work. Subscriptions can be obtained by going to http://www.quiltster.com, click on Subscribe!
If you'd like to purchase a kit from a Quiltster Seller, click the Marketplace button! A subscription is not needed in Quiltster to purchase a kit through the Marketplace.
---
Click below for a downloadable .PDF of various kitting handouts!
Pattern Size: 99″ x 99″
Price: $209.00
Pattern Includes: Instructions, Cover Sheet, Yardage Information, Foundation Papers, (22) sheets of laser cut applique pieces
Related Products