Japanese Fan was designed over 10 years ago by Judy and Bradley Niemeyer. The original pattern sold out in 2014 and has undergone a revision to bring it up to current publication standards. The design uses foundation paper piecing and includes techniques such as floating points, registration lines, and template layout sheets. The quilt on the cover was created using a wonderful collection of fabrics from a range of fabric collections by Judy and Judel Niemeyer with Timeless Treasures, including a mixture of cottons and batiks designed and released throughout 2015.
Click below for a downloadable .PDF of various kitting handouts!
Pattern Size: 70″ x 80″
Price: $46.00
Pattern Includes: Instructions, Cover Sheet, Yardage Information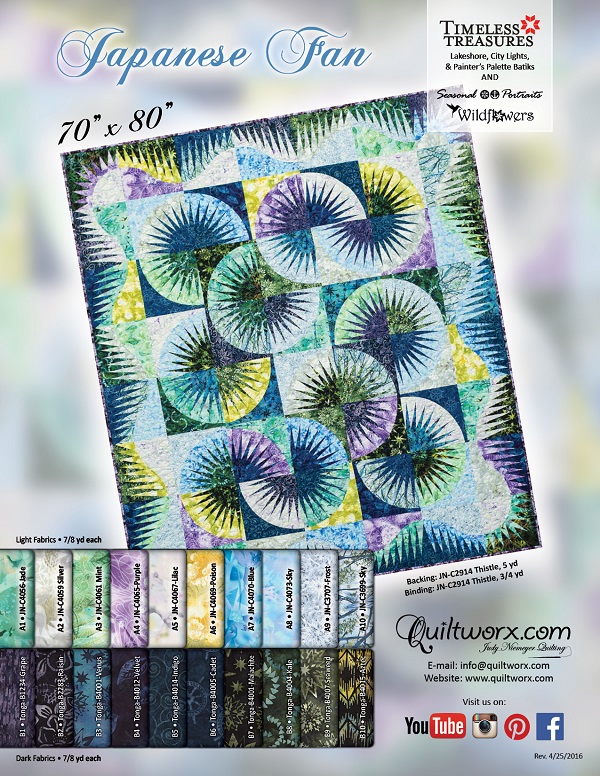 Related Products
Gallery
Quiltworx.com
3 weeks ago
AnnaGrethe Justesen
Beautiful love the colors!!!
Rich Hall
Dianne Steinhilber Siler Kathy Teeters Kay Peterson Wendie Ortez Margaret Brannan Chlarson
Dianne Steinhilber Siler
WOW. Love it.
Sorry, there are no classes scheduled for Japanese Fan 2015 at this time.