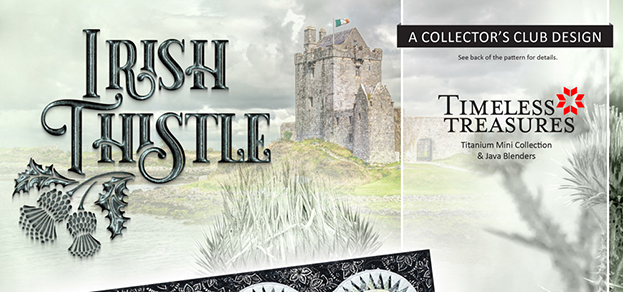 This pattern is a Collector's Club Design, which means a limited number of patterns were published to celebrate the release of a Judy and Judel Niemeyer Tonga Batik Mini Collection that was used to make the quilt on the cover sheet. Generally, the number of patterns published is 500. Replacement papers are not available as these patterns are only published in limited numbers. When the patterns are sold out, they will not be re-printed. Get your copy today!
Irish Thistle is constructed using 2 distinct pattern groups. The first group is comprised of (4) 16" squares referred to as Group A. Group B consists of (4) border blocks.
The pattern was designed by Judel and Judy Niemeyer in Quiltster, using blocks designed by Judy and Bradley Niemeyer. The blocks and pattern require paper piecing and traditional piecing skills and are available through Quiltworx.com.
There are many ways to expand your Quiltworx designs into larger sizes with compatible border packages by clicking the Buy Now button.  If listed, you should purchase the Introduction Booklet for the size quilt you want.  Then, you should select expansion borders of your choice.  The following information explains ways to expand your quilt.
To expand this to a 68″ Wall Quilt, add a 242C  border of your choice listed under the Buy Now button.
To expand the 68″ to a 99″ Queen, purchase one of the 242D borders listed under the Buy Now button.
The Irish Thistle blocks are available as part of a mixer series called the Courtyard Fountain Mixer. This means there are other blocks the same size as those in this quilt that have been designed by Quiltworx.com and use paper piecing techniques as well. If you are interested in learning how to mix and match these blocks and create your own design, check out Quiltster.com.
---

This pattern is available in Quiltster! This means you can color the quilt with your favorite fabric collections in Quiltster before you make it. Quiltster will even provide you with yardage!
Click on the Project button to access the pattern templates and begin coloring with fabrics uploaded from your stash and/or fabric collections from across the industry!  If you'd like to color your project and ultimately purchase the pattern and a kit within the app, click the Marketplace button! You may need to log into your account for the links to work.
If you do not have a Quiltster account already, you will need to subscribe and log in before these links will work. Subscriptions can be obtained by going to http://www.quiltster.com, click on Subscribe! 
---
Click below for a downloadable .PDF of various kitting handouts!
Quilt Size: 57″ by 57″
Price: $52.00
Pattern Includes: Instructions, Cover Sheet, Yardage Information, Foundation Papers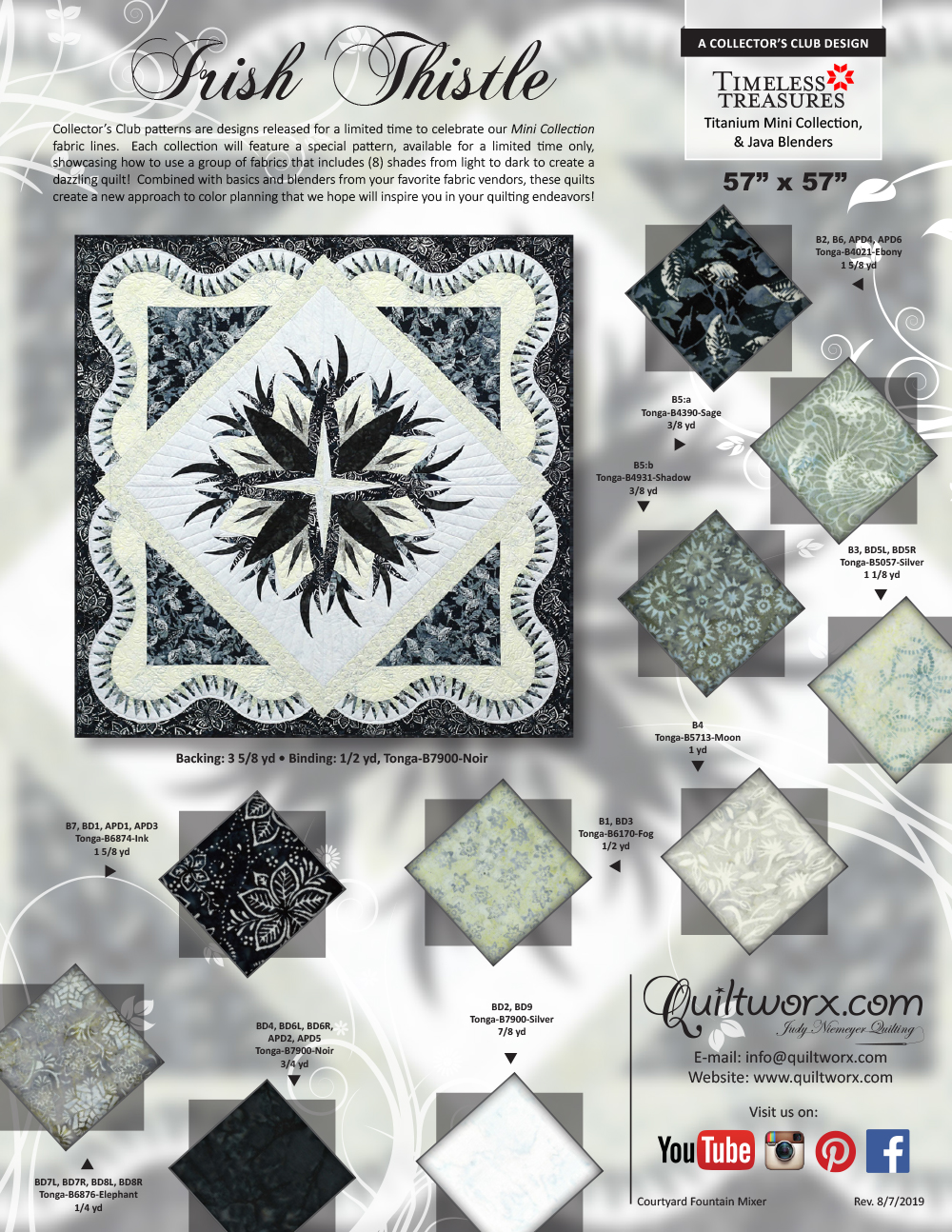 Related Products
Sorry, there are no classes scheduled for Irish Thistle at this time.