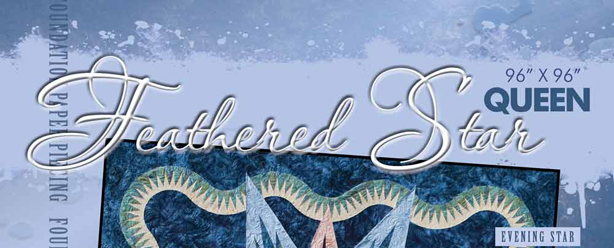 Using a collection of Bali Batiks by Hoffman California Fabircs, Judy Niemeyer has expanded her popular Feathered Star Series with the addition of a Queen Size arrangement of the Feathered Star.
Keeping true to her commitment to modernize classic quilt patterns using the lastest foundation paper piecing techniques, the Feathered Star Queen is already a fan favorite and may be one of our most anxiously awaited publications of all time.
We invite you to open this package and begin making your heirloom quilt with precision, efficiency, and accuracy, one booklet at a time.
Fabric Line for Samples shown on the Cover Sheet: Hoffman Fabrics
Contents:
30 Sheets of Foundation Papers and Template and Template Layout Sheet Newsprint, an Introduction Booklet, and Five chapters:
Chapter 1:  Round 1 (Center Star and Inner Feather)
Chapter 2: Round 2 (Middle Feather)
Chapter 3: Round 3 (Exterior Feather)
Chapter 4: Round 4 (Border Spikes)
Chapter 5: Round 4 (Background and Setting your Quilt Together)
Pattern Size: 96″ x 96″
Price: $75.50
Pattern Includes: Instructions, Cover Sheet, Yardage Information, Foundation Papers
Related Products