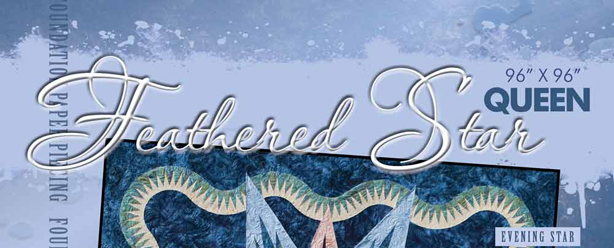 Using a collection of Bali Batiks by Hoffman California Fabircs, Judy Niemeyer has expanded her popular Feathered Star Series with the addition of a Queen Size arrangement of the Feathered Star.
Keeping true to her commitment to modernize classic quilt patterns using the lastest foundation paper piecing techniques, the Feathered Star Queen is already a fan favorite and may be one of our most anxiously awaited publications of all time.
We invite you to open this package and begin making your heirloom quilt with precision, efficiency, and accuracy, one booklet at a time.
Fabric Line for Samples shown on the Cover Sheet: Hoffman Fabrics
Contents:
30 Sheets of Foundation Papers and Template and Template Layout Sheet Newsprint, an Introduction Booklet, and Five chapters:
Chapter 1:  Round 1 (Center Star and Inner Feather)
Chapter 2: Round 2 (Middle Feather)
Chapter 3: Round 3 (Exterior Feather)
Chapter 4: Round 4 (Border Spikes)
Chapter 5: Round 4 (Background and Setting your Quilt Together)
Pattern Size: 96″ x 96″
Price: $75.50
Pattern Includes: Instructions, Cover Sheet, Yardage Information, Foundation Papers
Related Products
Gallery
Quiltworx.com
11 months ago
Linda Jeannine Hawes
Beautiful quilt. Love the contrast between the golden brown and the green.
Heather Milne Johnson
So intricate and lovely.
Merlyn Morse
love the quilting ,colors ,and piecing!
Delilah Debra Morgan
Love all the colours! 💗
Teresa Moffitt
Quite beautiful!
Jackie Casebolt Kemper
Oh wow. Stunning...
JoAnn Fraley Bowen
Beautiful
Karen Boyle
Love it !!Love the colours
Jane Digan
Perfect color choices
Izabel Cristina Pires
Amazing!
Peggy Asmussen
Thanks that's beautiful
Shirley Bonacci
Incredible. Beautiful
Ann Elizabeth Mohan
outstanding!
Marie Hummel
Absolutely beautiful..