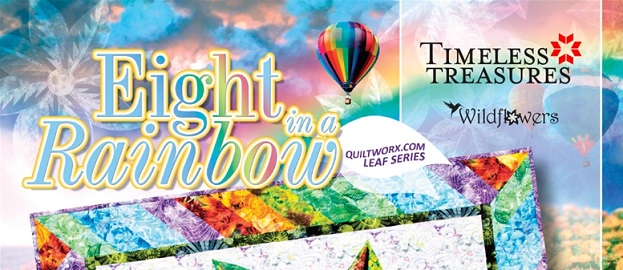 Judy, Judel and Brad Niemeyer designed the layout, instructions, and foundation papers for Eight: In a Rainbow, which is a pattern in the Quiltworx.com Leaf Series. The Leaf Series is a collection of patterns designed to teach quilters some of Judy's latest techniques, including curved paper piecing and appliqué of paper pieced units. A collection of fabrics designed by Judy and Judel Niemeyer called Wildflowers, by Timeless Treasures were selected to make the sample shown on the cover. The pattern was published in 2014 in another collection called Reclaimed West. This latest publication includes a bright and colorful strip paper pieced border. A sewing technique called foundation paper piecing is used to assemble the units required to make this quilt. Curved piecing, traditional piecing, and appliqué are used to assemble the wall hanging after the foundation piecing is completed.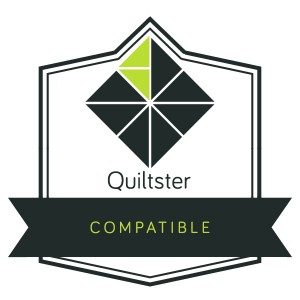 This pattern is Quiltster Compatible! This means you can color the quilt with your favorite Fabric Collection in Quiltster before you make it and obtain yardage! Click on the logo to the left to be taken directly to the Template page for this design in Quiltster. You may need to log into your account for the link to work. If you do not have a Quiltster account already, you will need to subscribe and log in before this link will work. Subscriptions can be obtained by going to http://www.quiltster.com, click on Subscribe!
 Click below for a downloadable .PDF of various kitting handouts!
Pattern Size: 50″ X 50″
Price: $29.50
Pattern Includes: Instructions, Cover Sheet, Yardage Information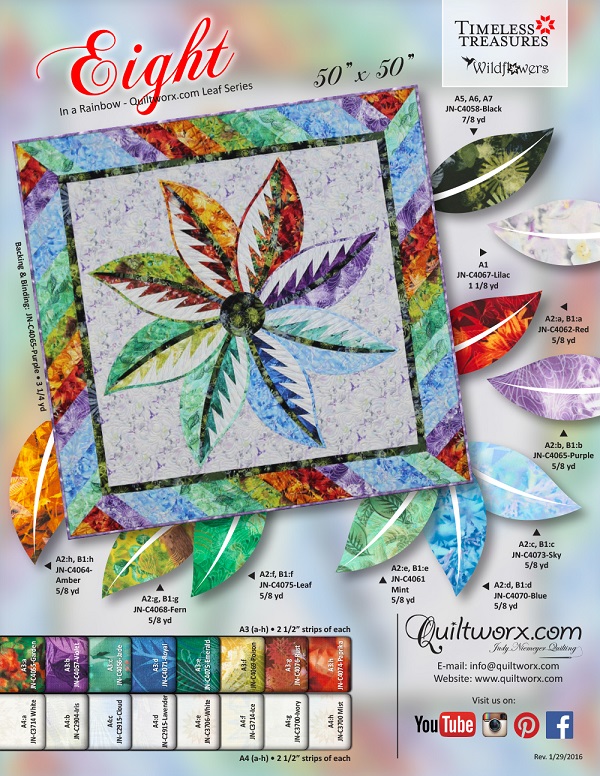 Related Products
Gallery
Quiltworx.com
2 years ago
Quiltworx.com
3 years ago
Rene' Viveros-Azevedo
I am doing the same pattern, just have to do the outside boarder. It was fun and I was very excited to do it, too!
Pattylee Thornberry Paxton
Love ❤️❤️
Dorothy L Sand
Way to go, Mary Lou. Good job everyone there.
Vi Straume
Wow very beautiful !!!
Ginnie Killen Adams
Simply beautiful!!
Sue Luechtefeld
Wow,that's awesome
Chris Graf
I Love you Quiltwork. It's wonderful!💐💞
Susan Hull
Ooooooo I want to learn how to do Tisza. Where is the retreat?? When is the retreat?
Sheridan Fenwick
You Ladies are TRUE ARTISTS!!!!
Lynn Pointner
Beautiful love your colors
Kathy Porter
Susan D Justice